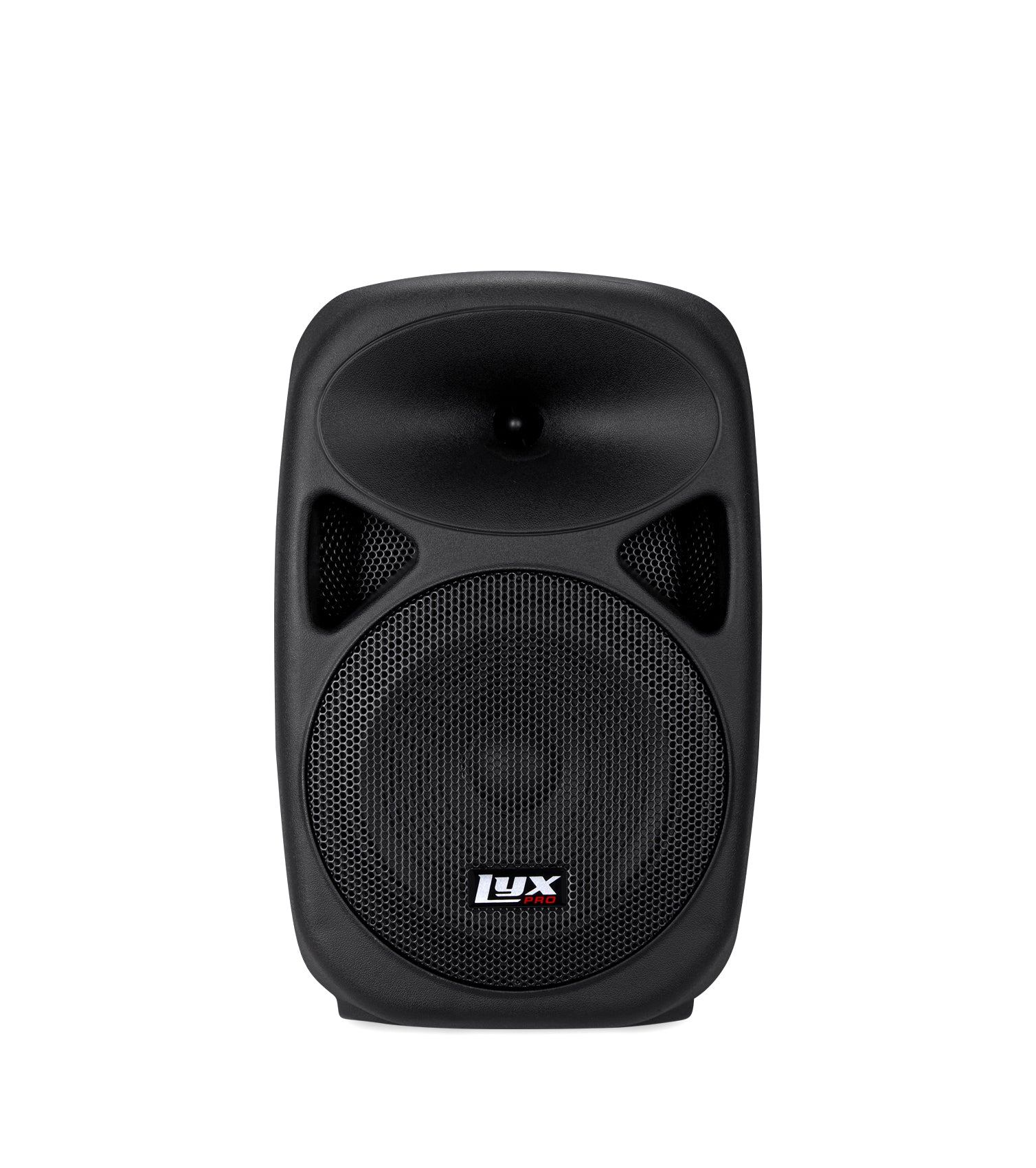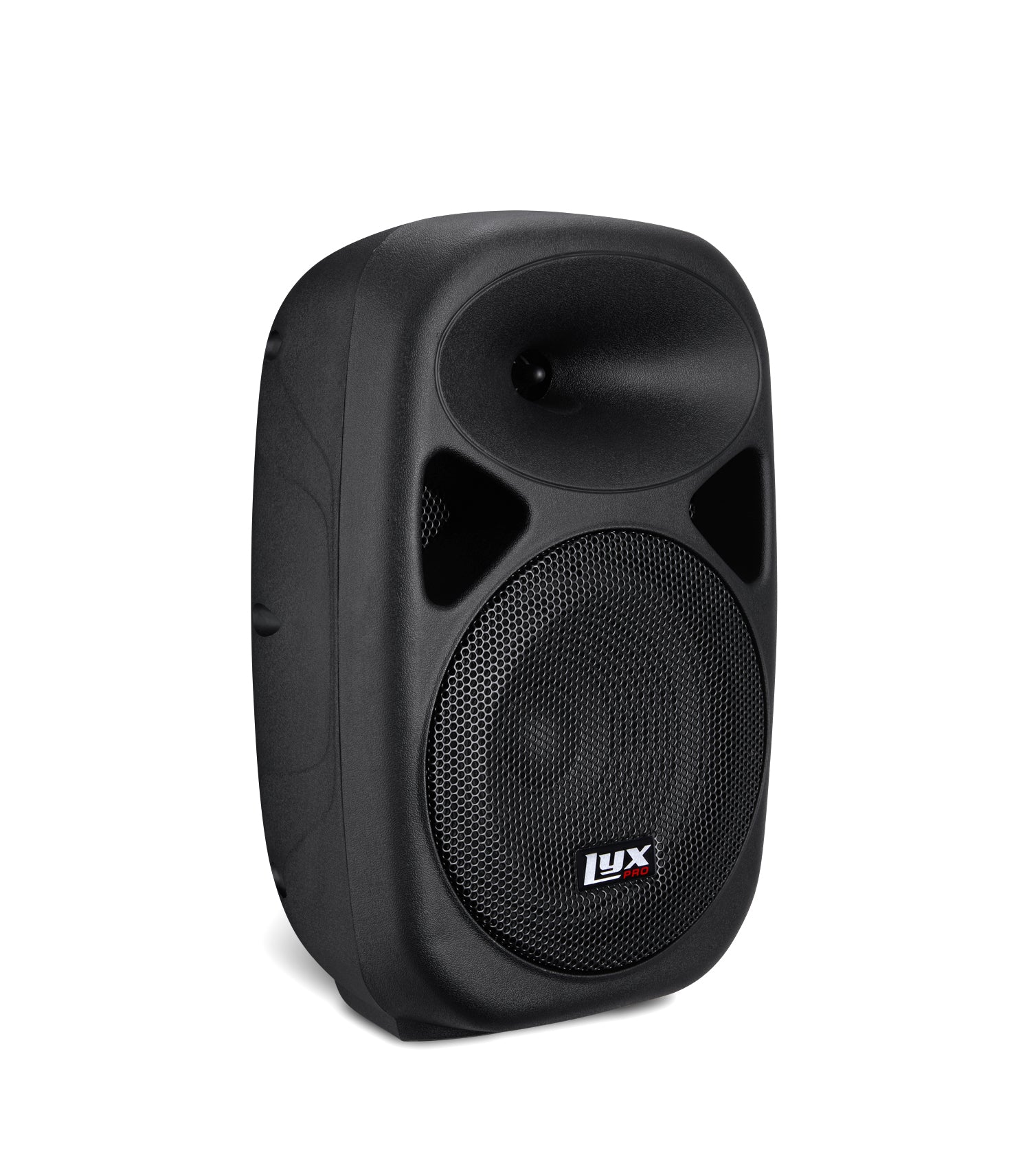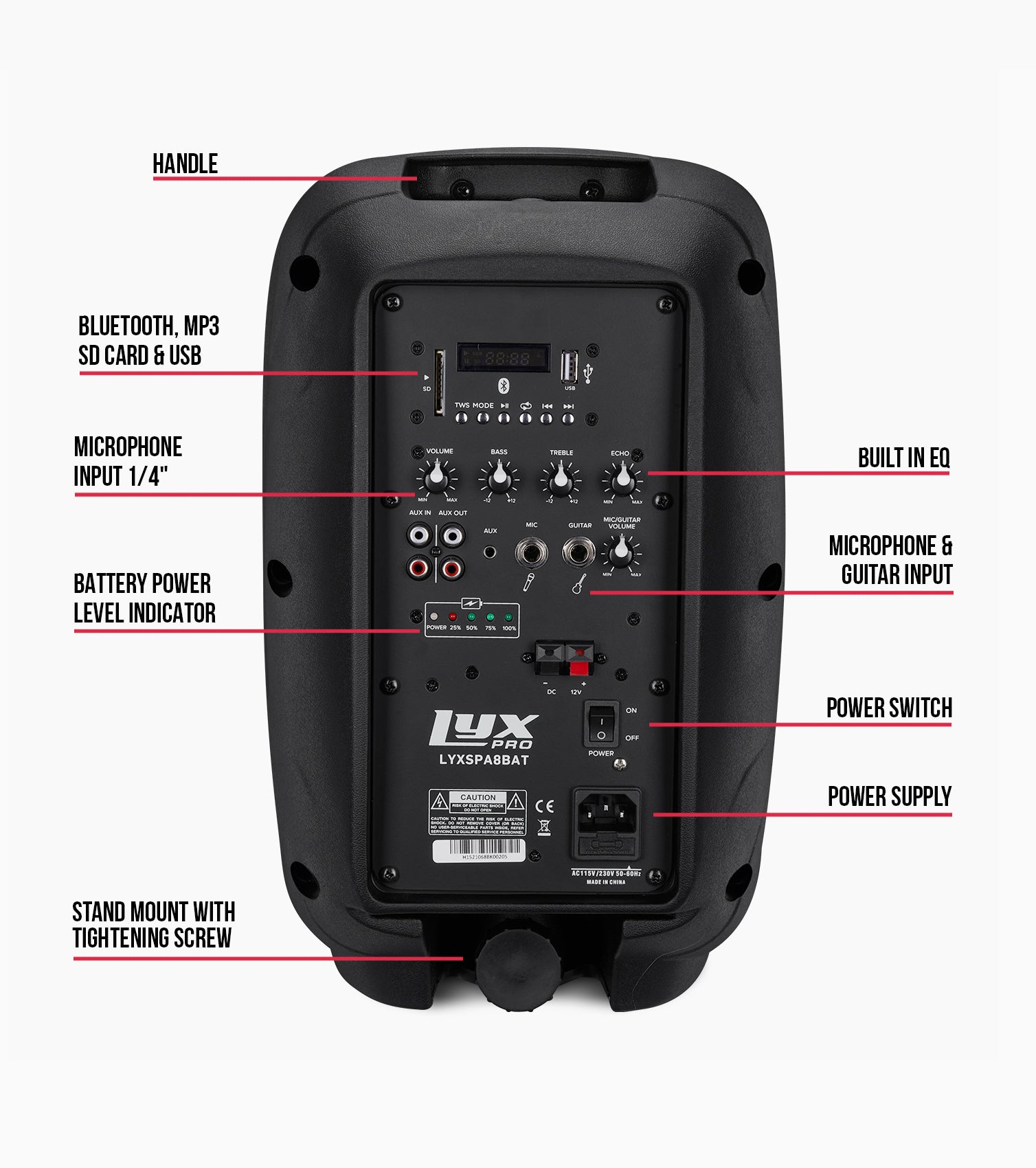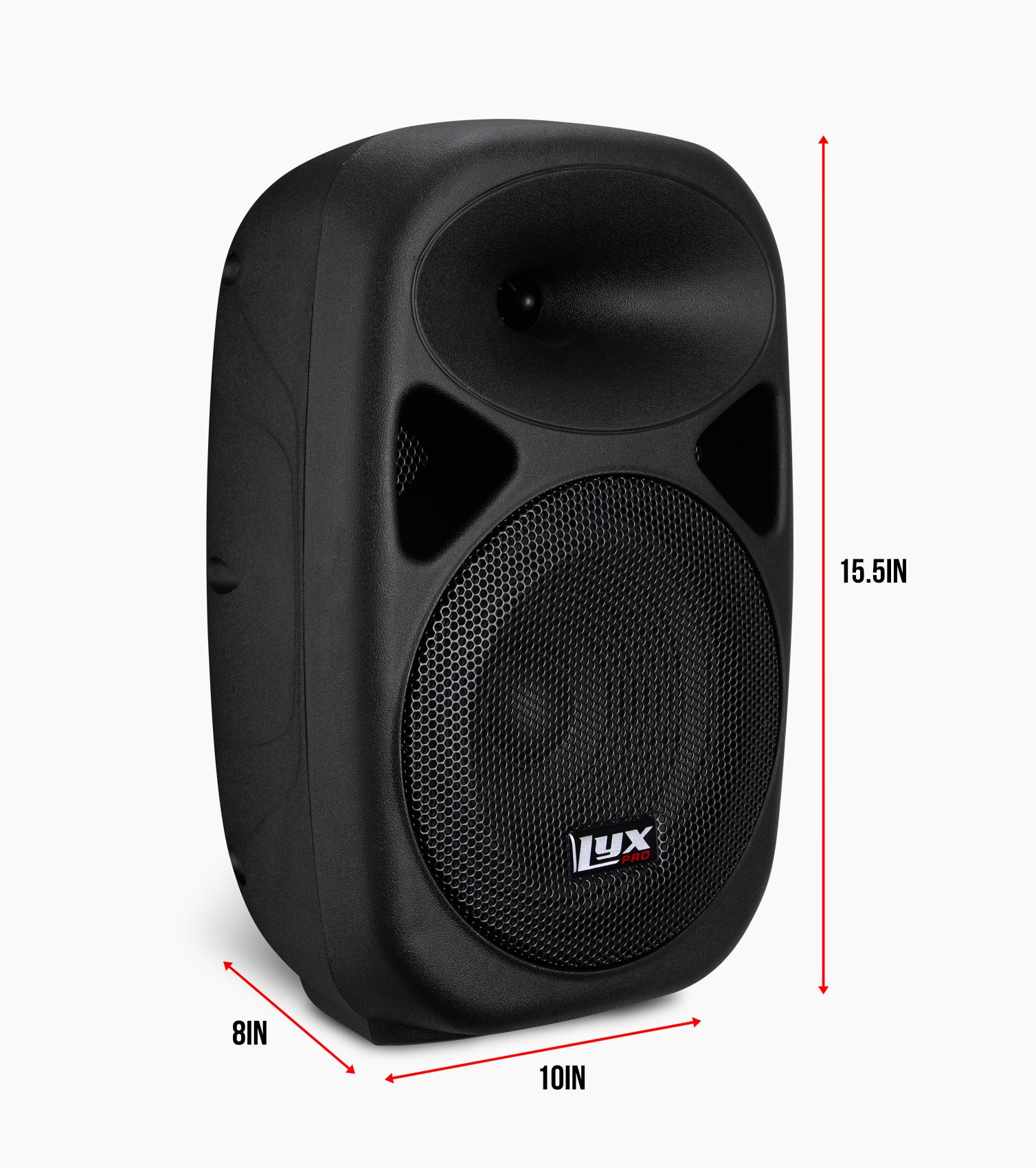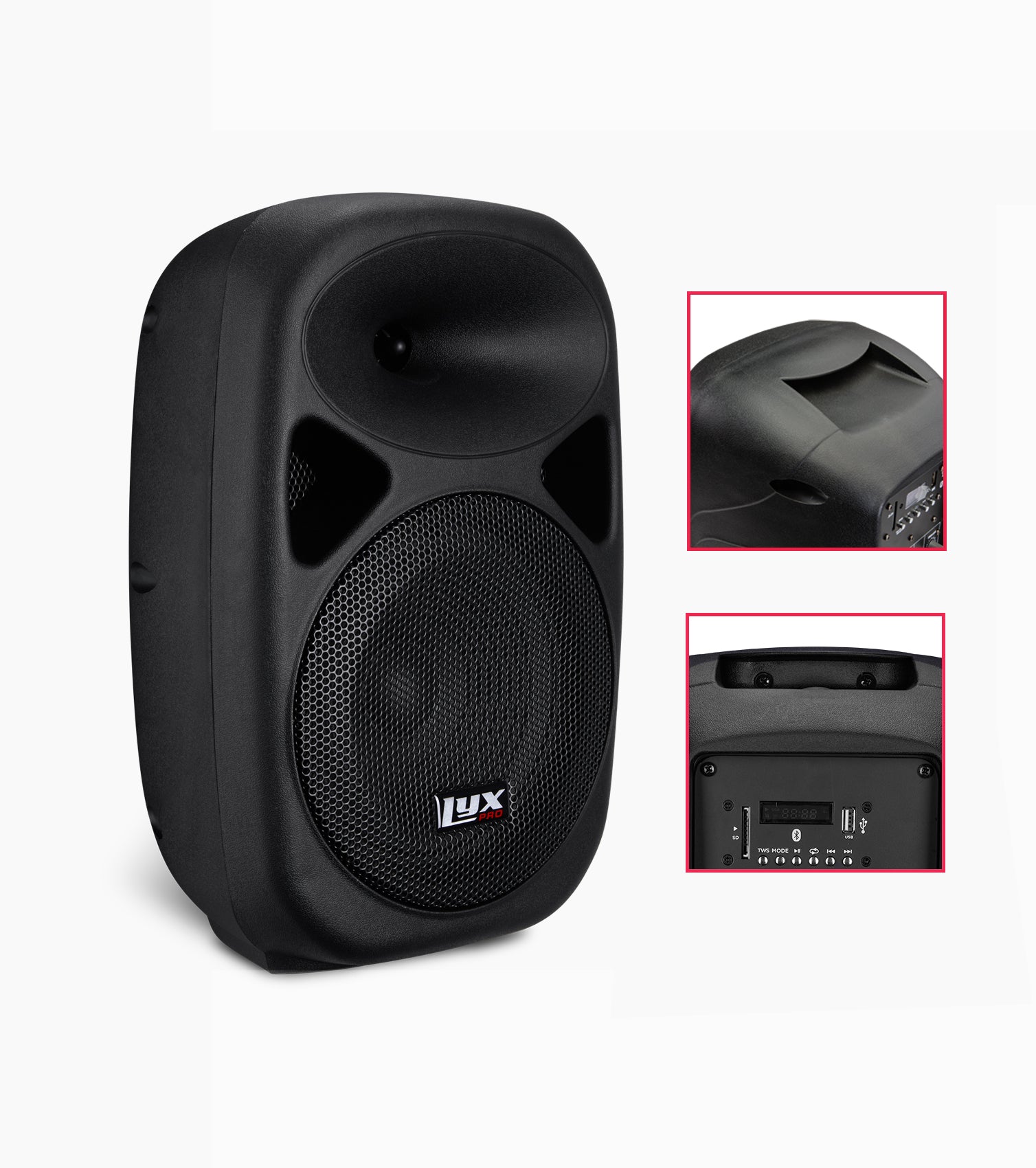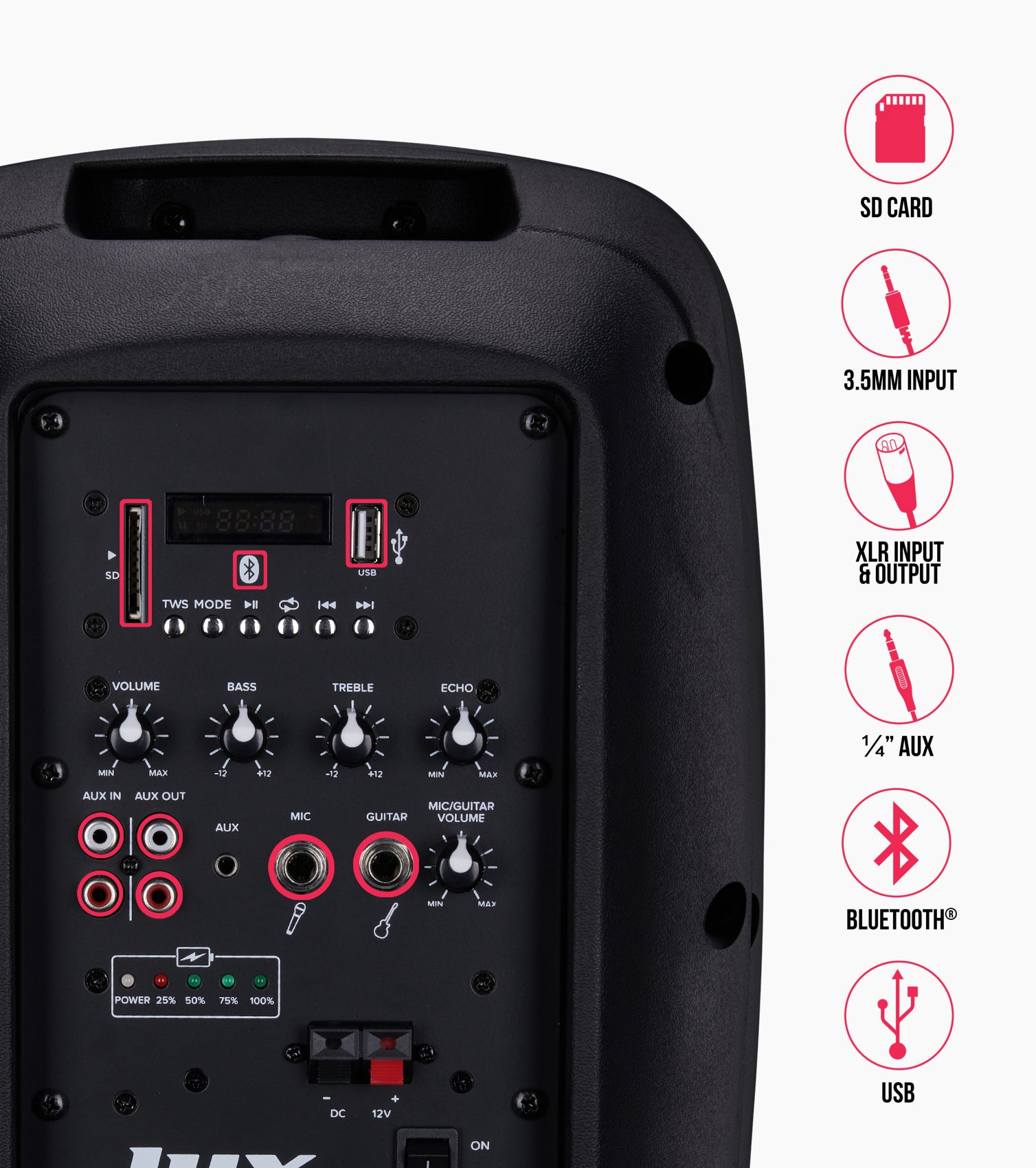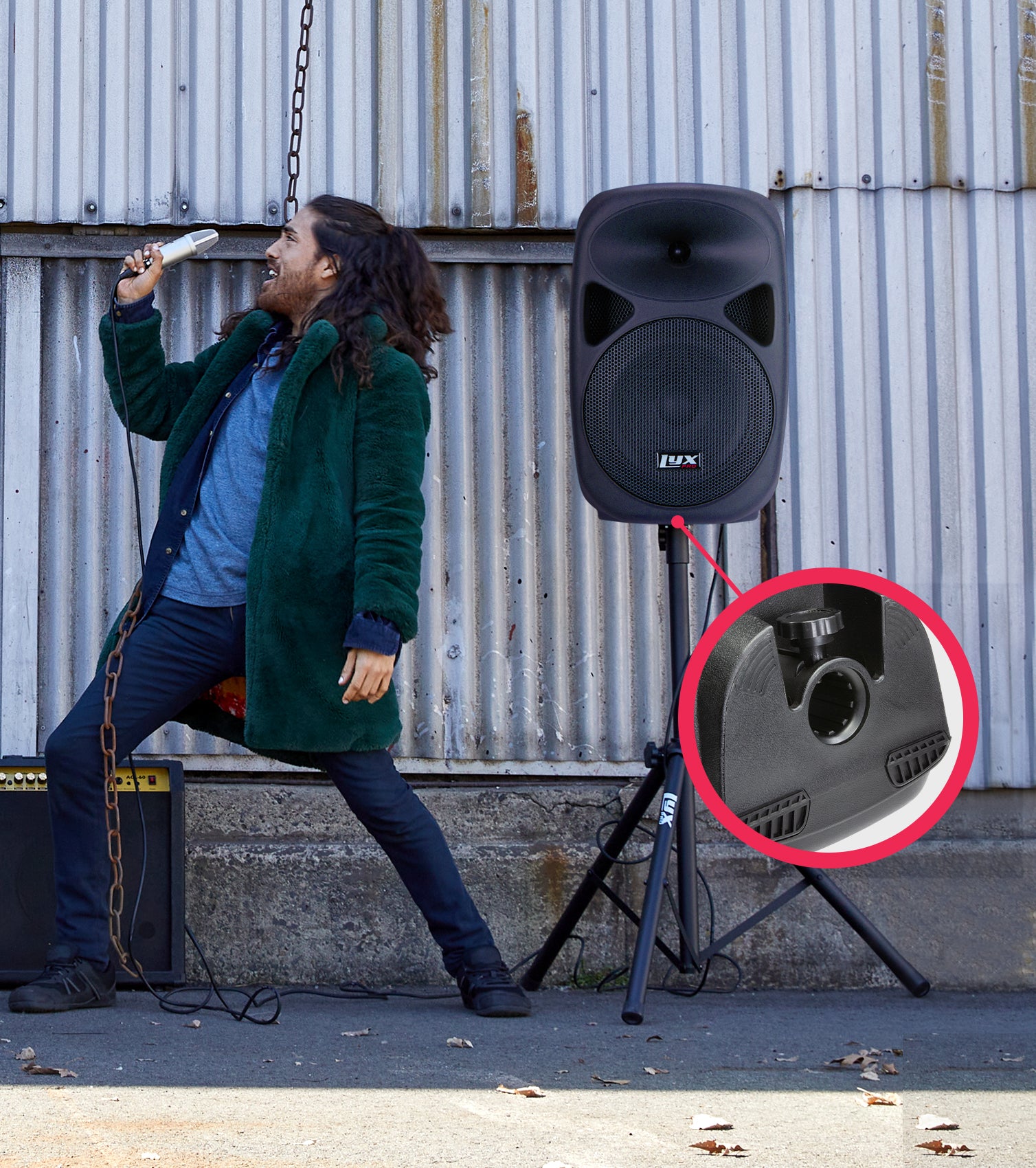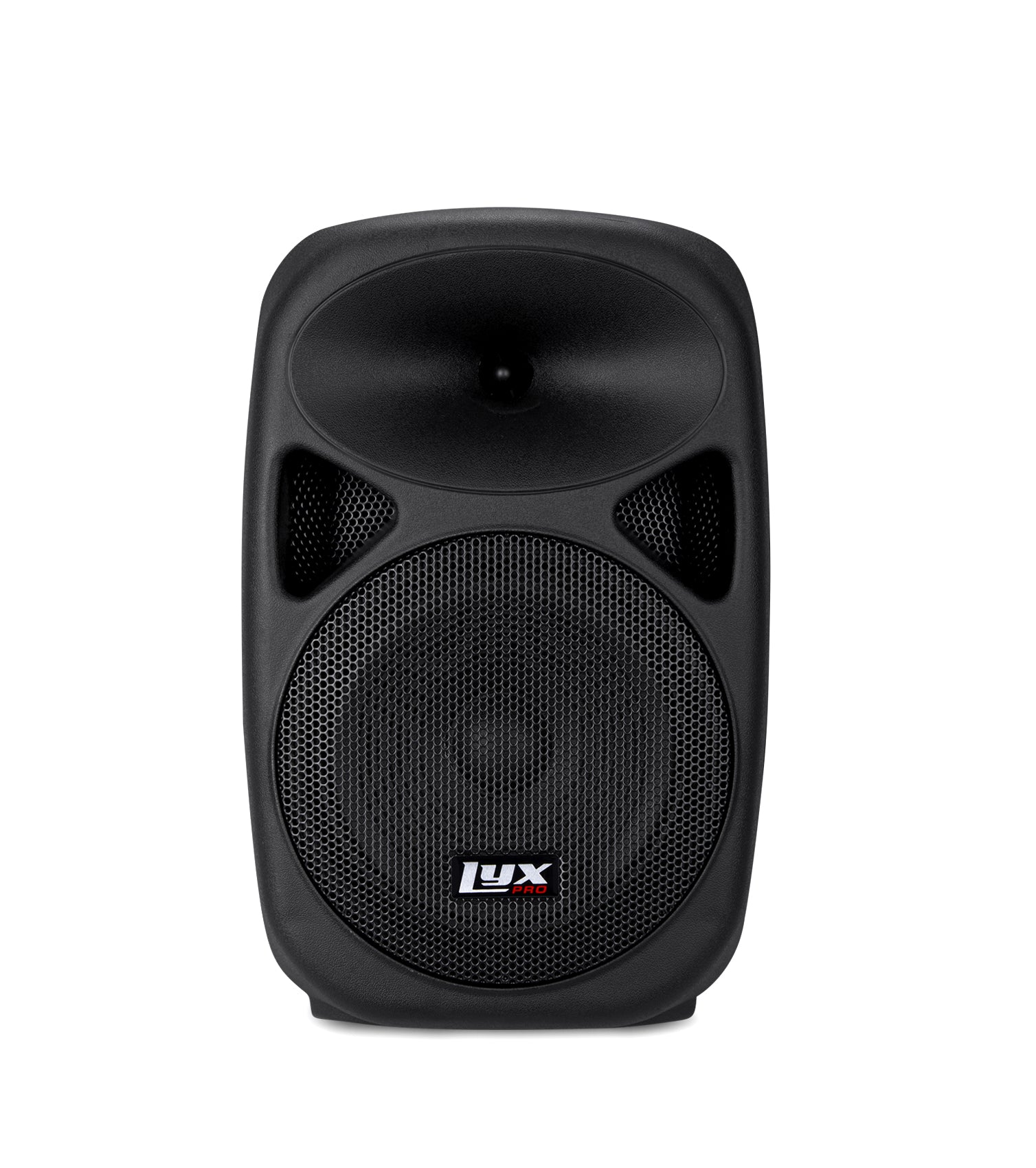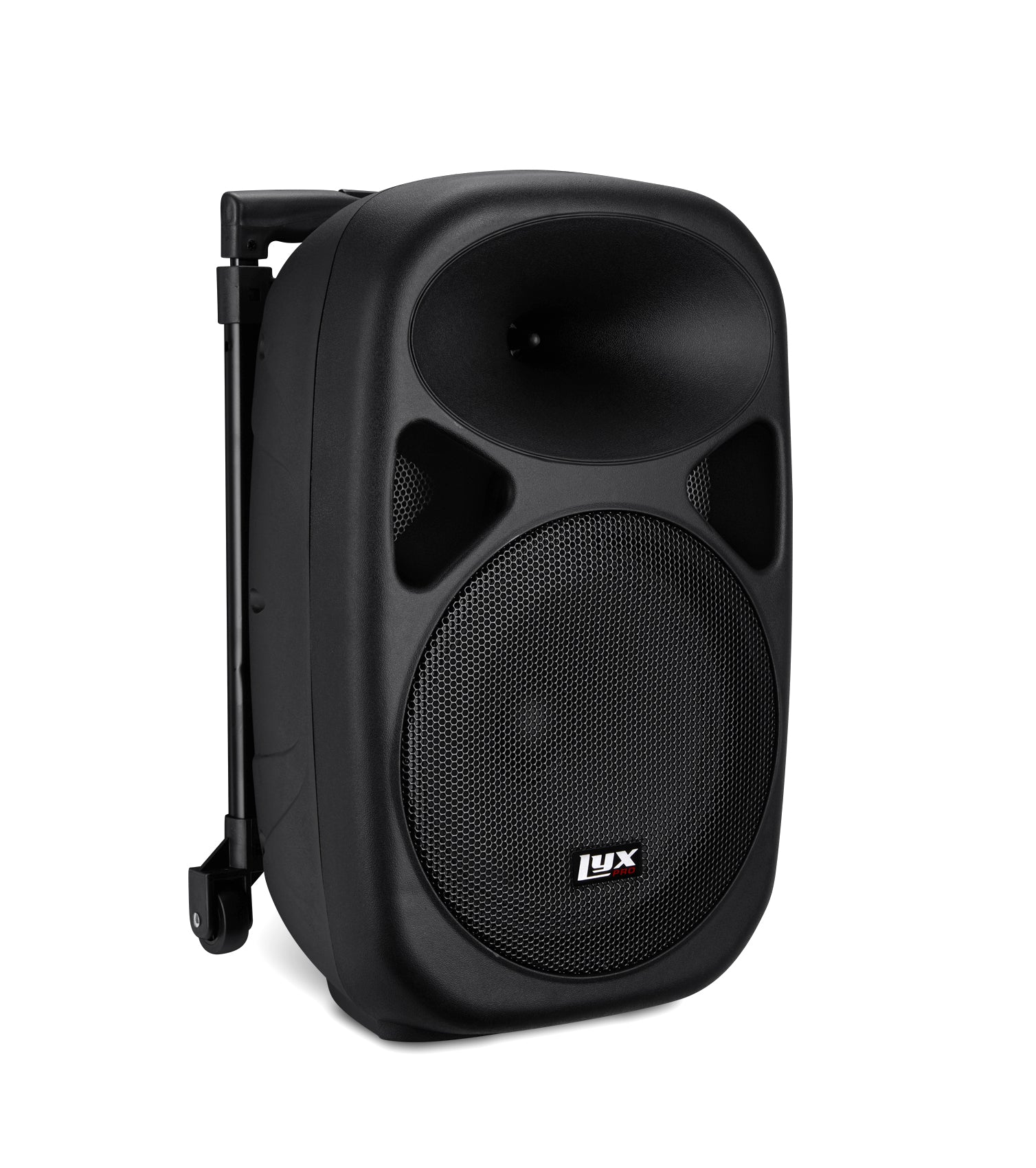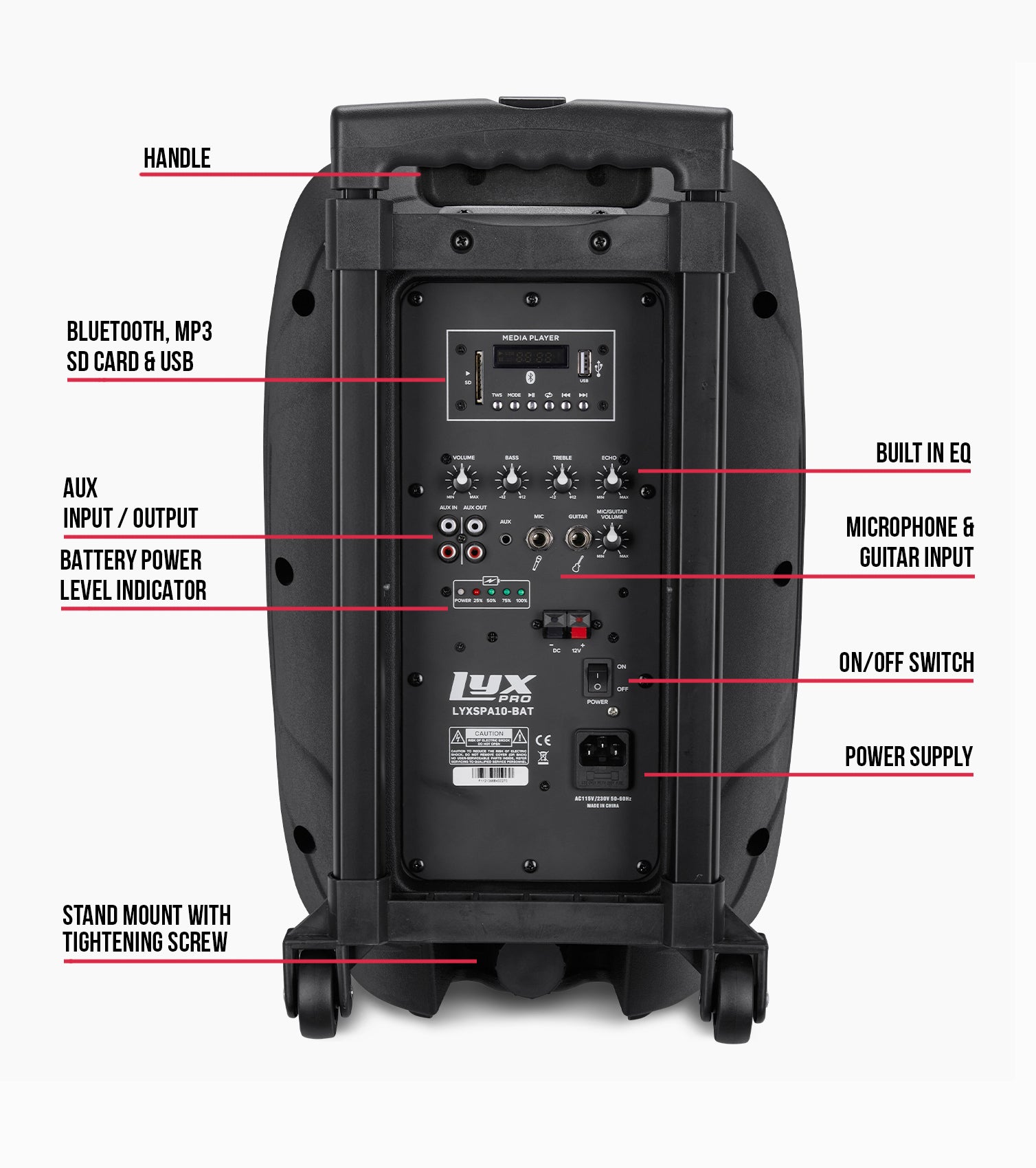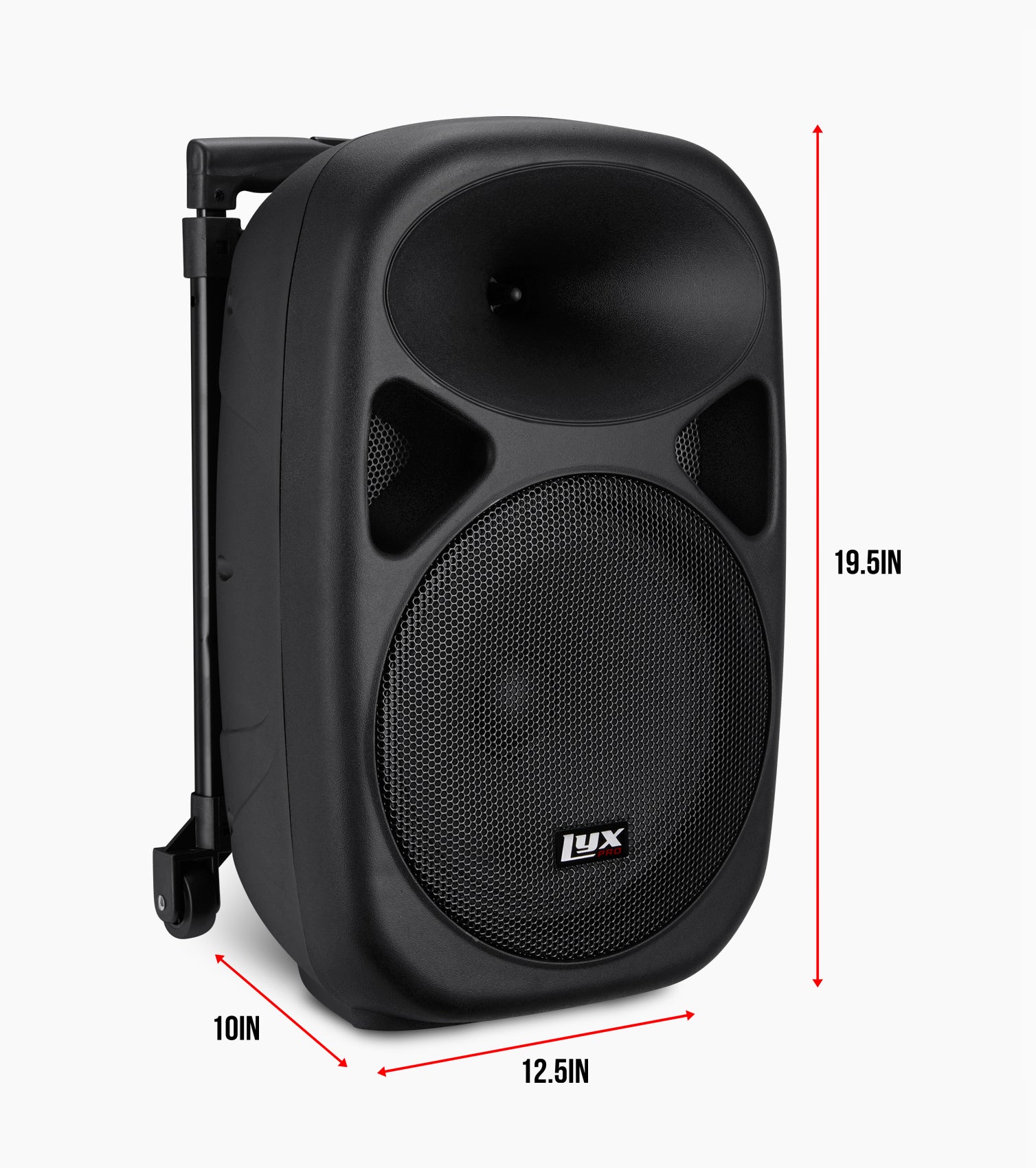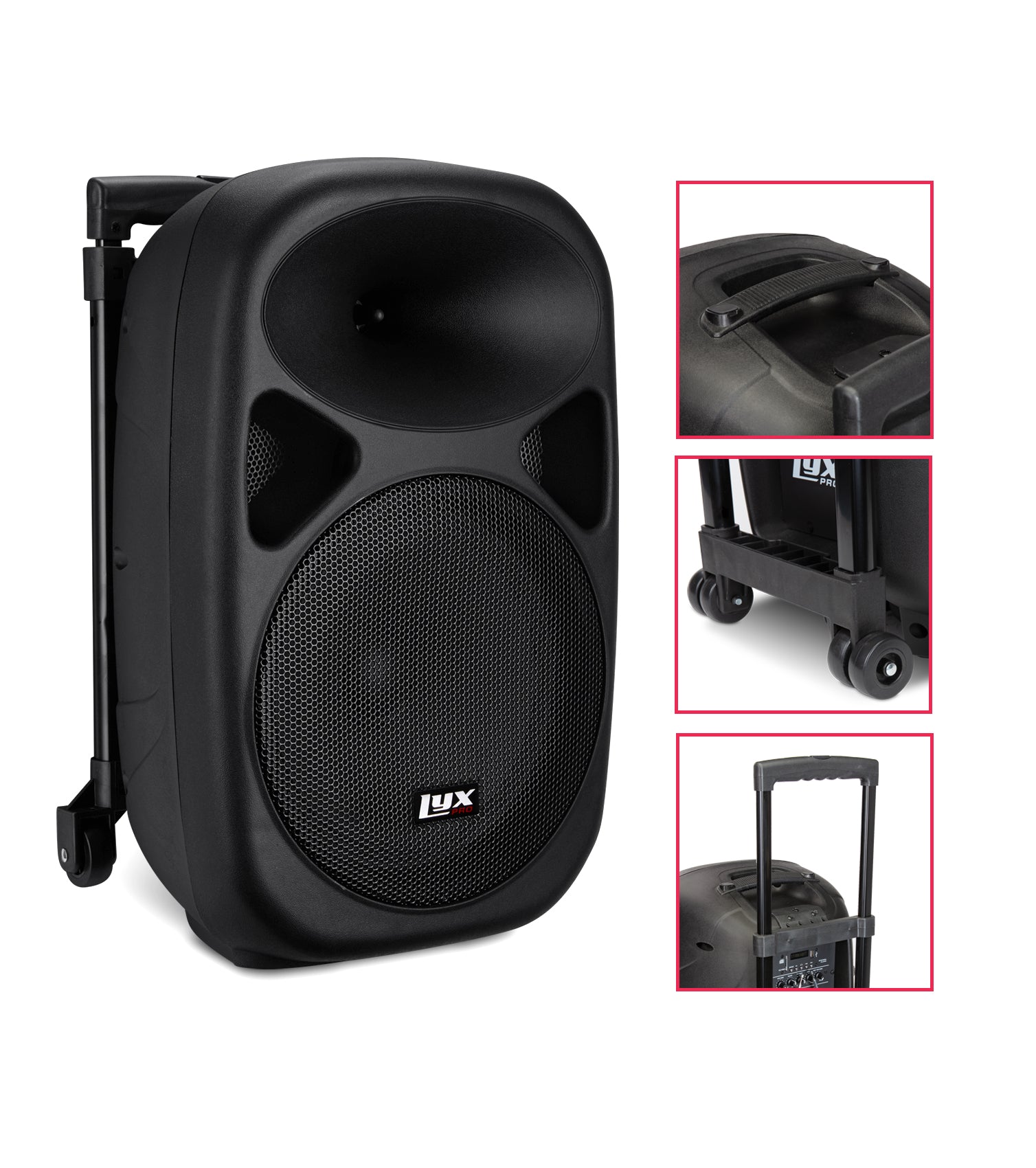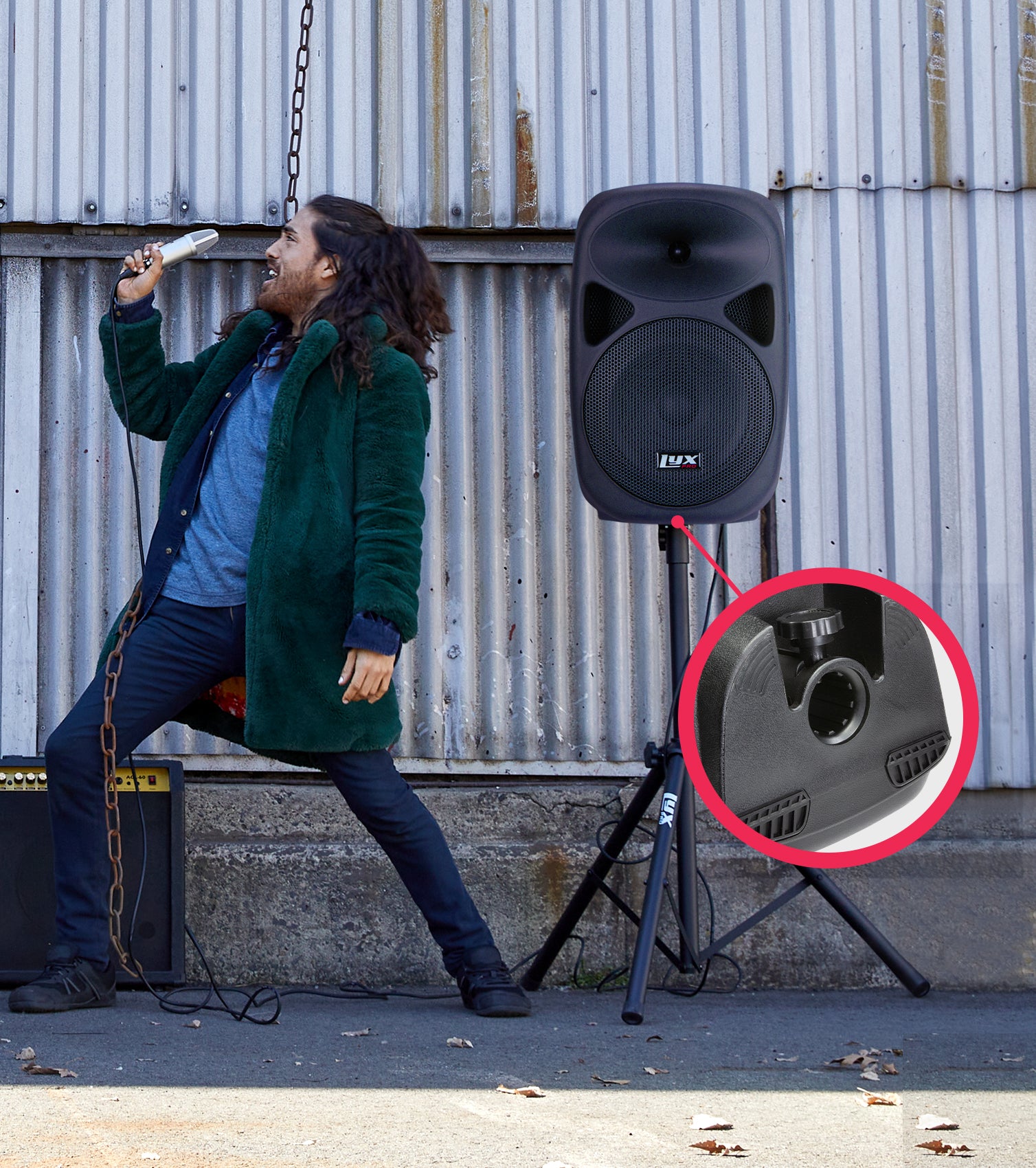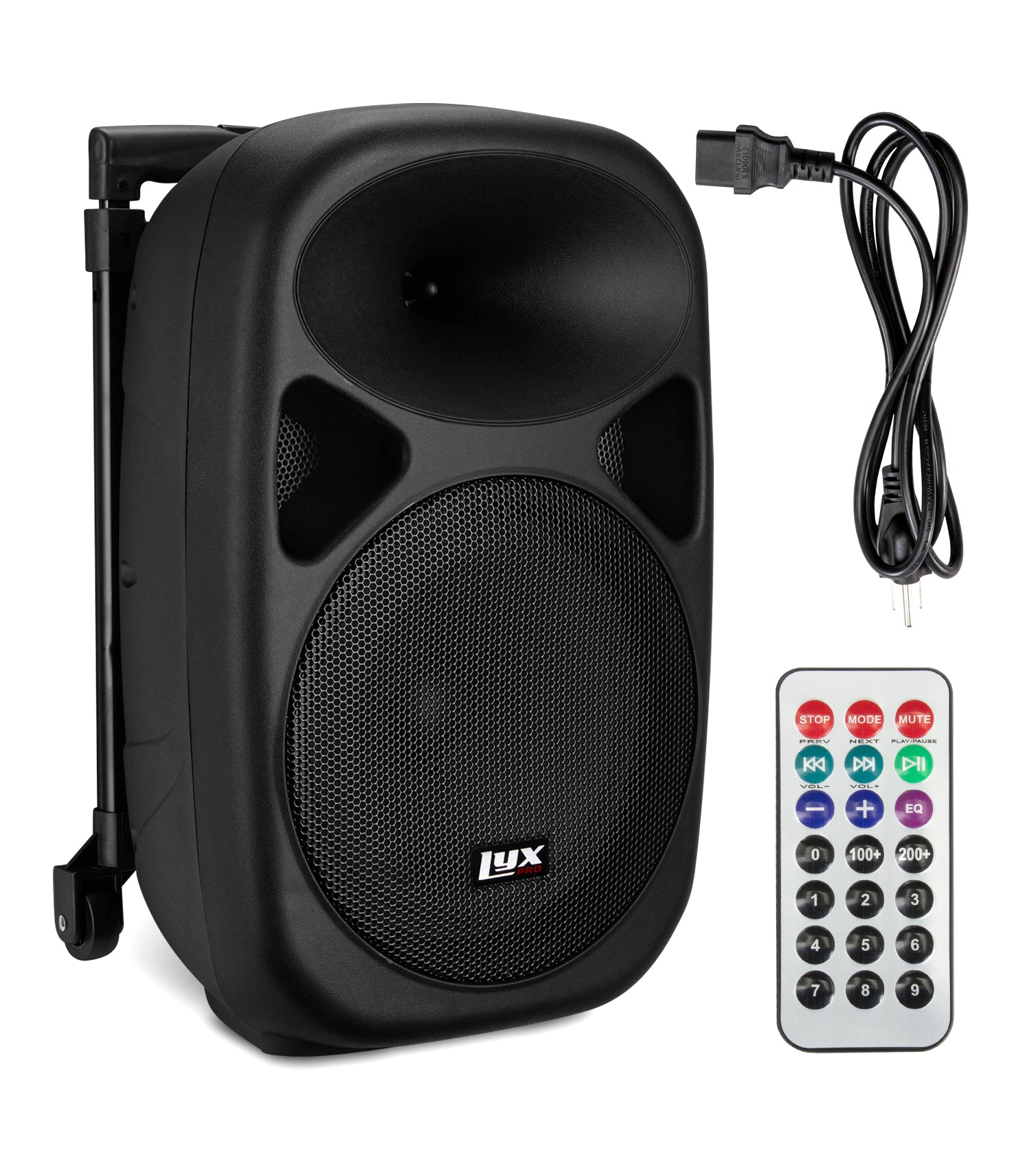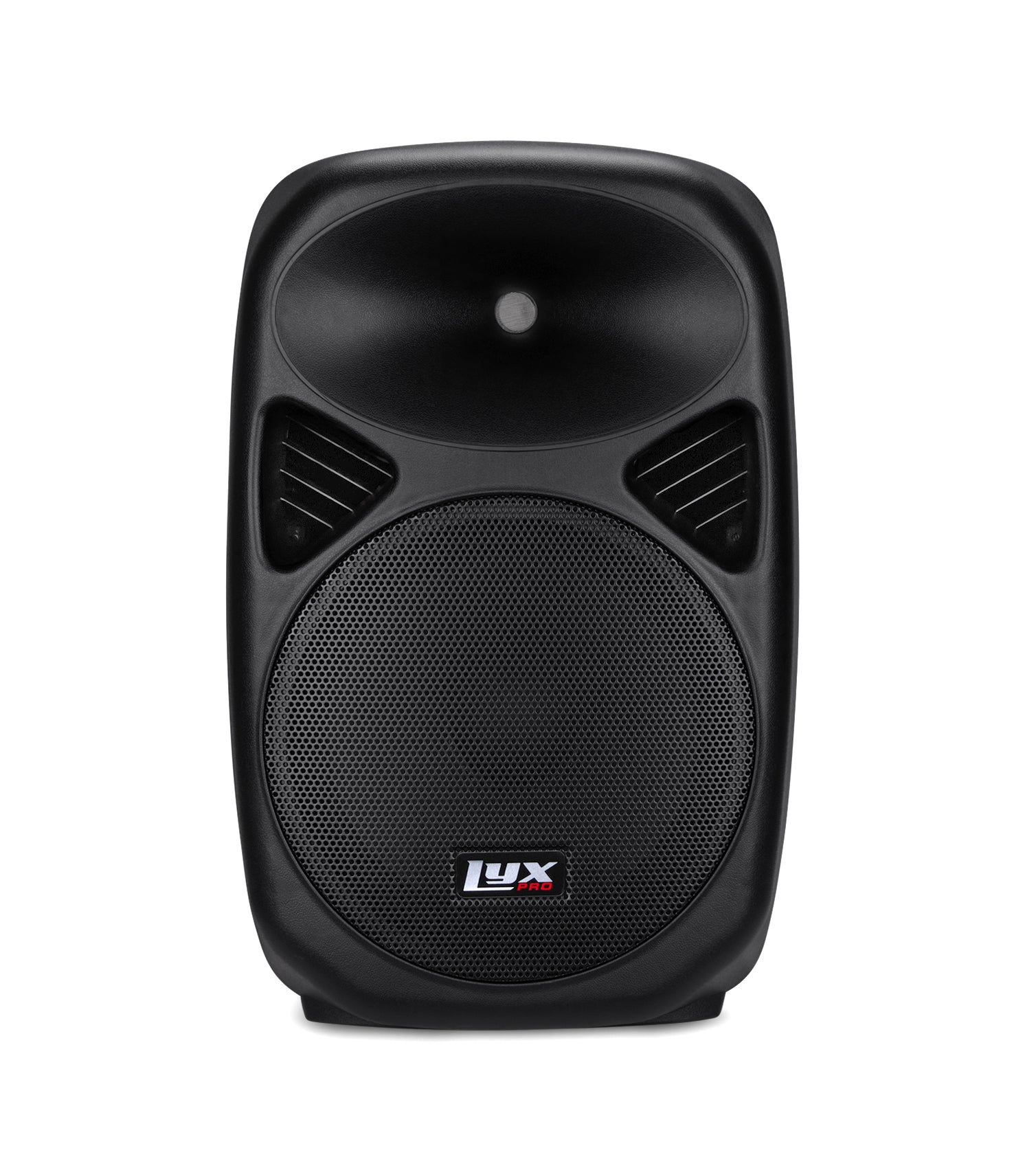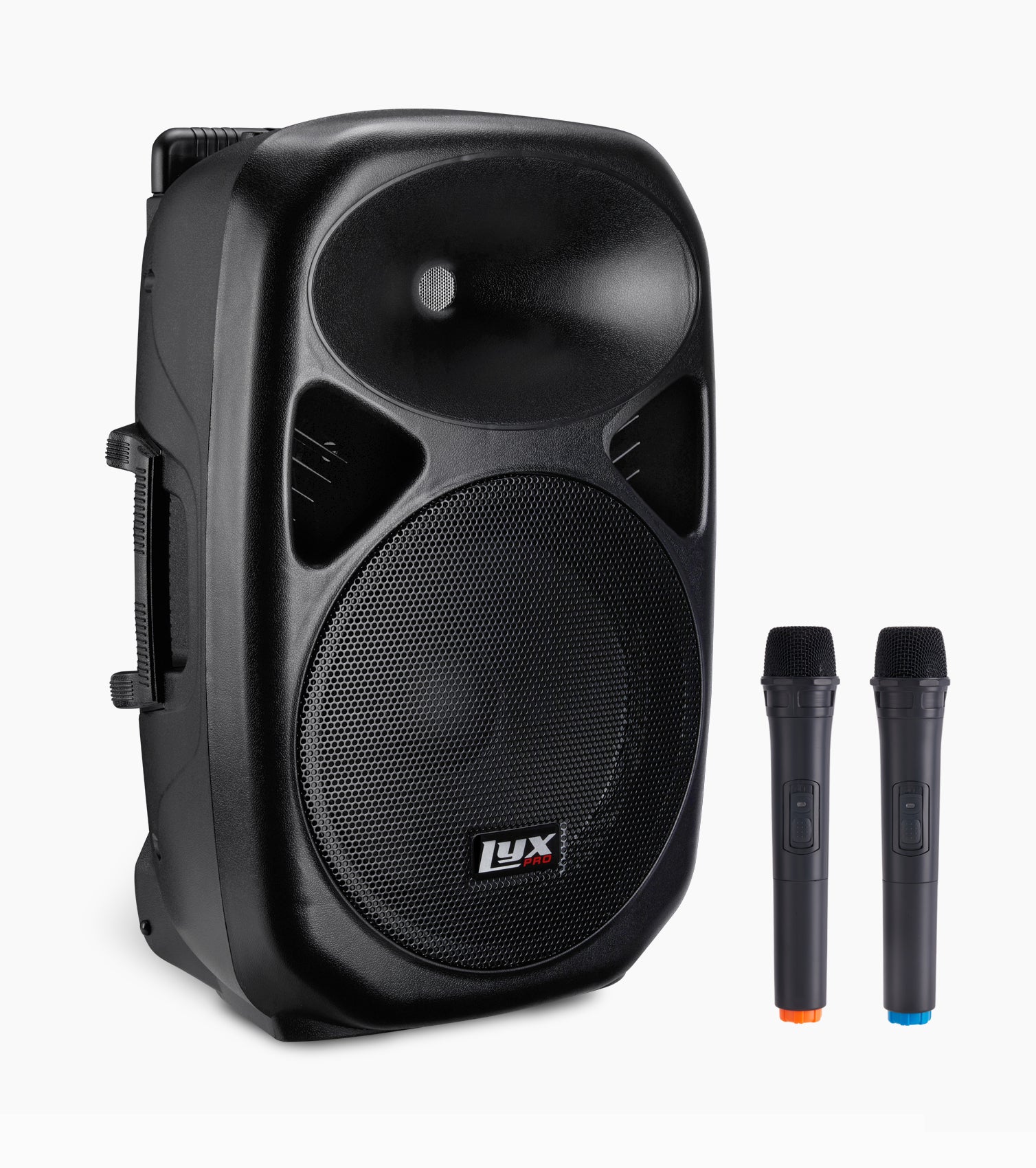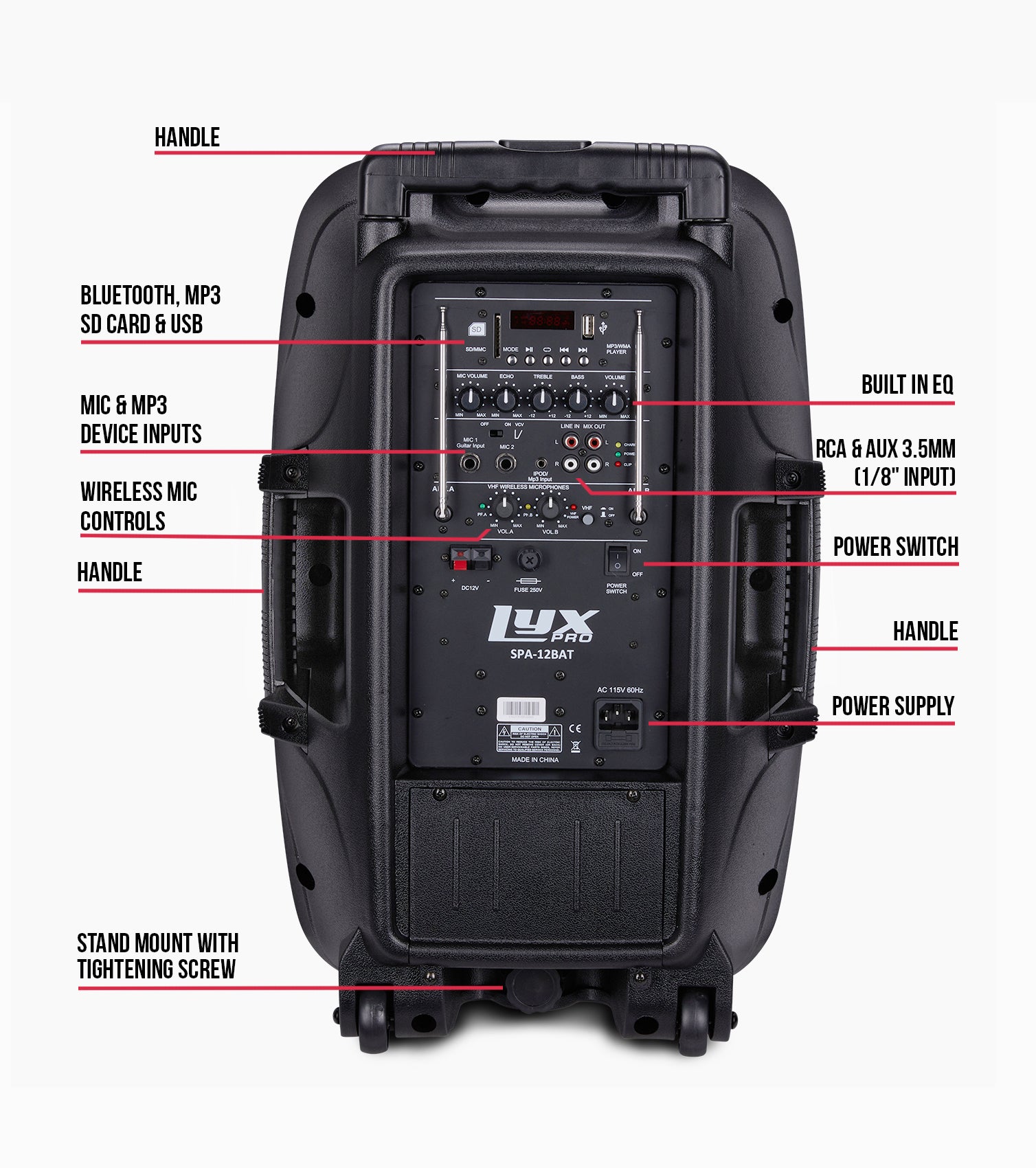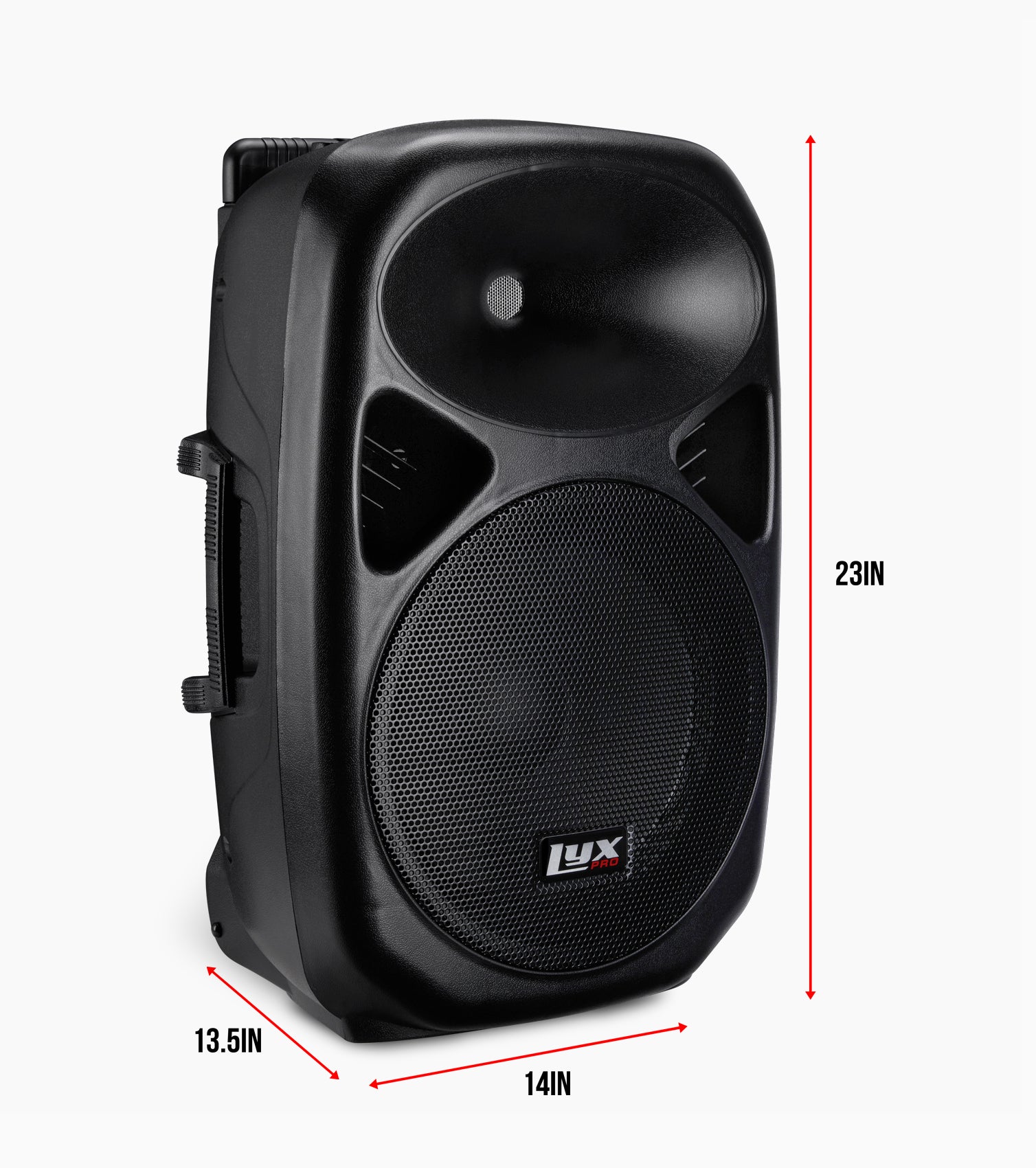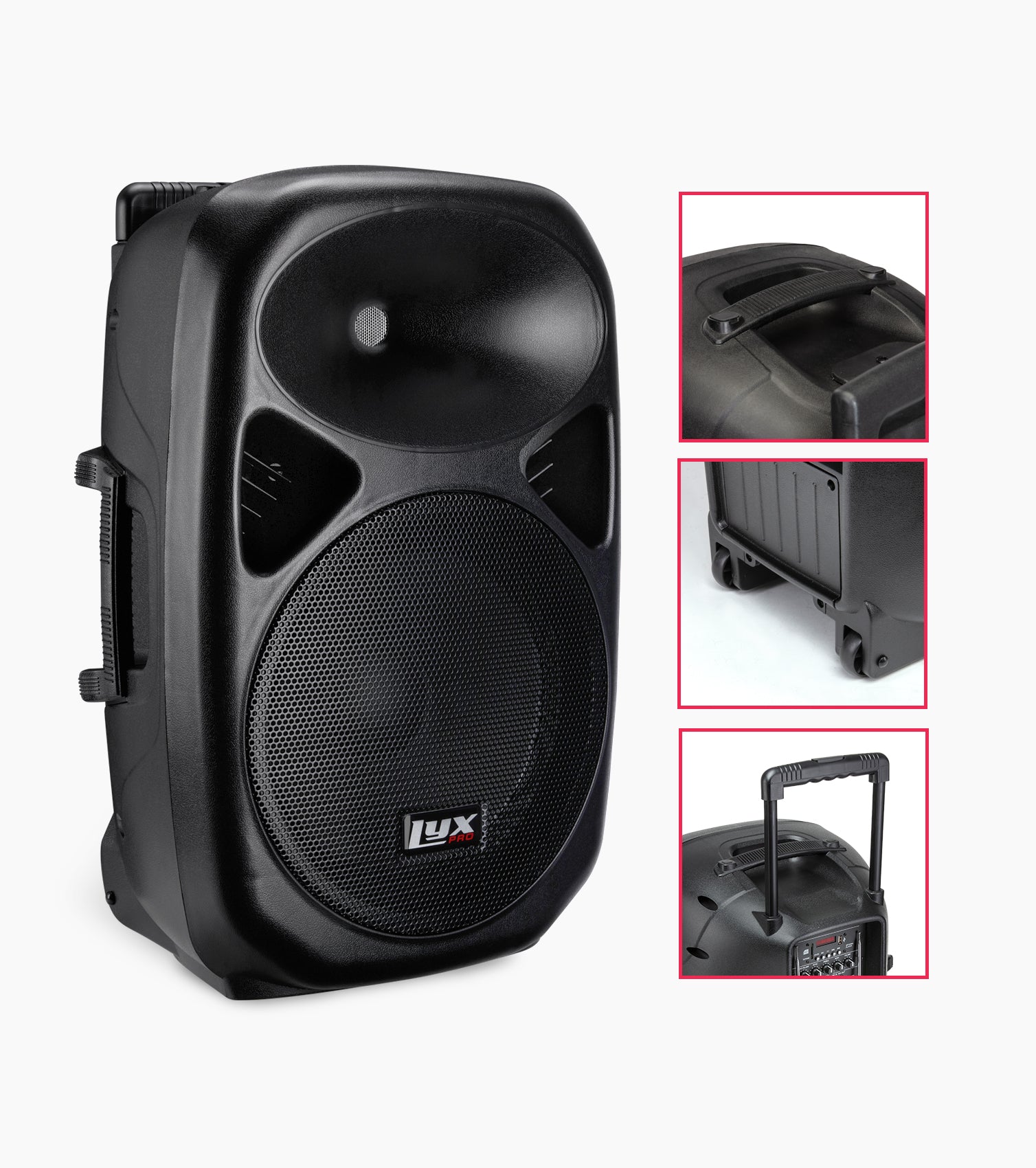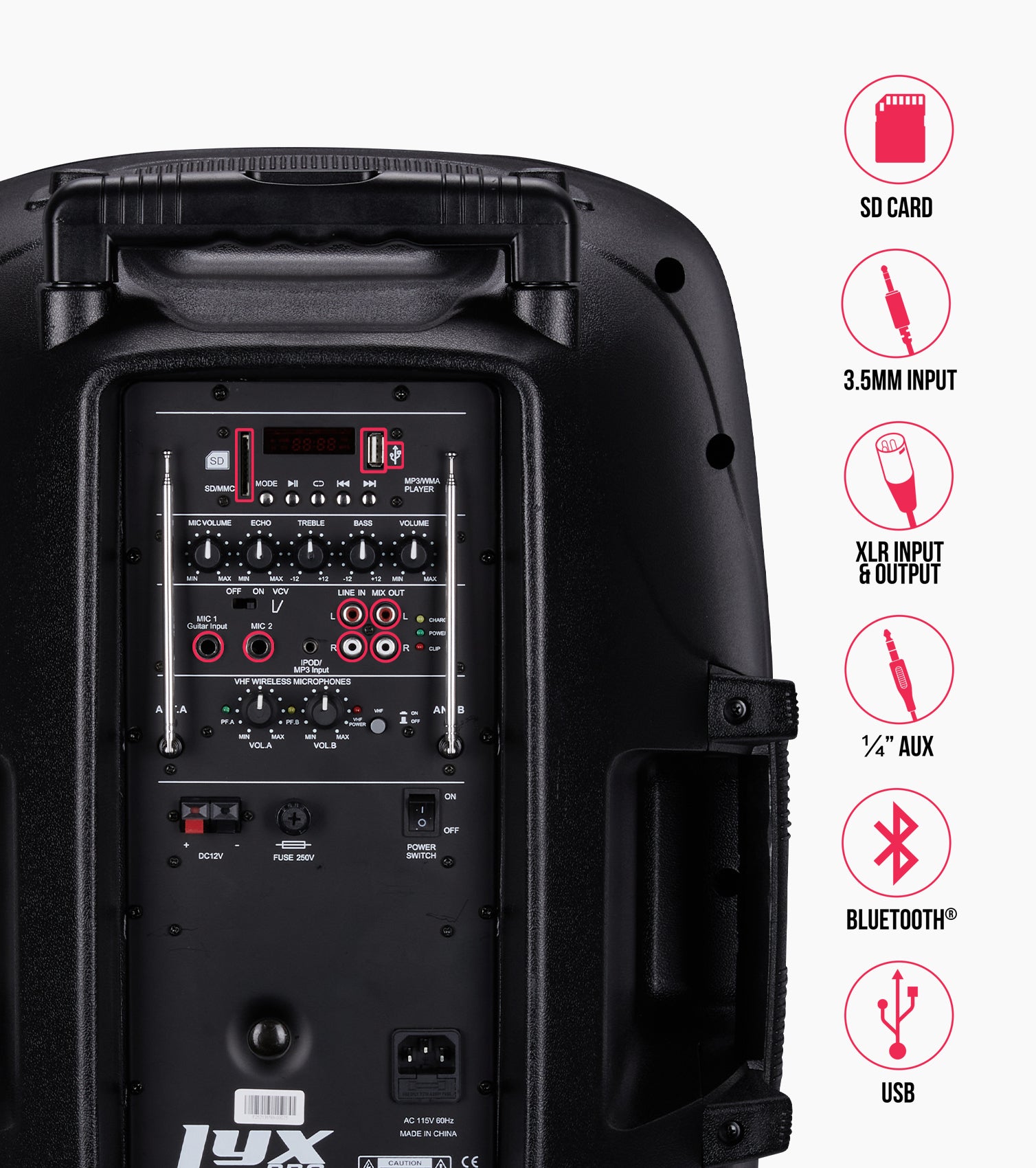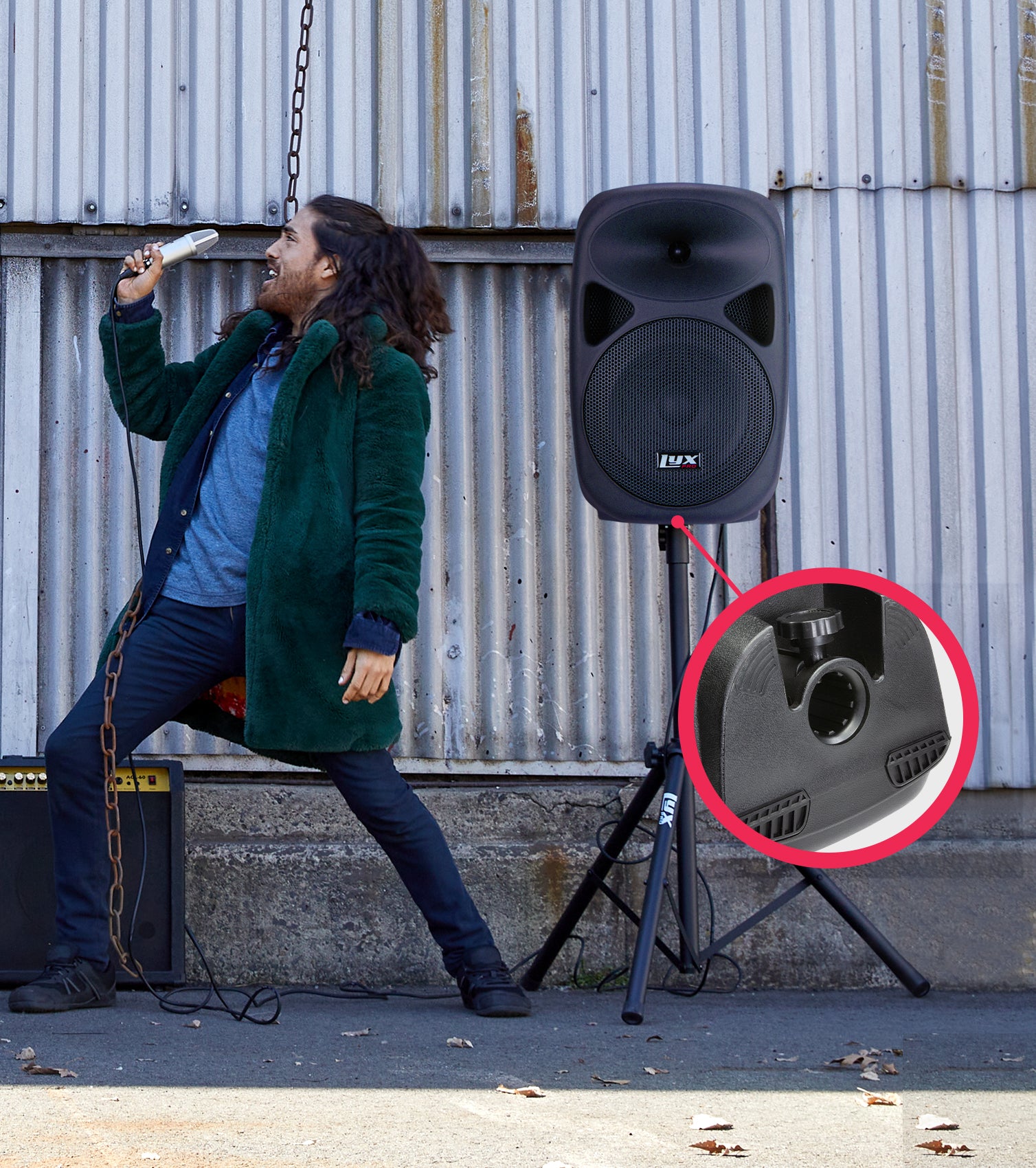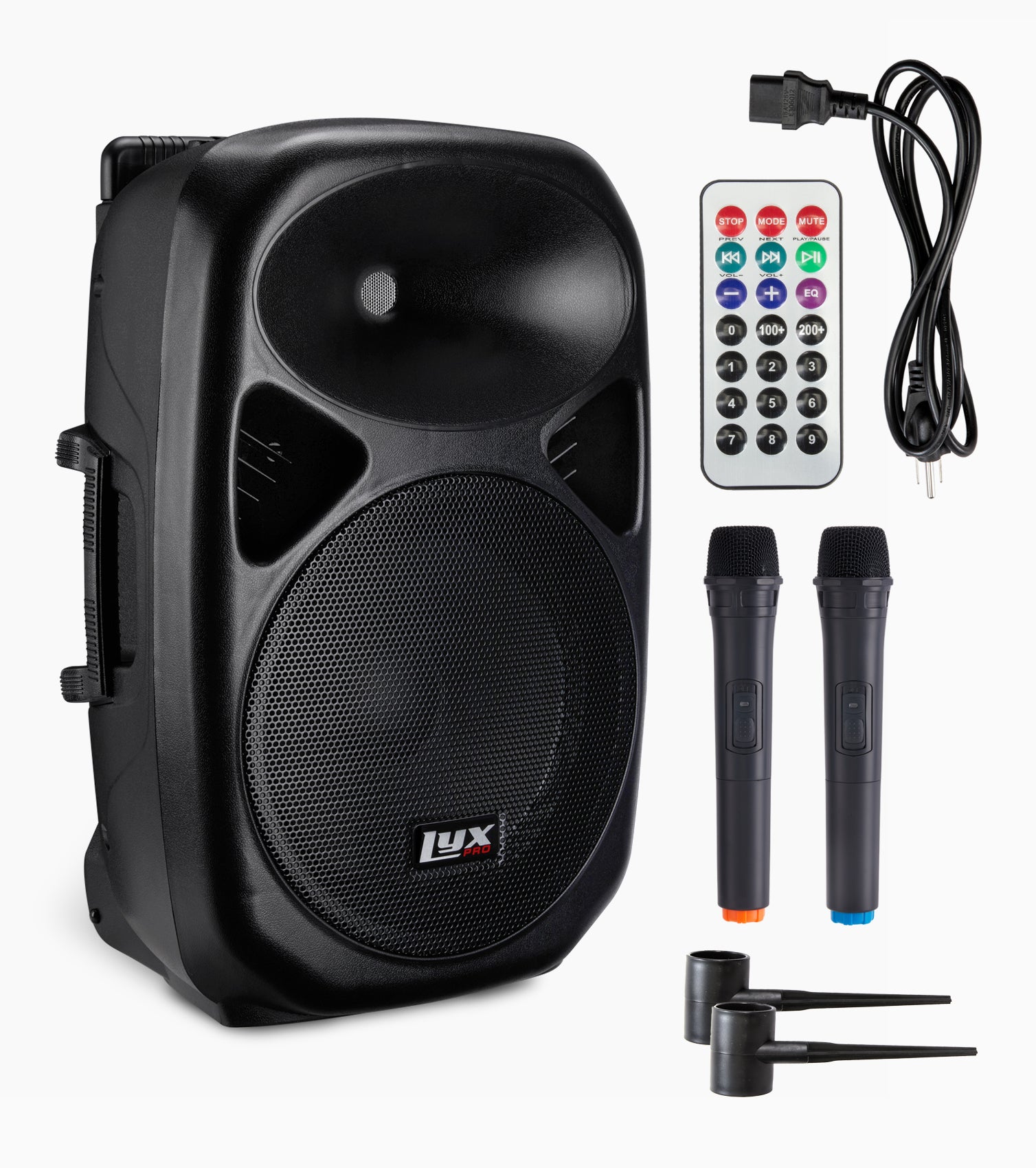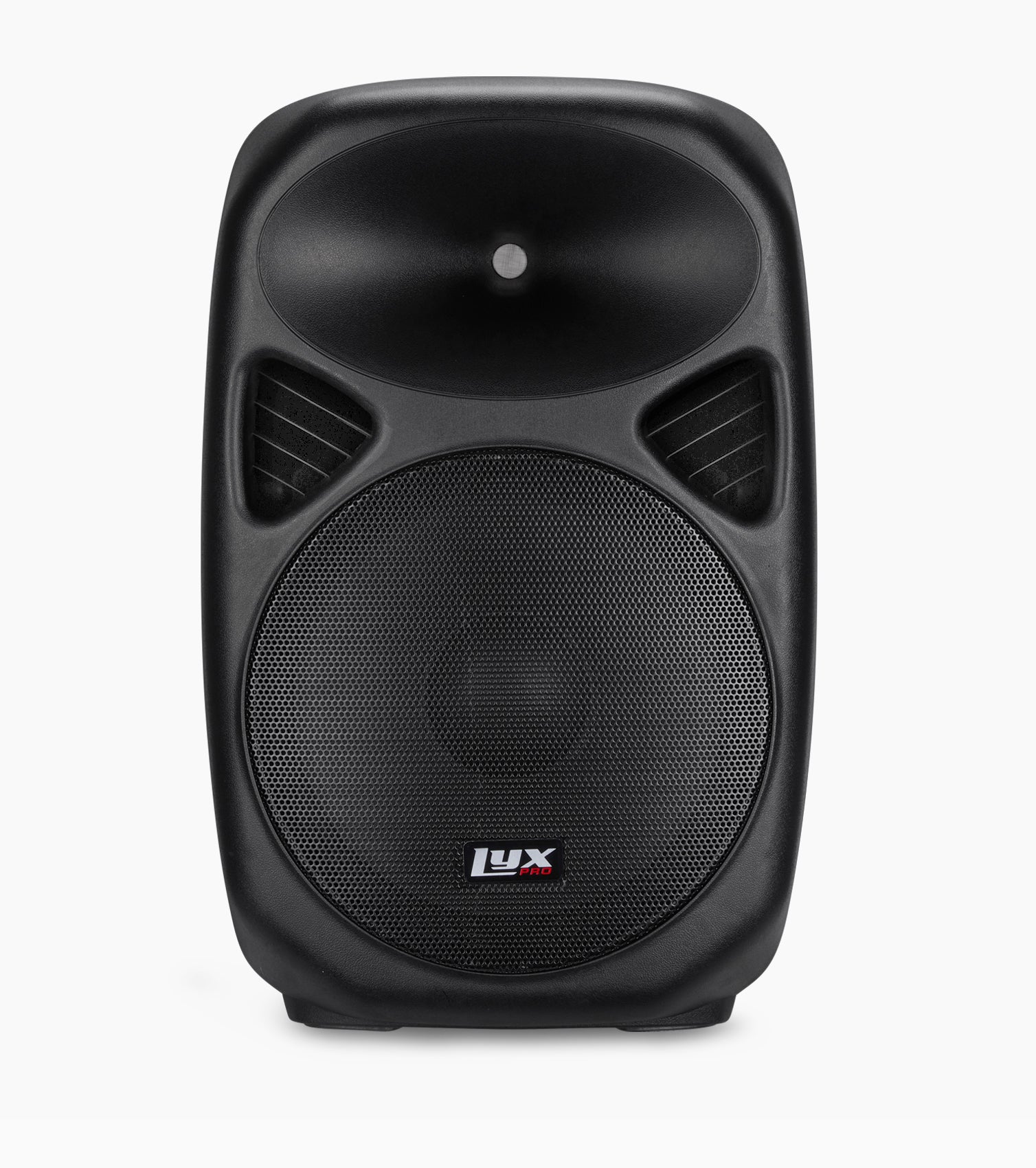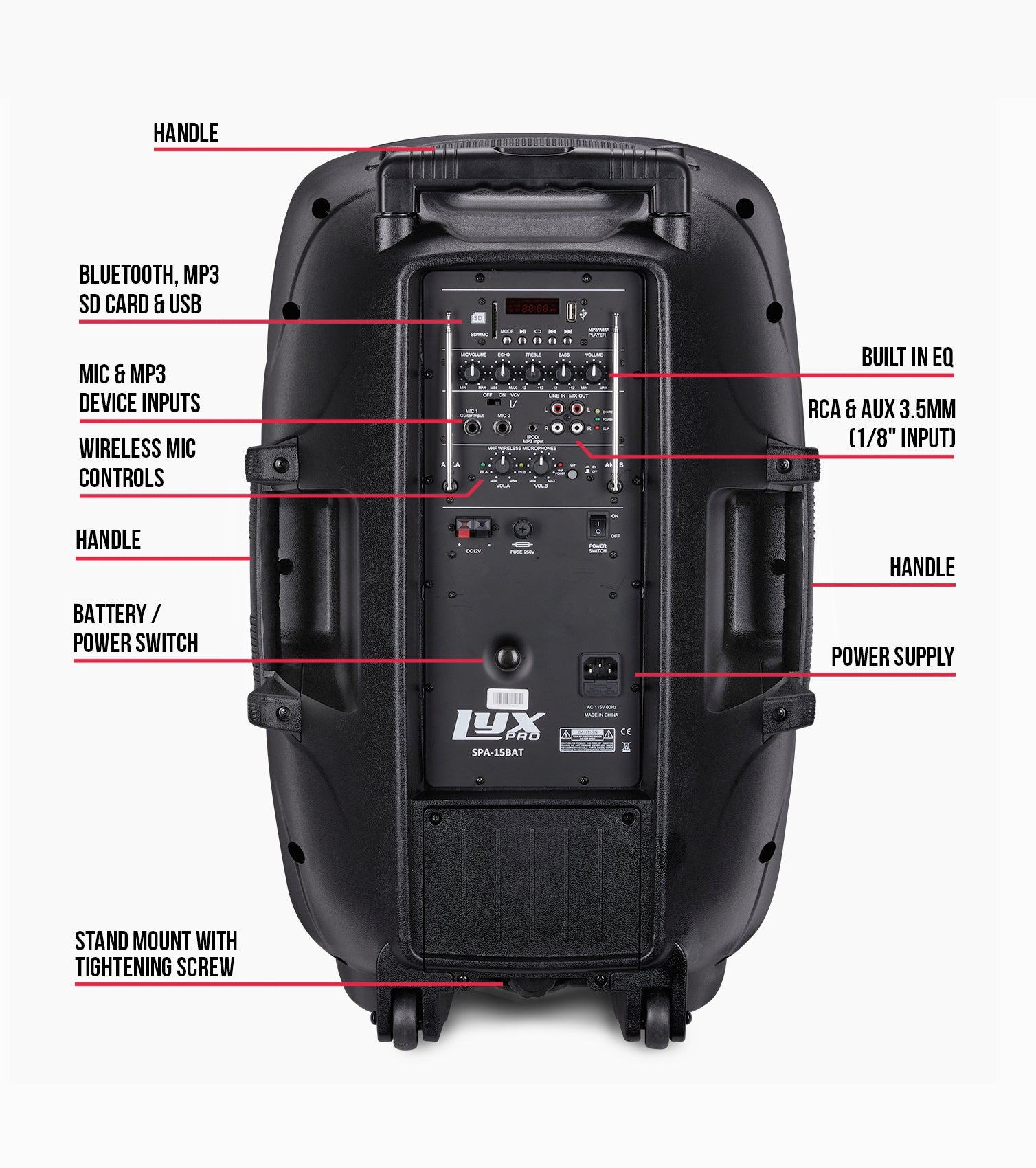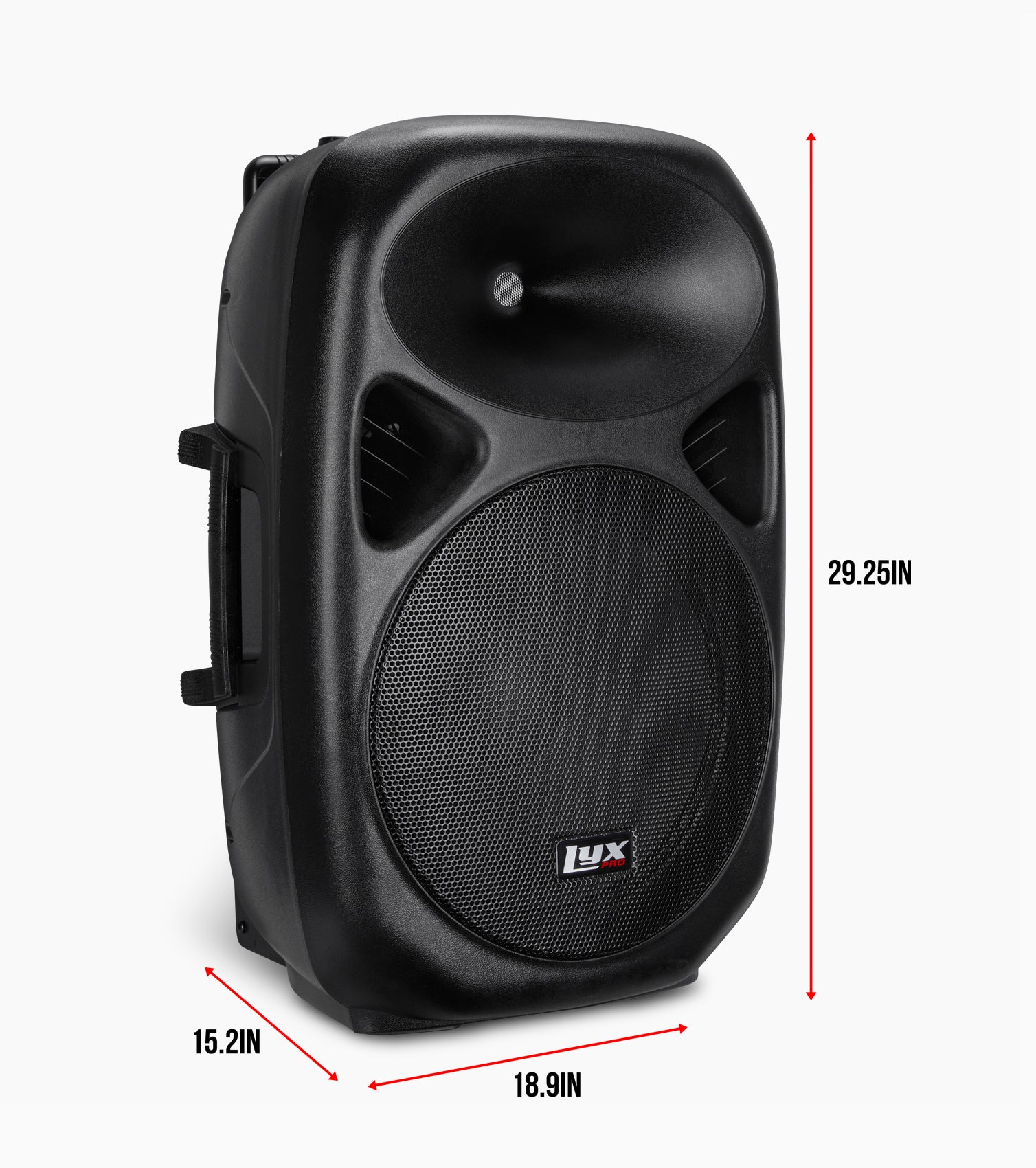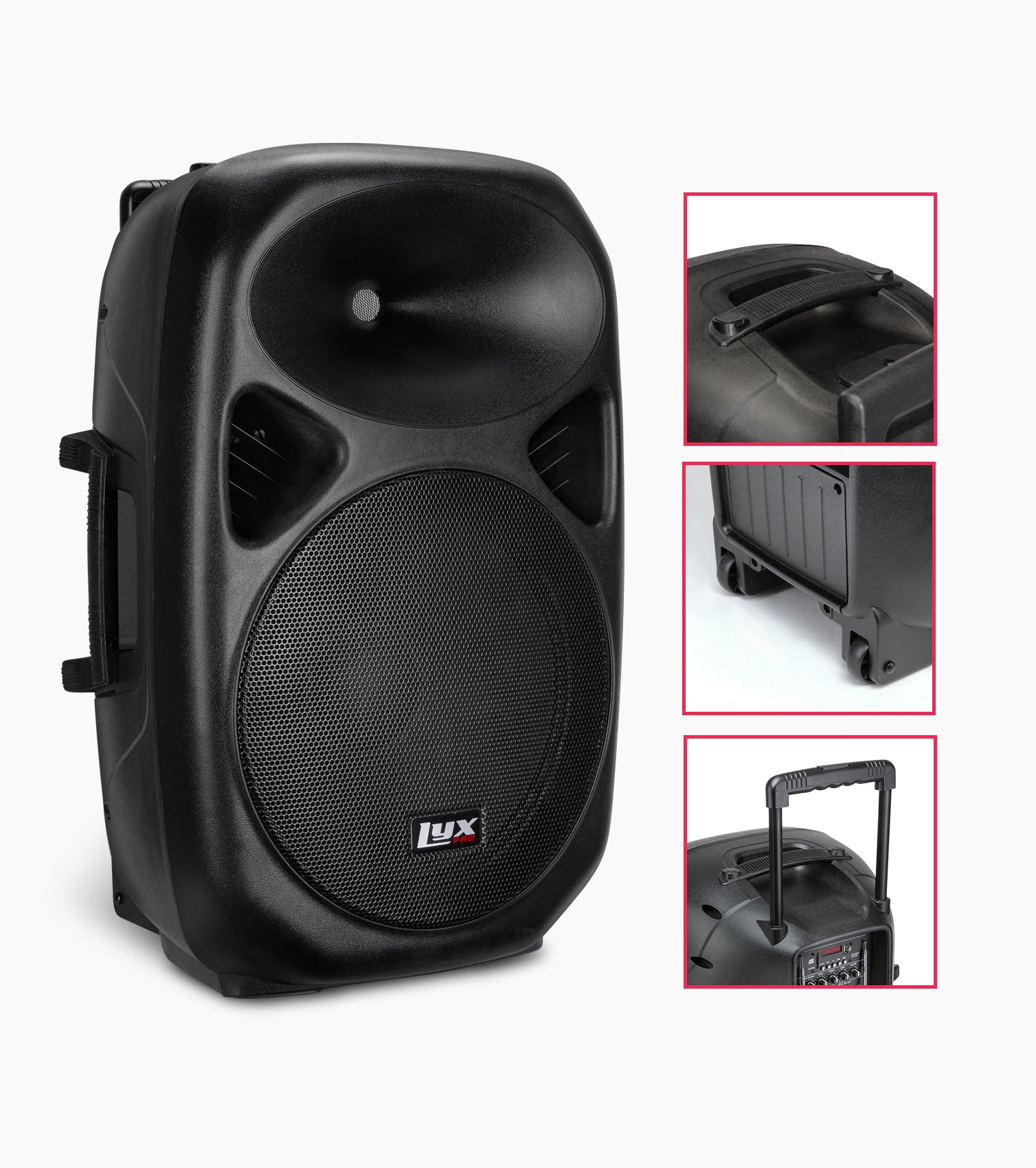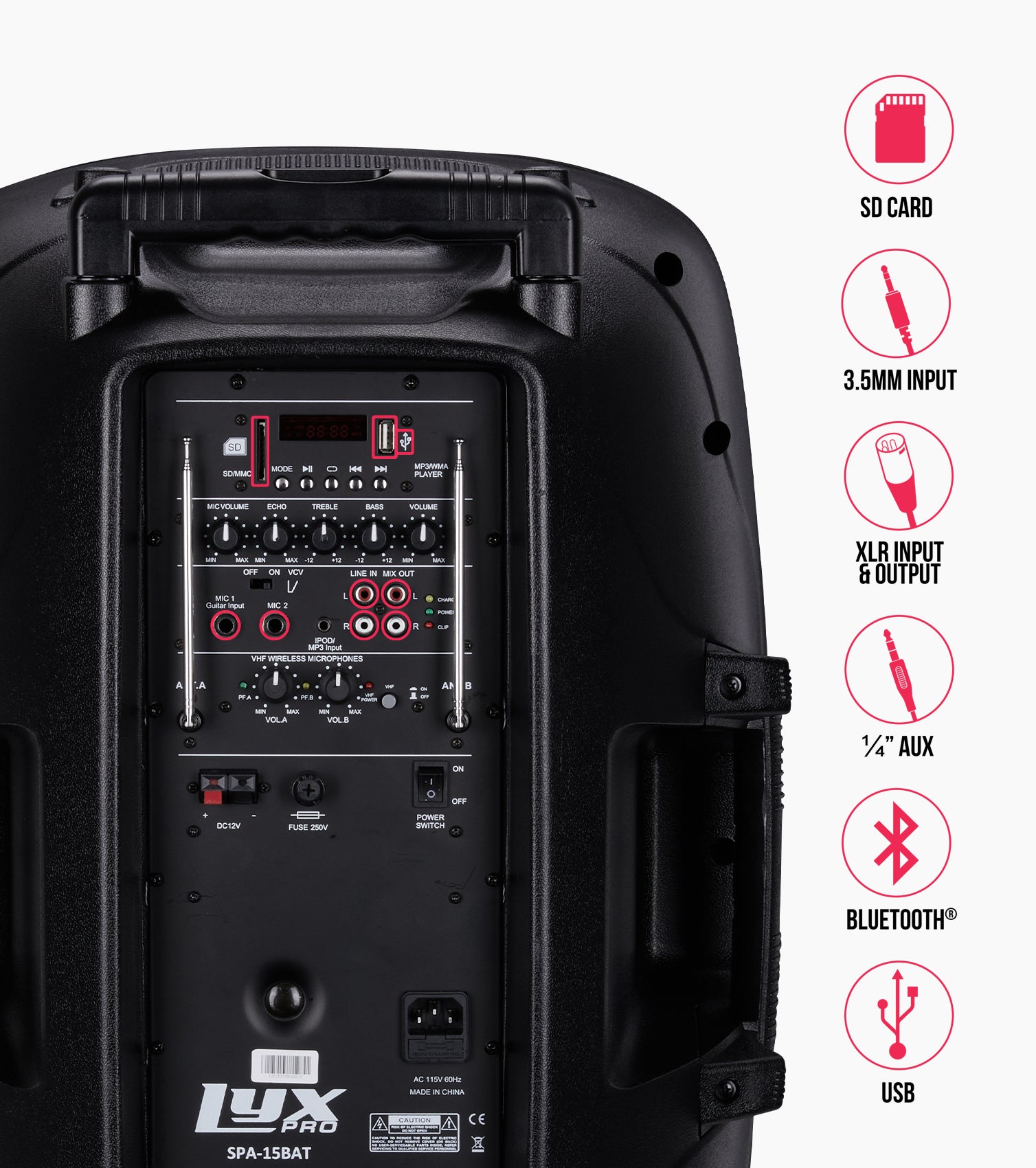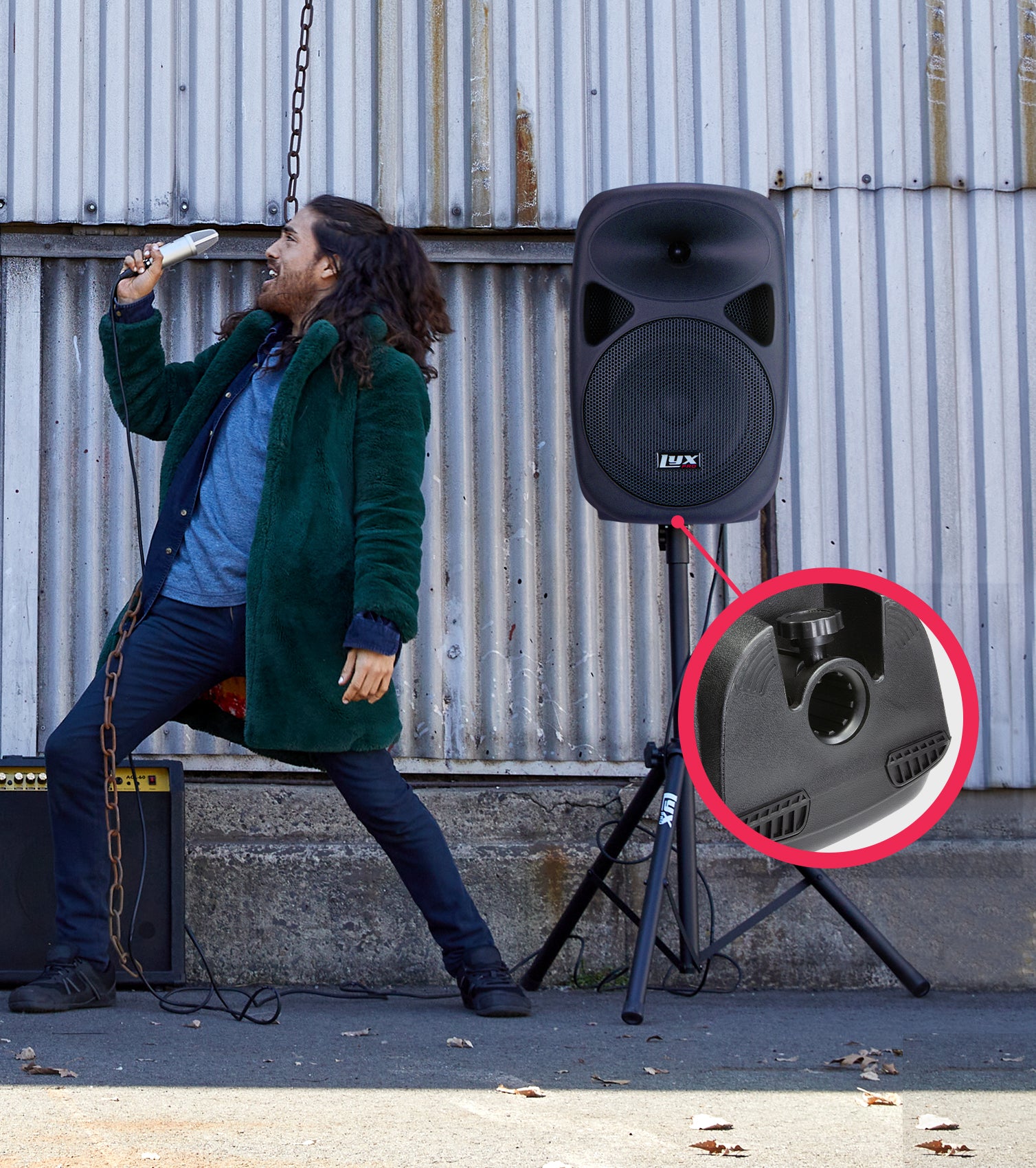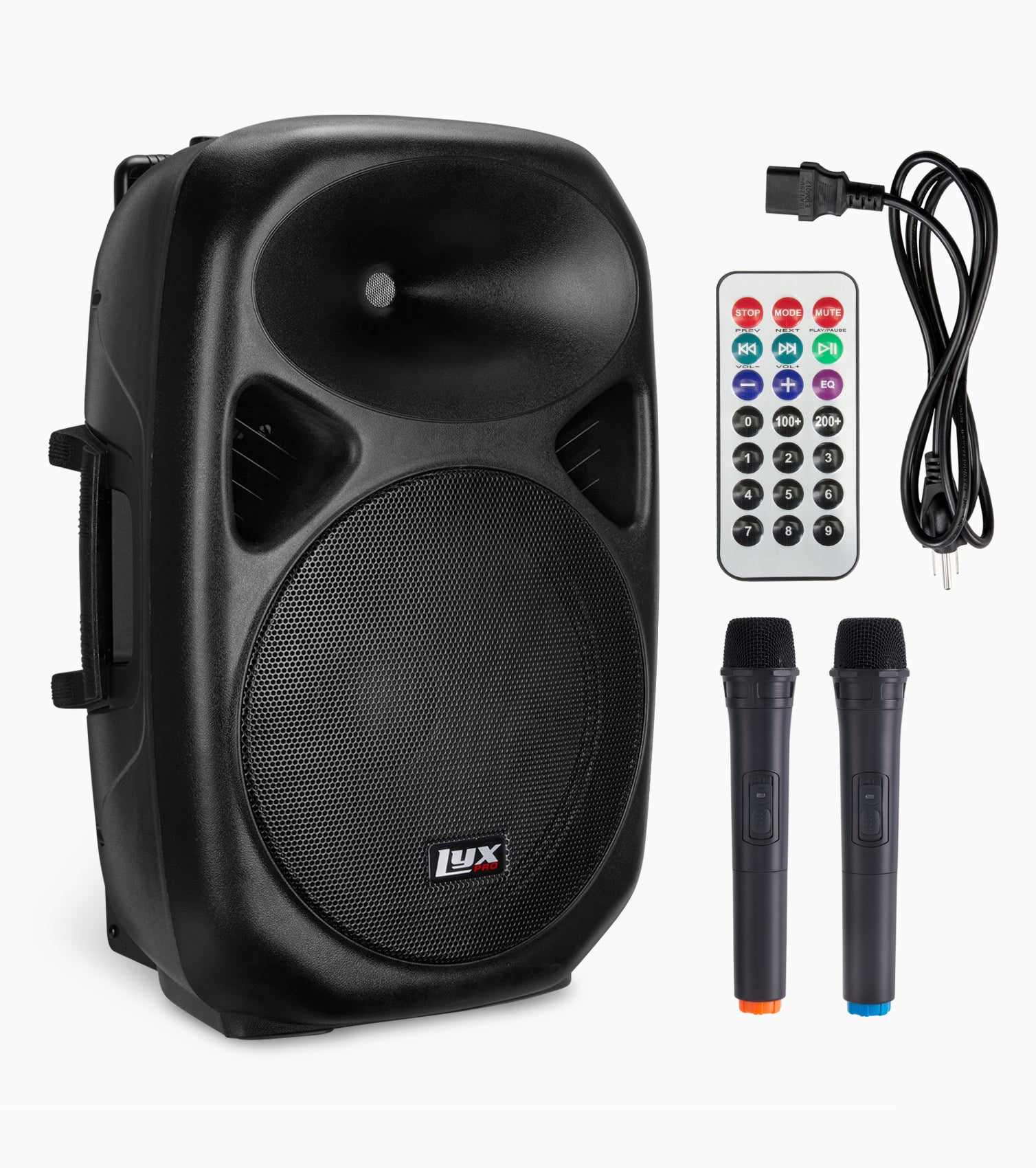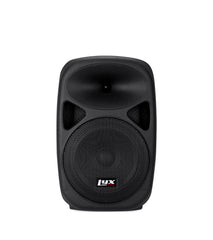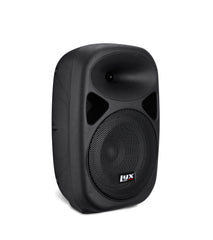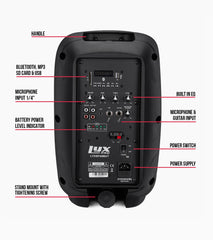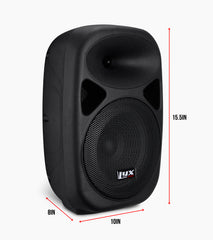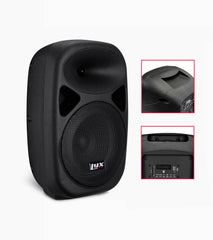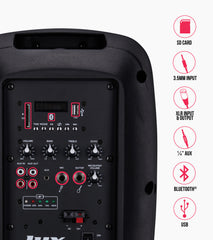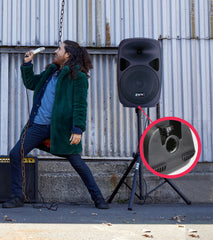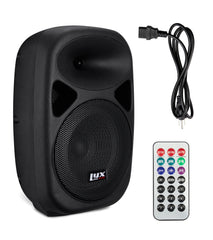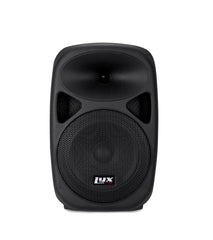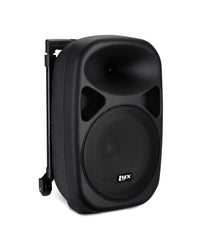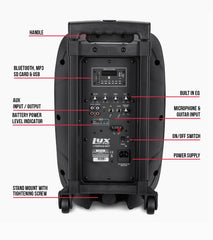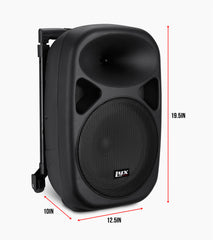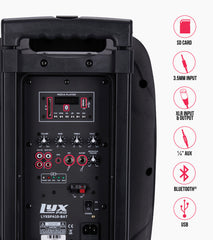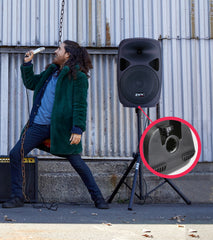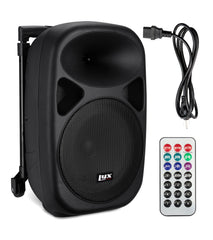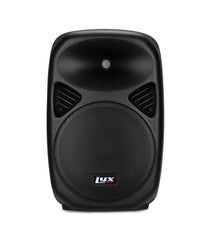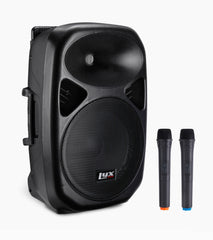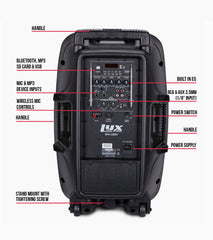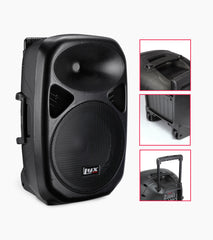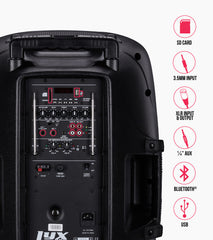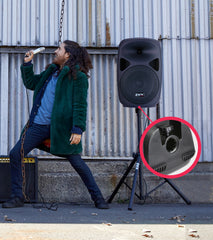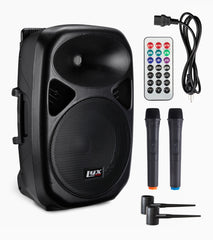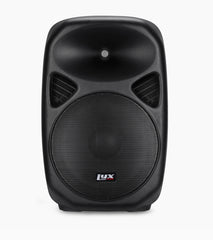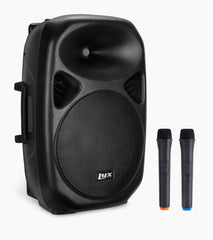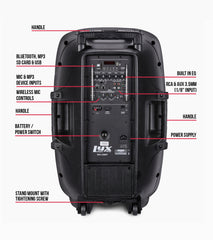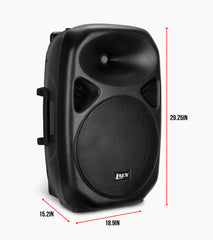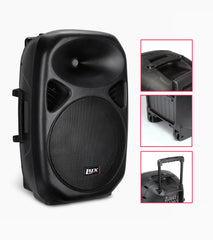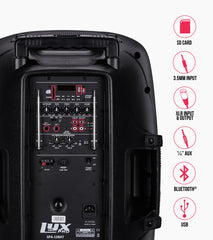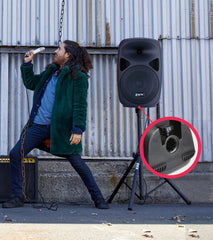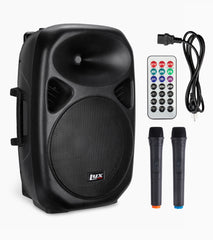 Regular price
$0.00
Sale price
$129.99
Unit price
per
Sale
Sold out
Let everyone hear
Lightweight

8"

speaker with 70 watts of power
Built-in rechargeable battery for portable use
Suitable for outdoor events, parties, meetings, and more
Designed with an integrated SD card slot, Bluetooth & USB input
Can be daisy chained to multiple speakers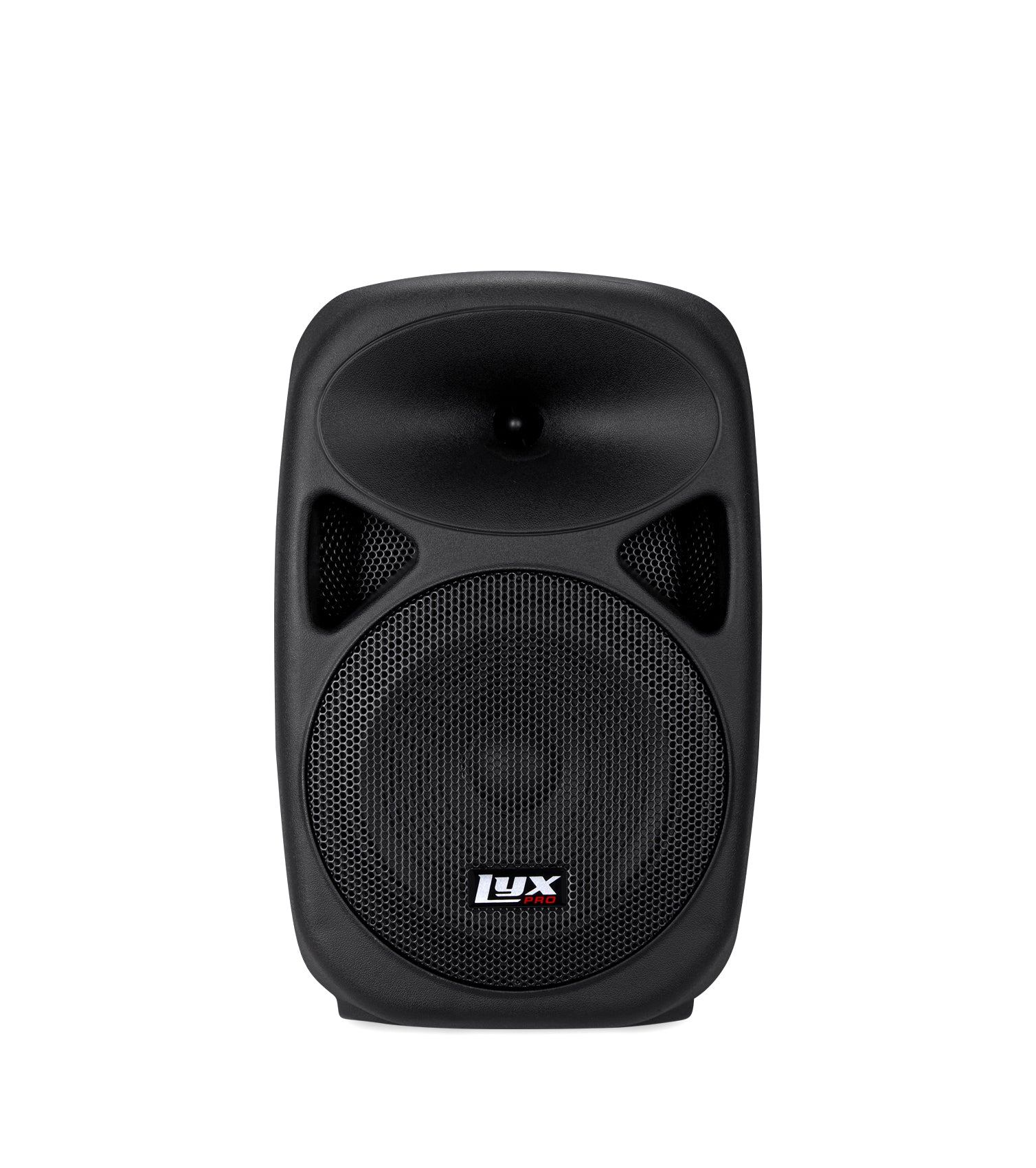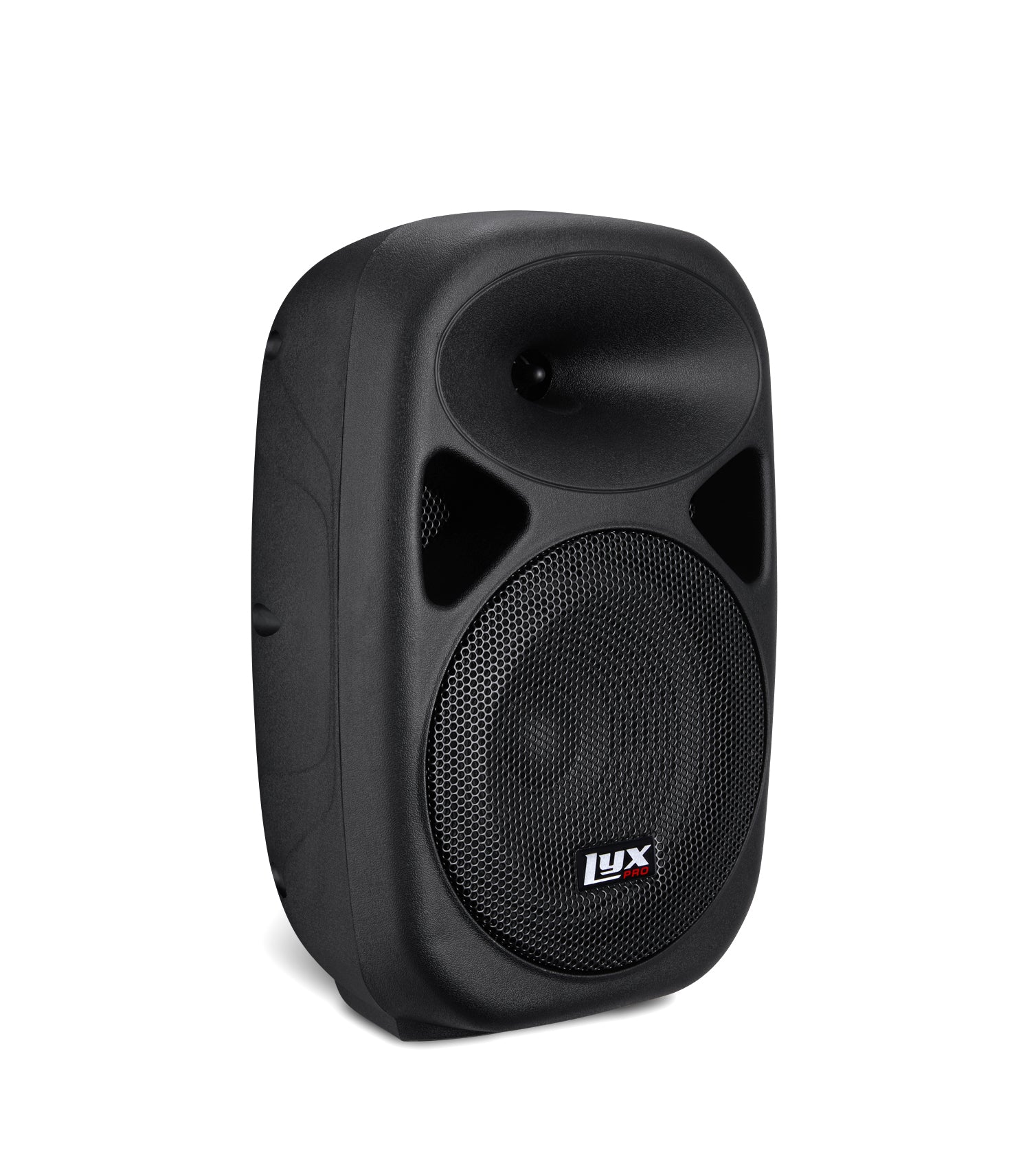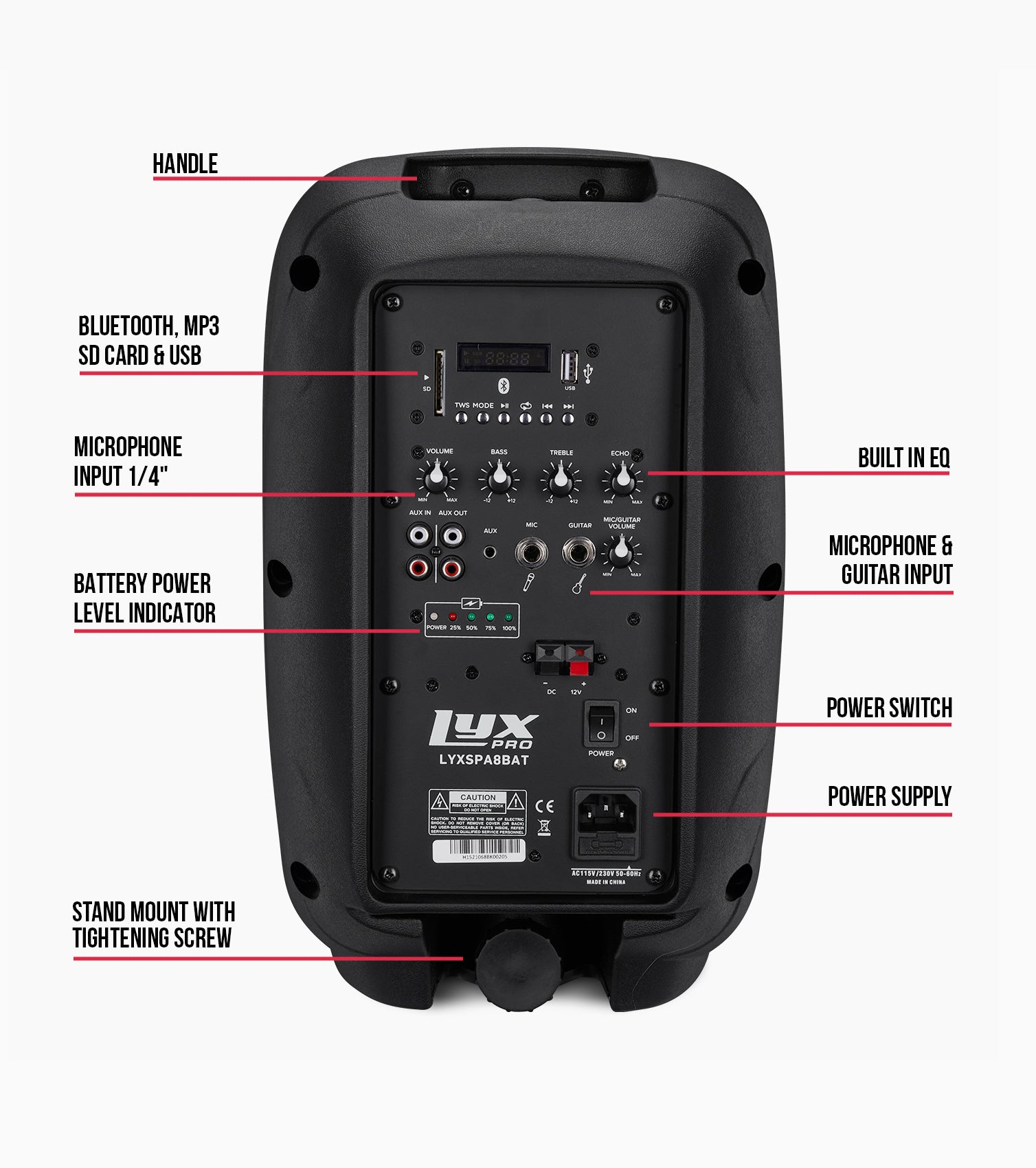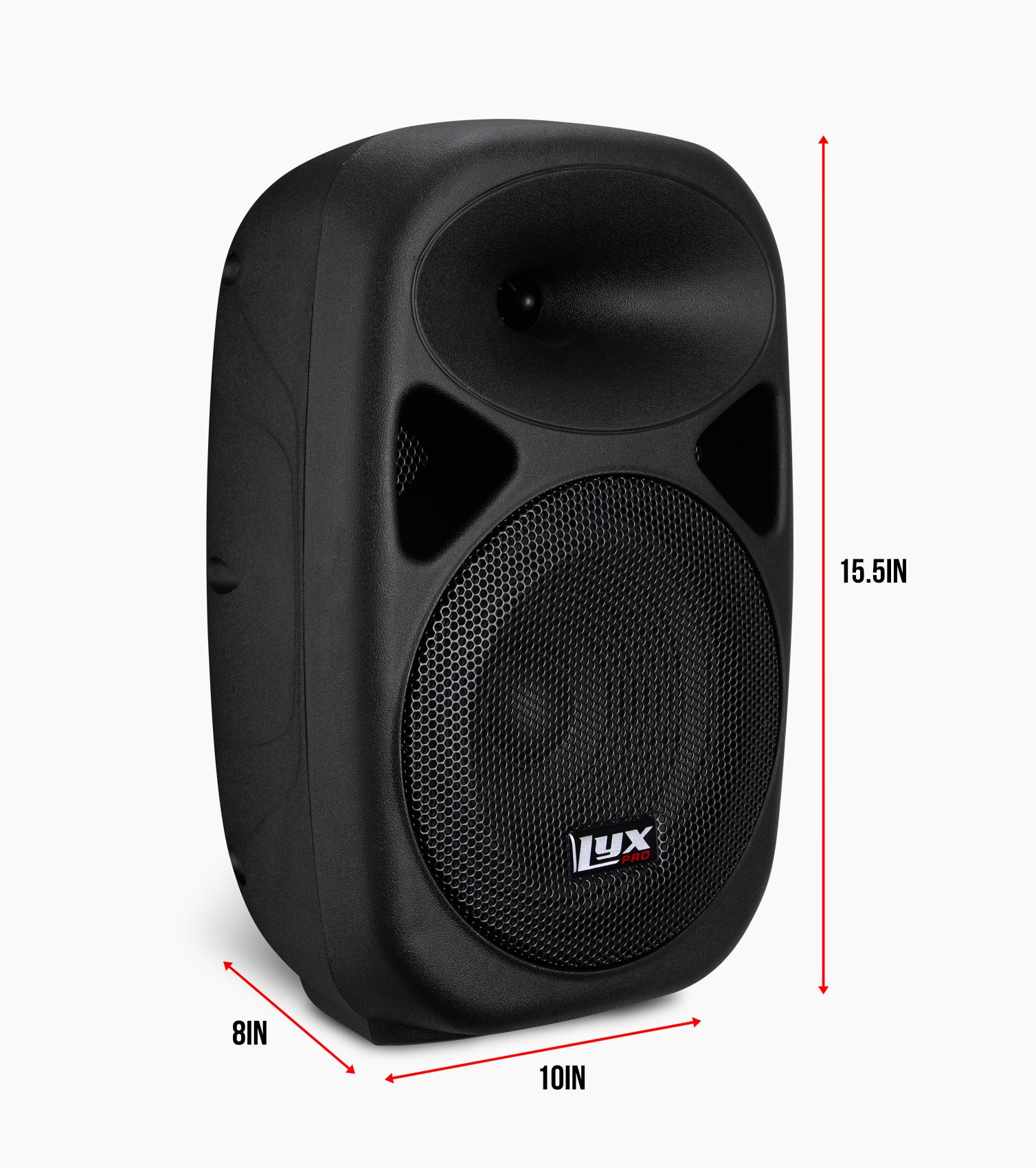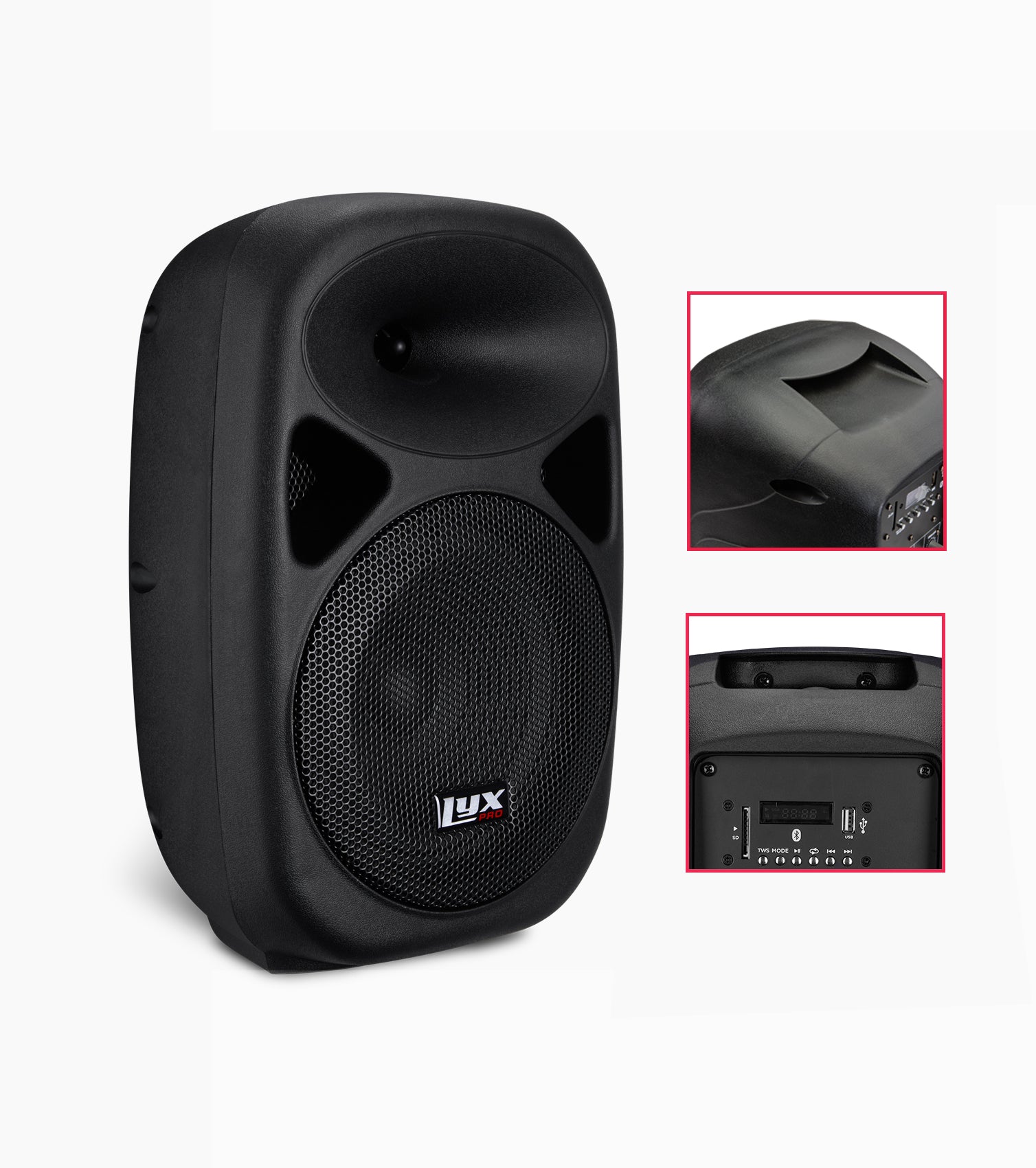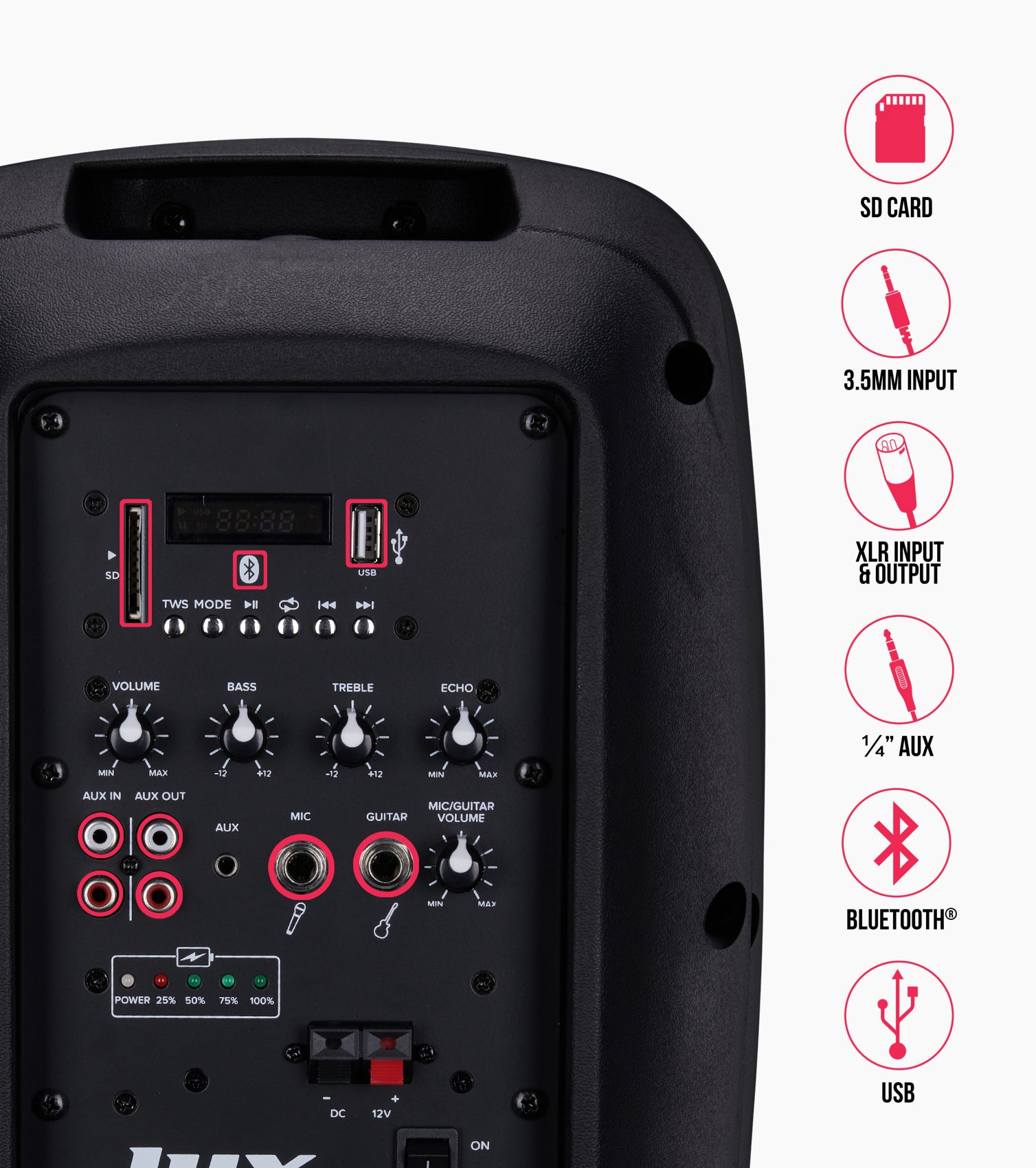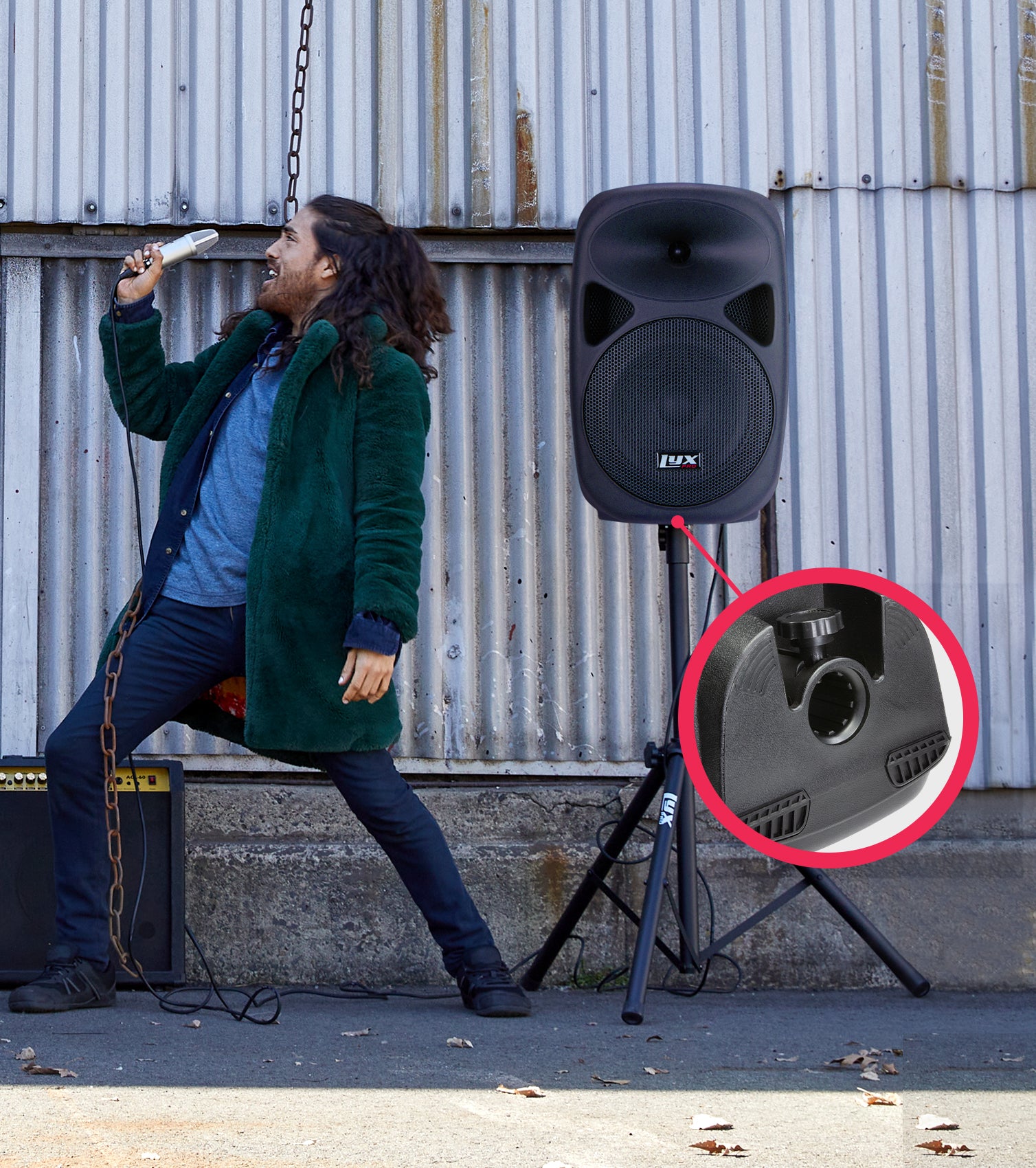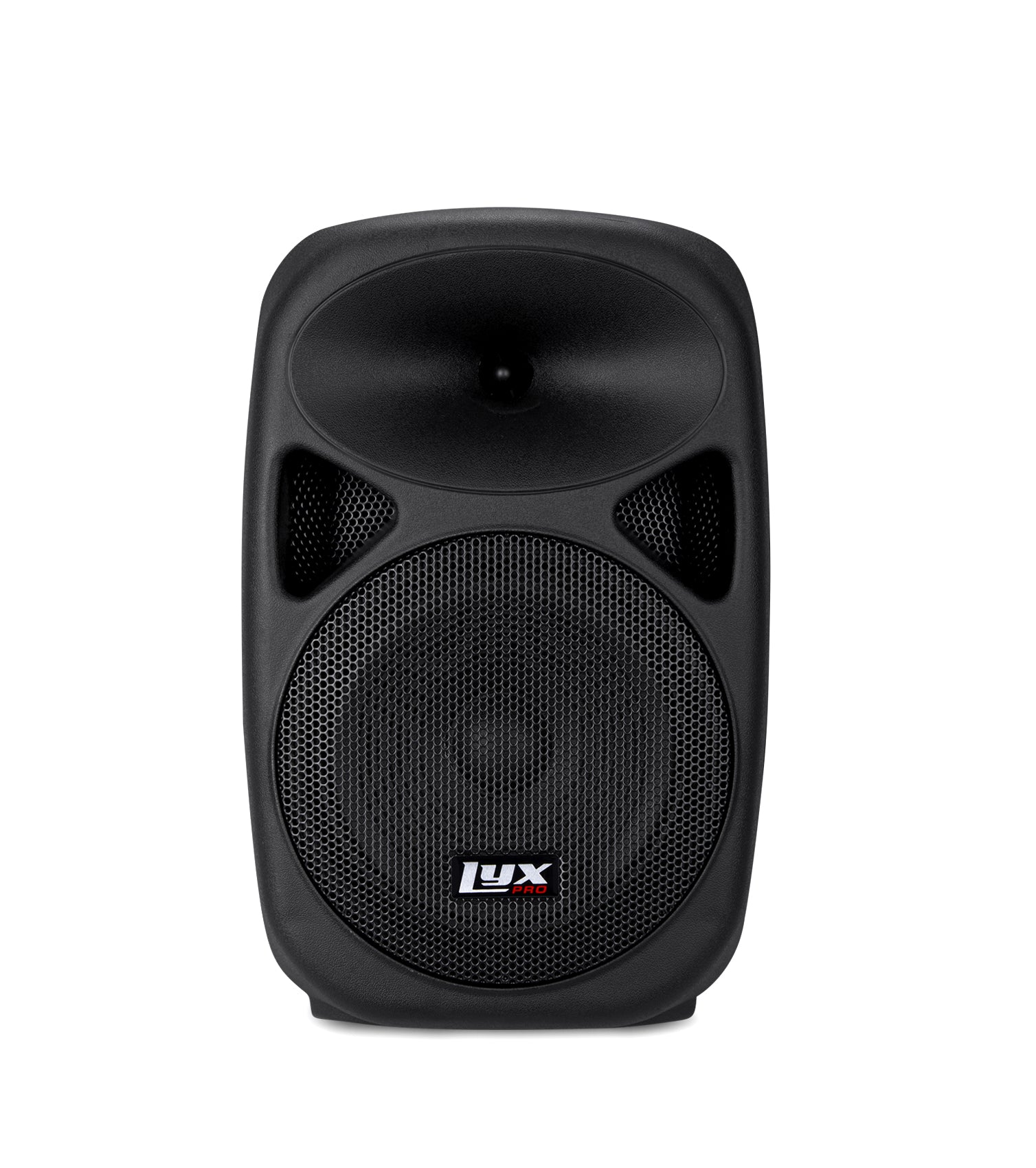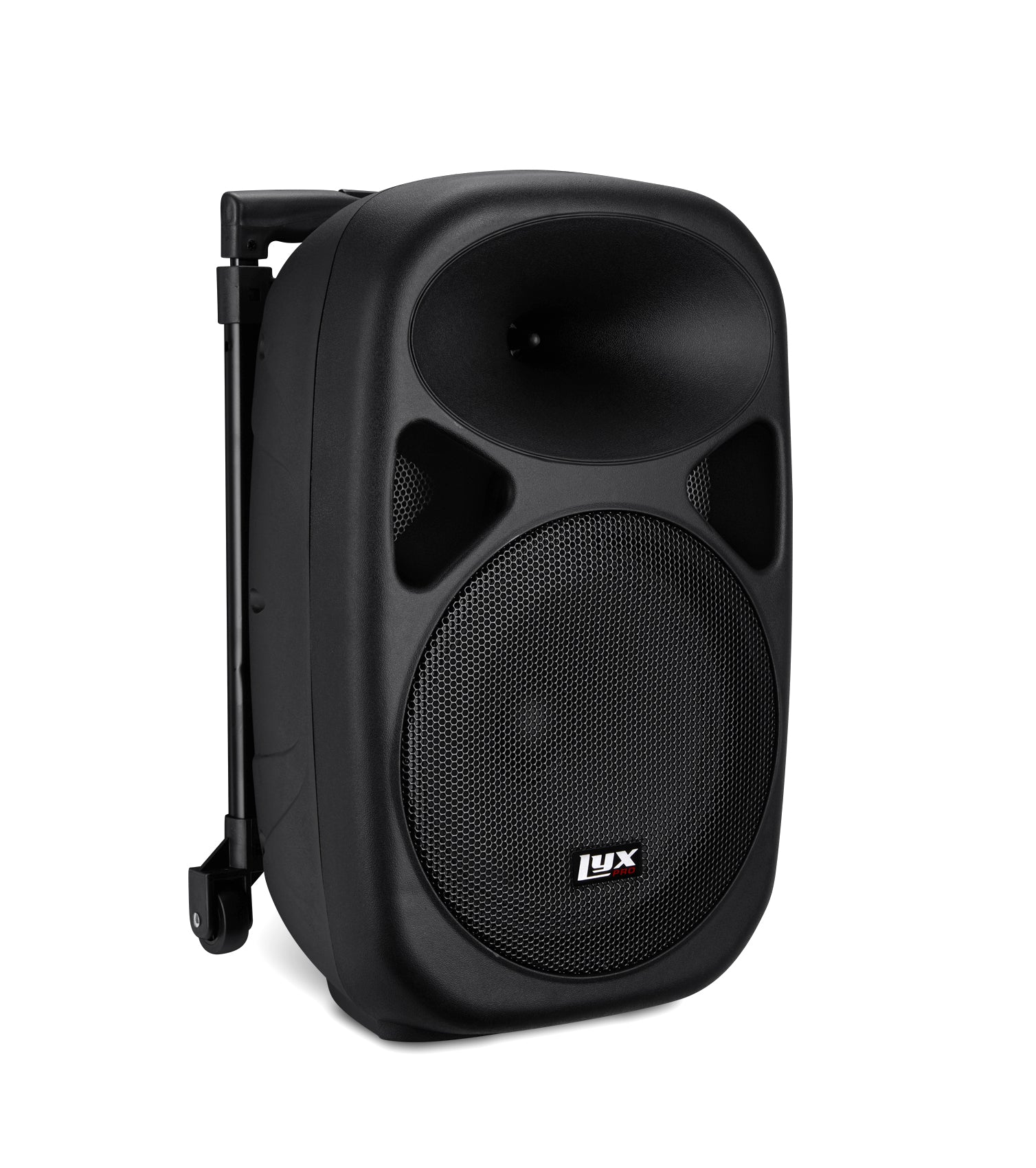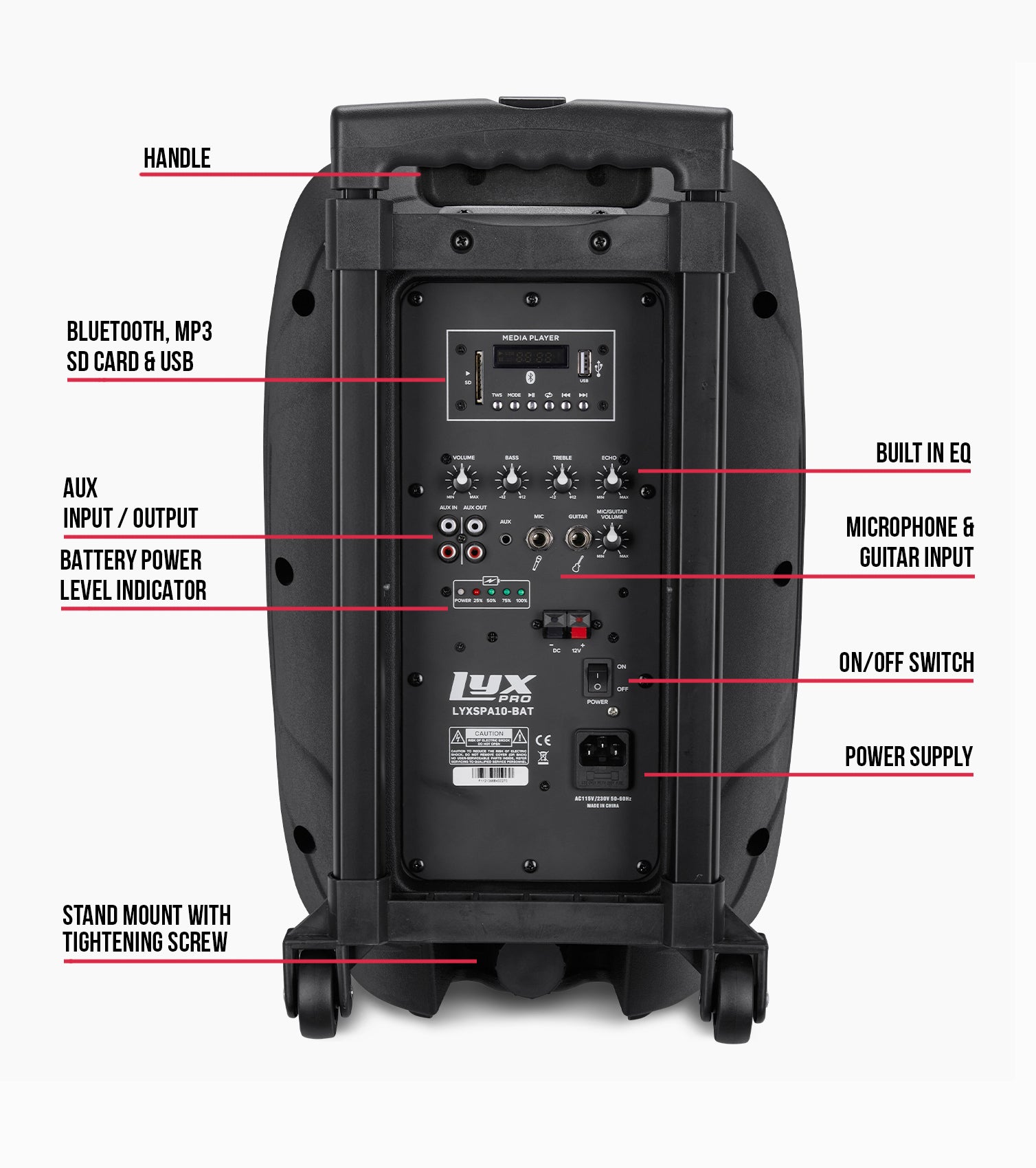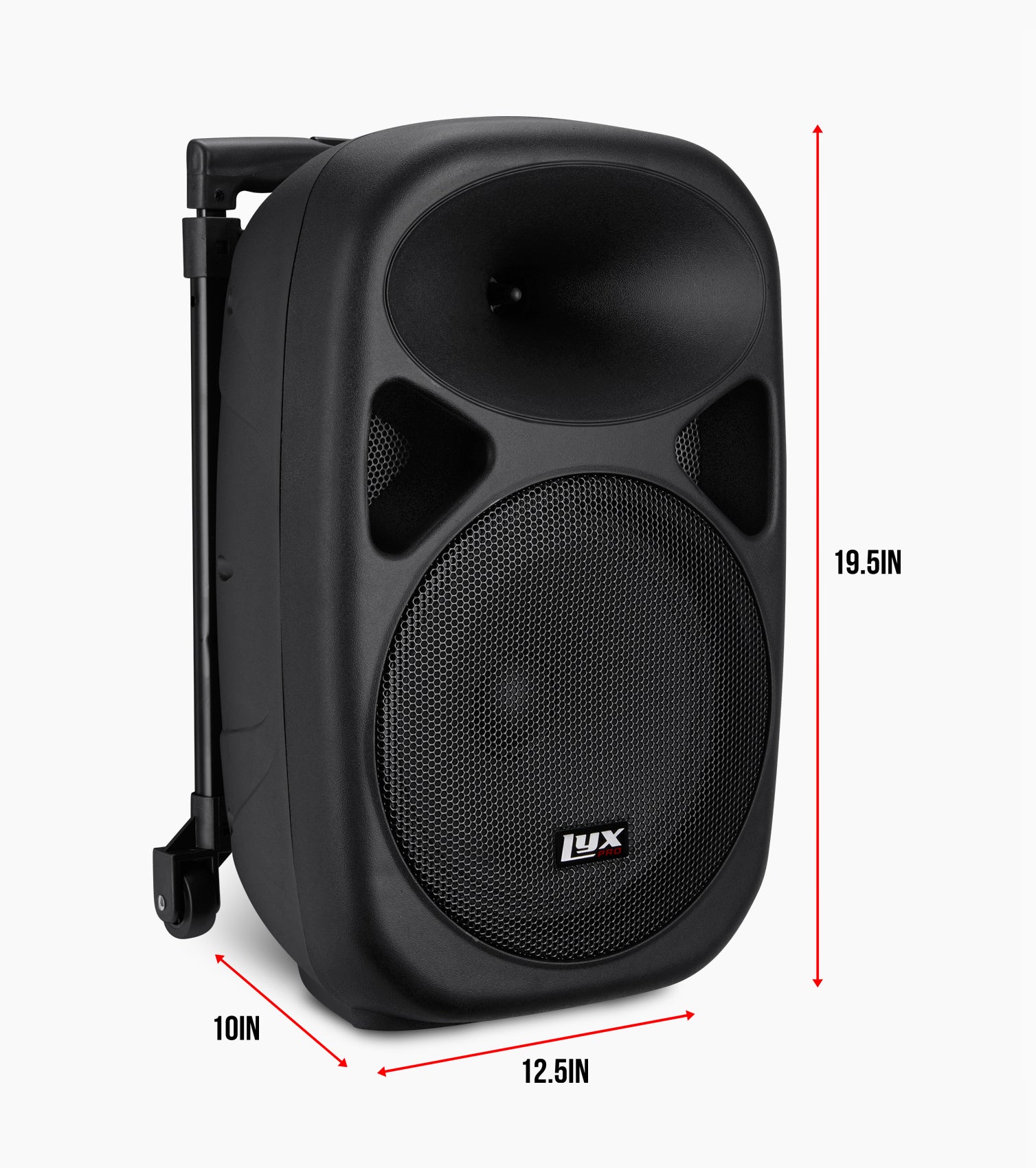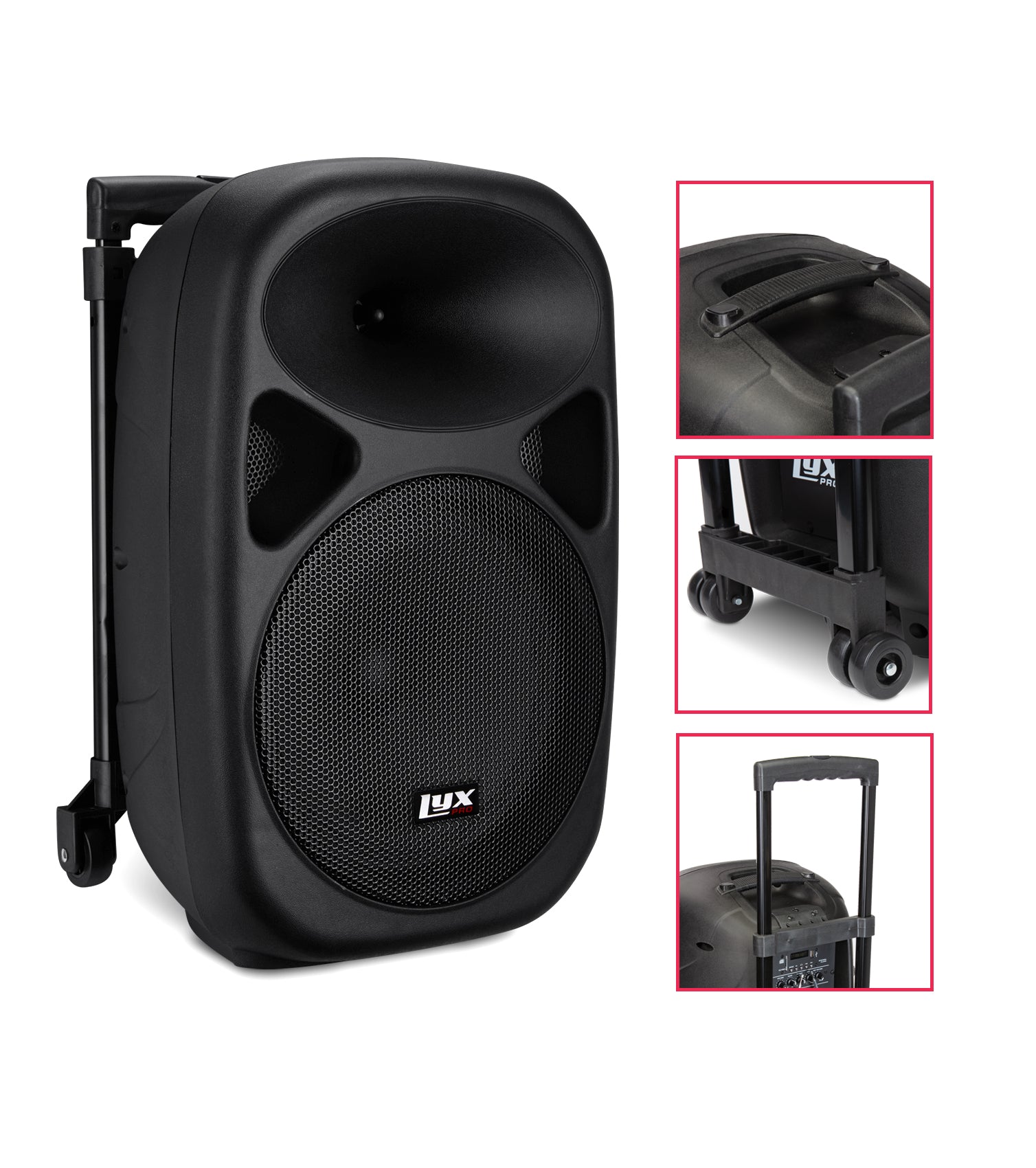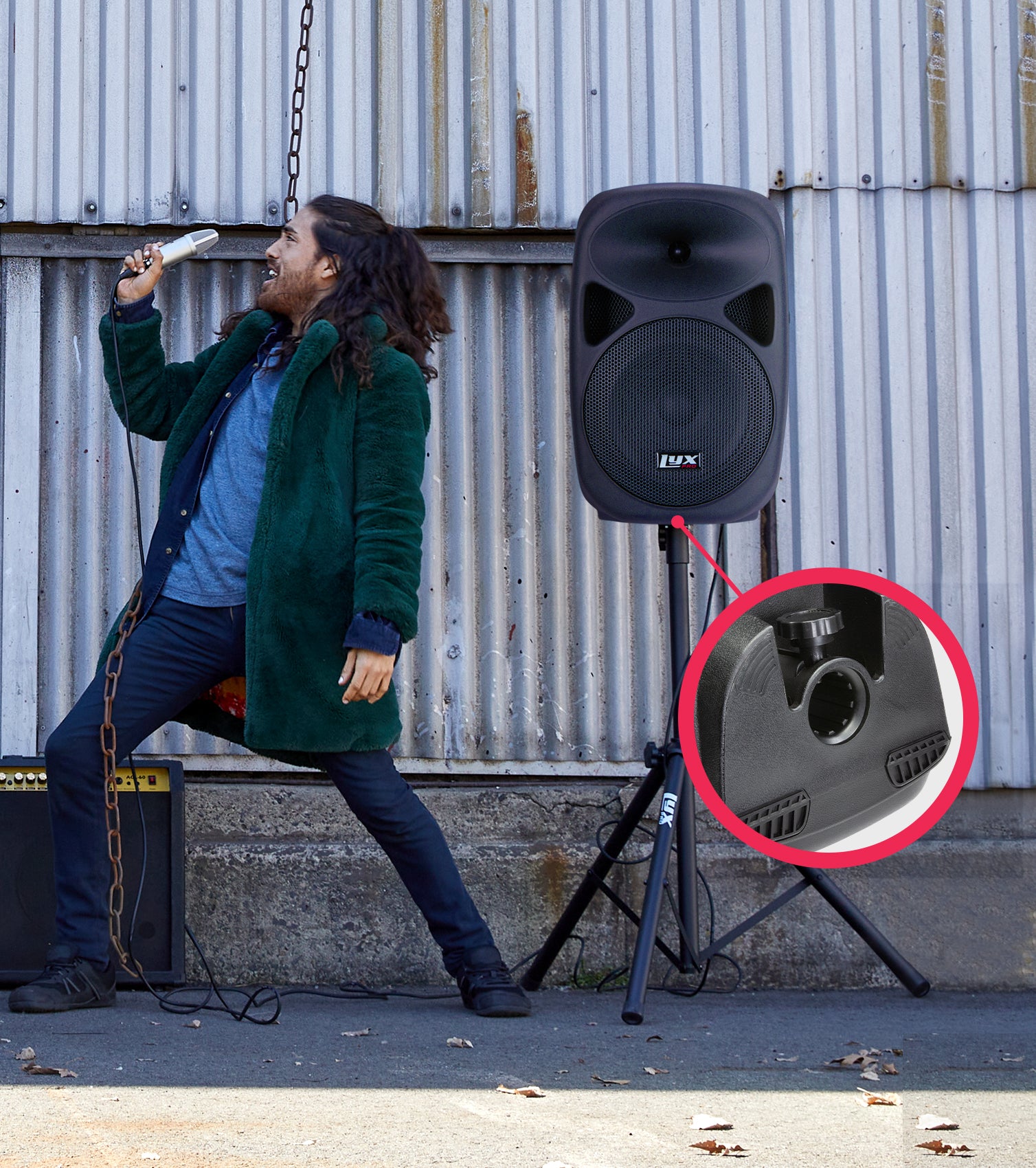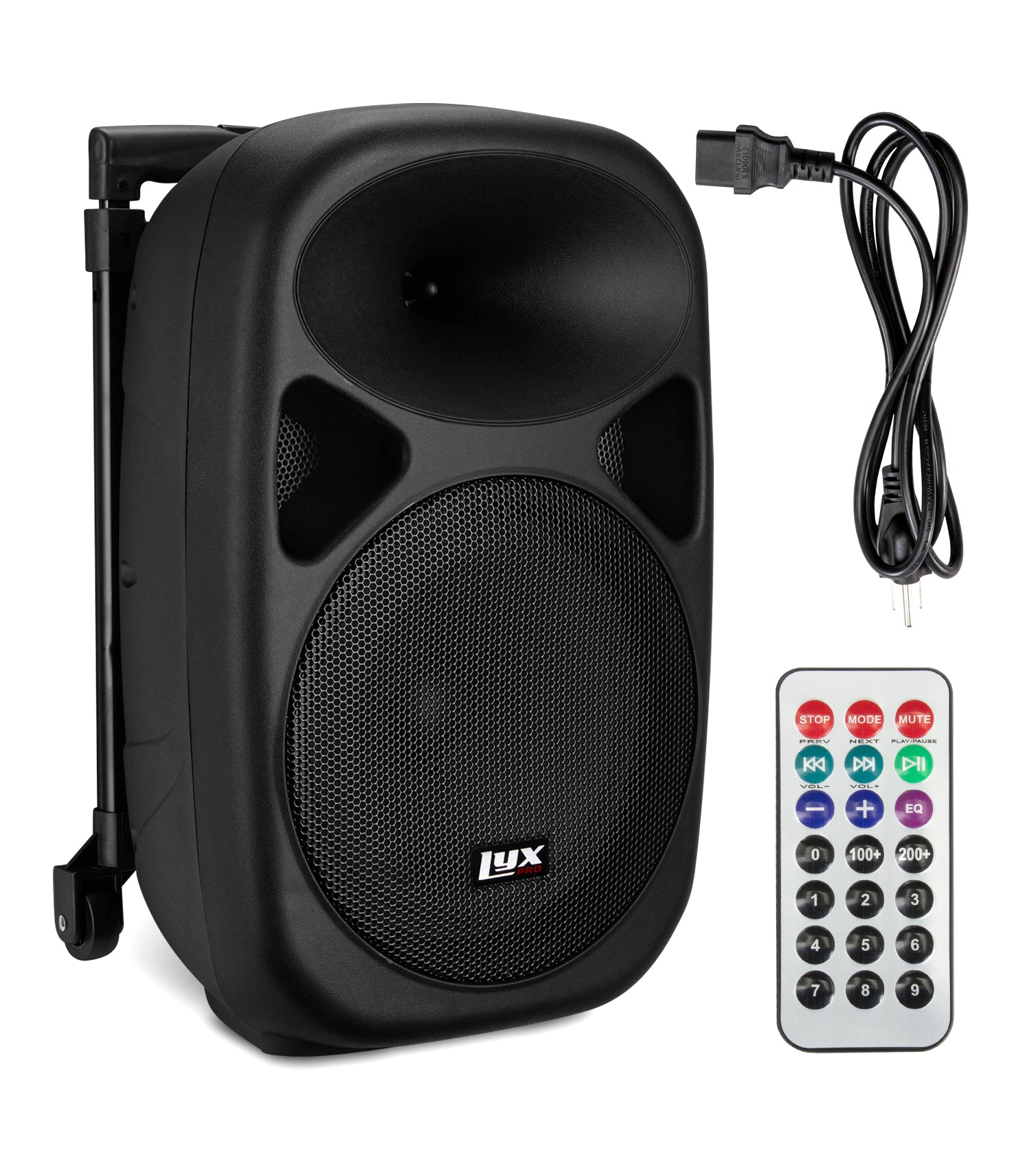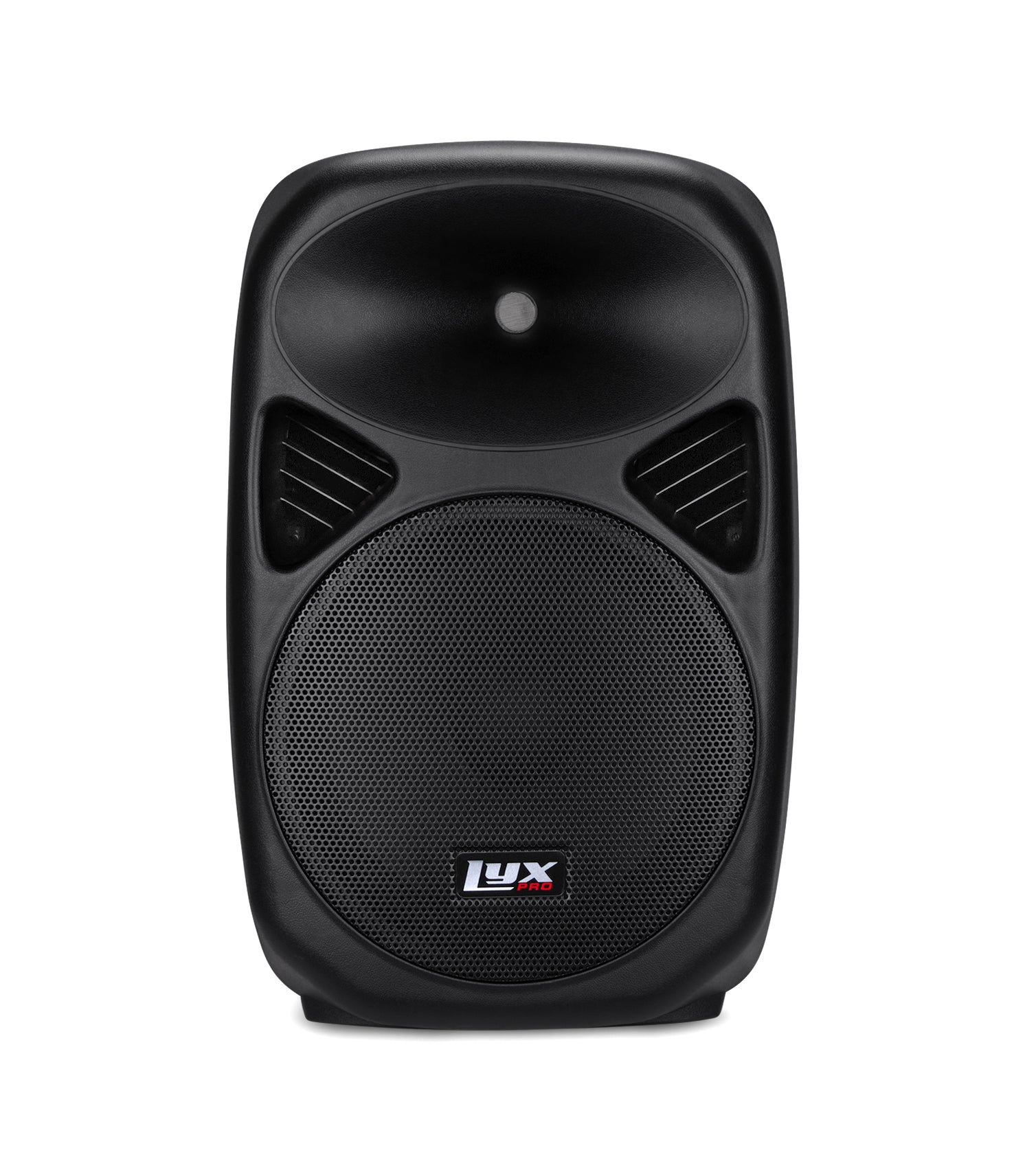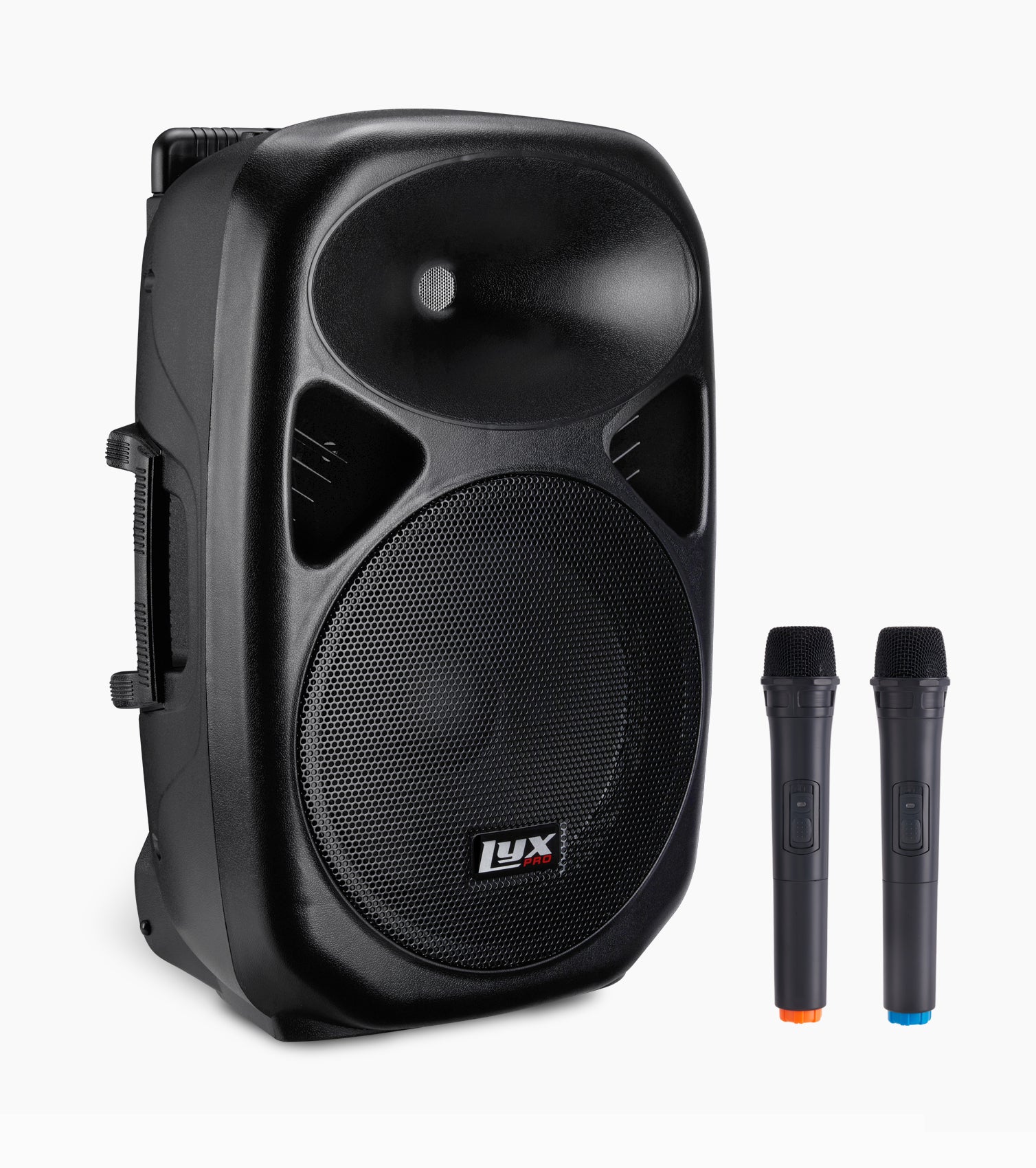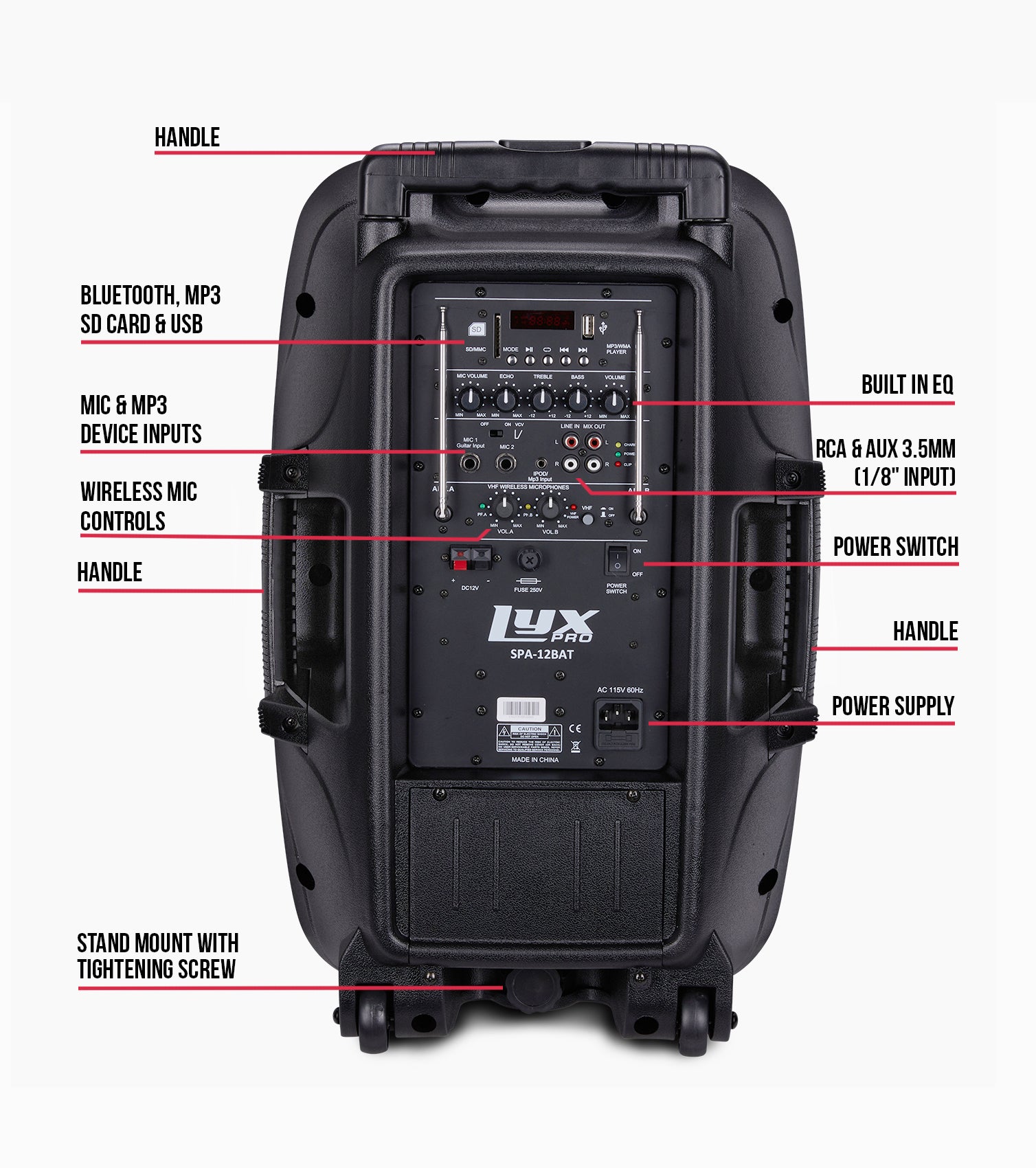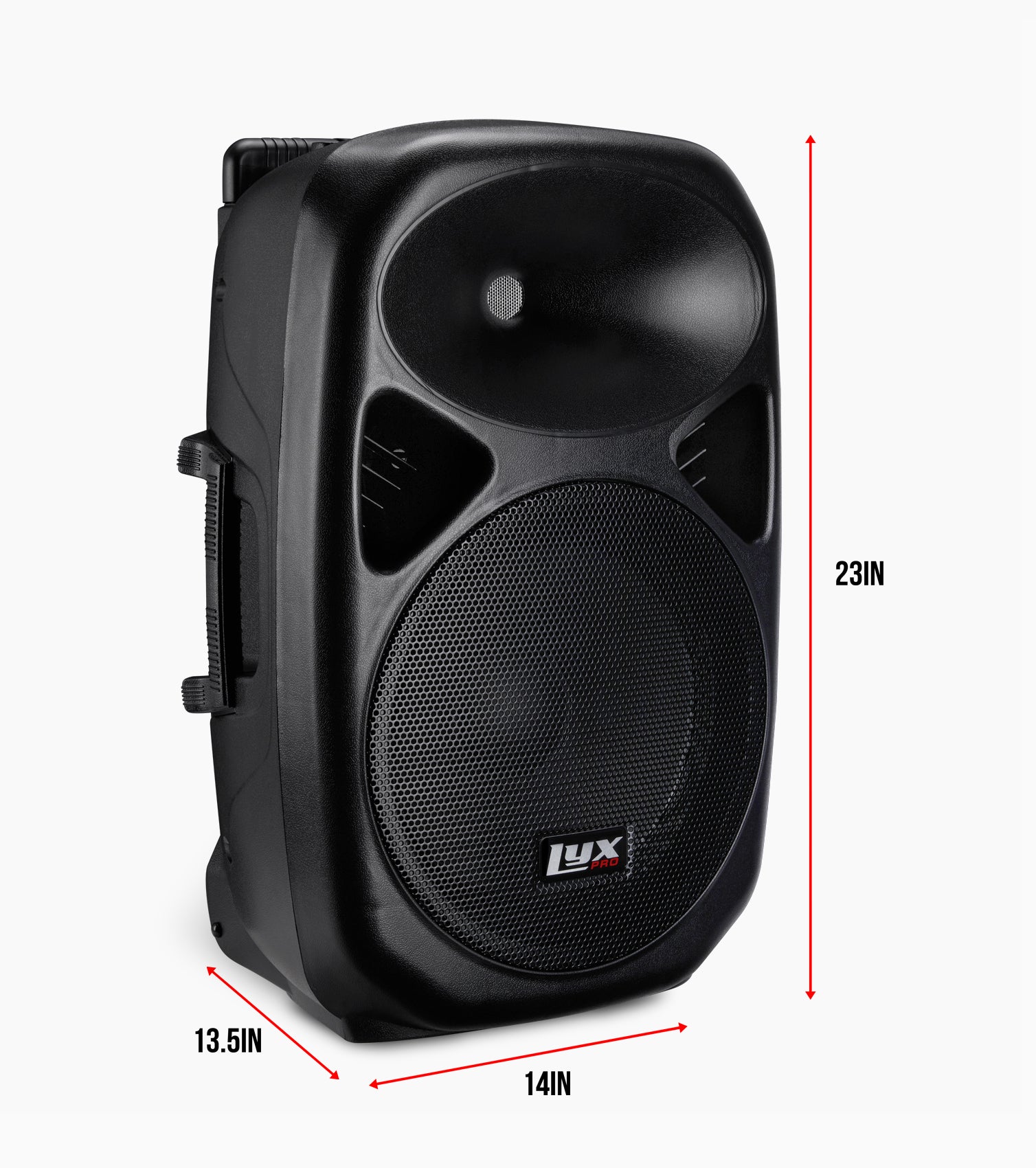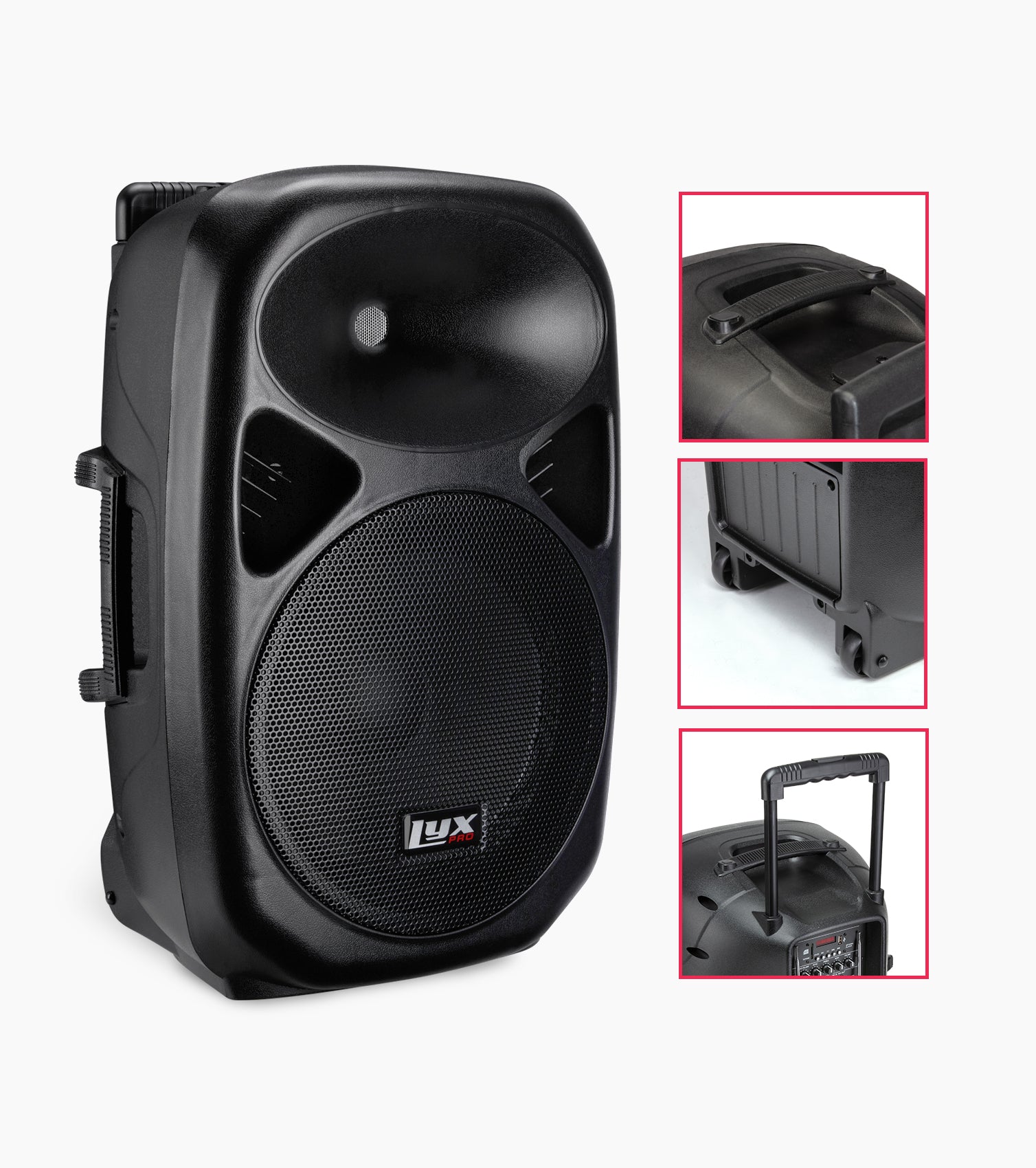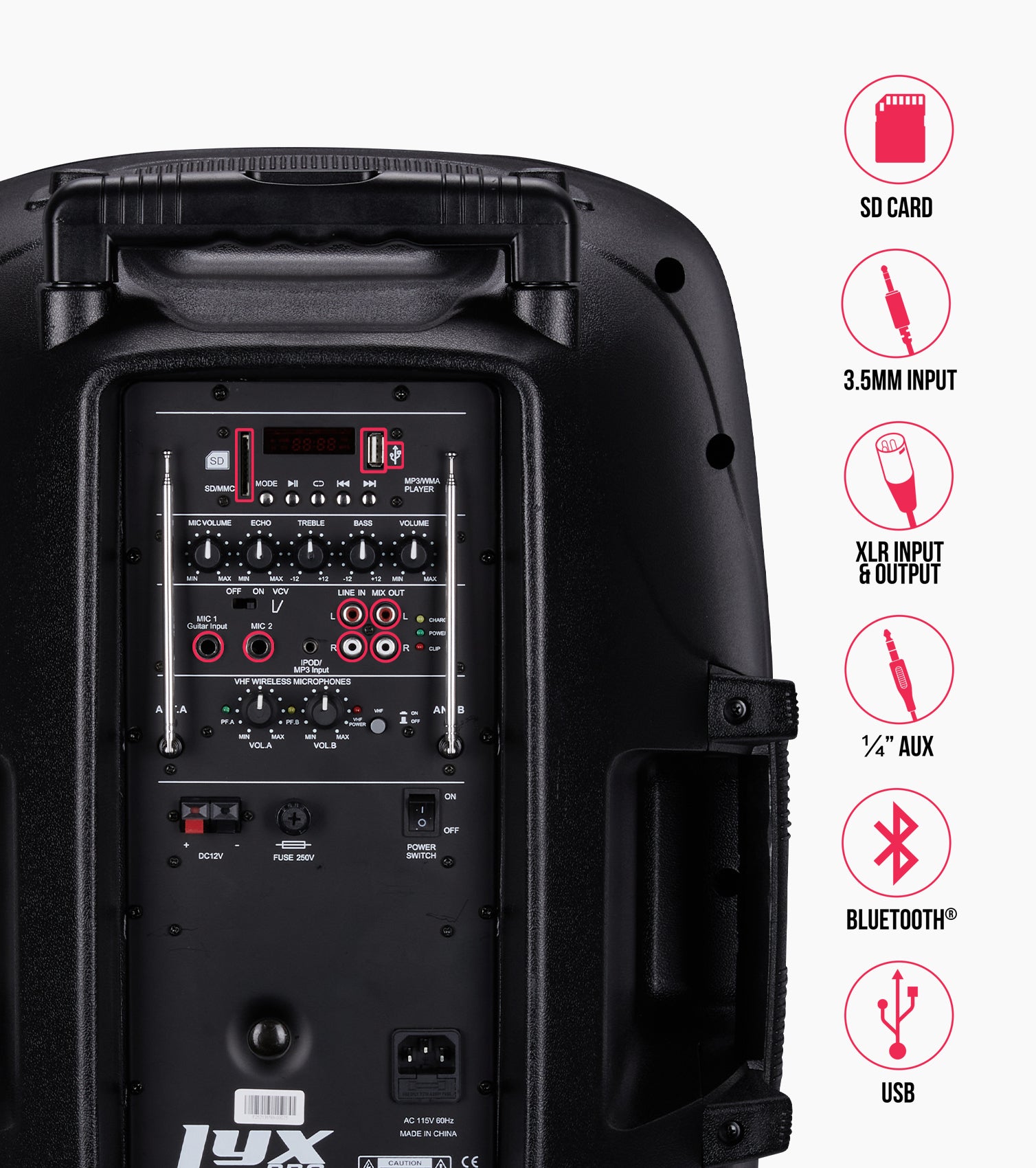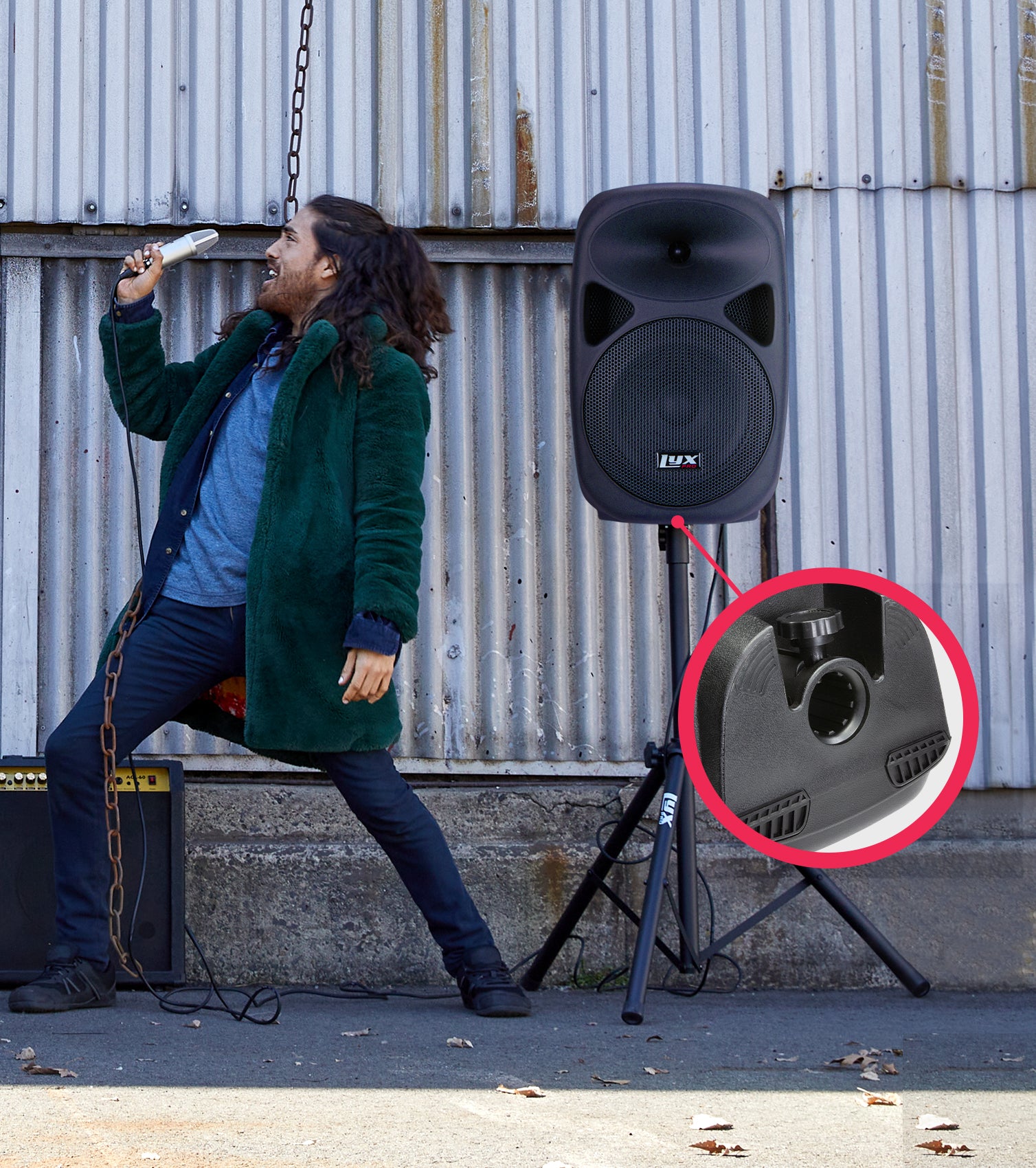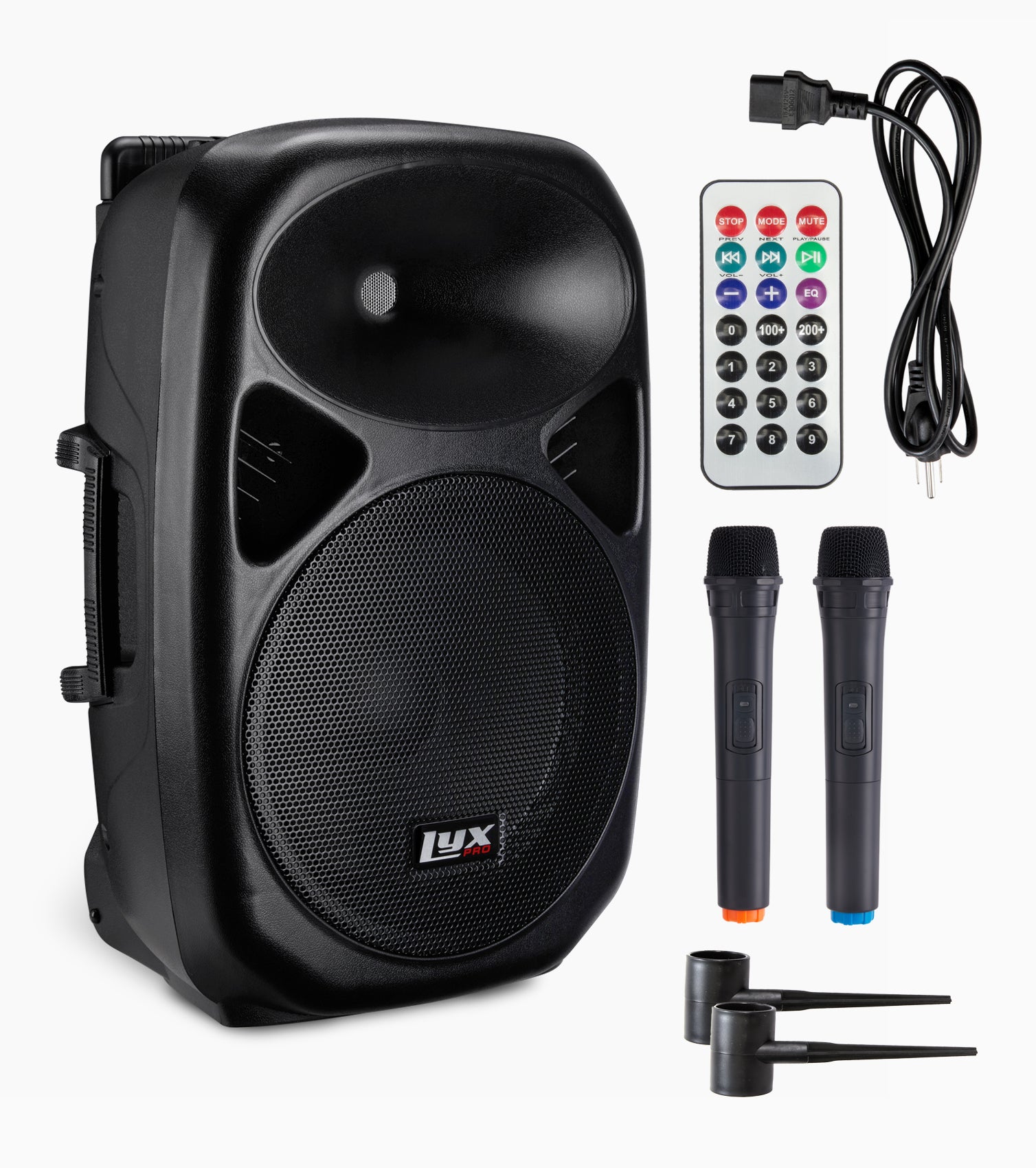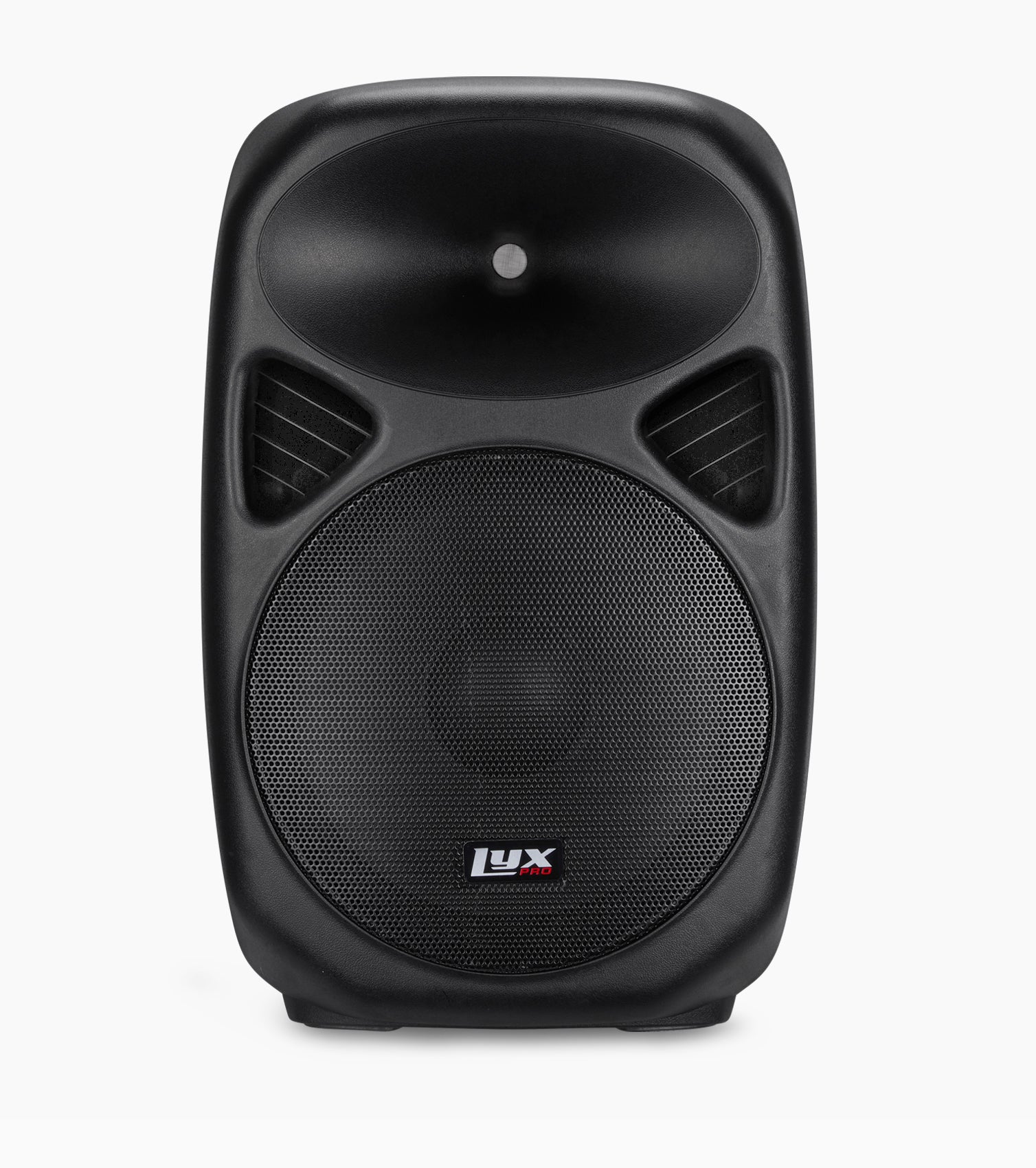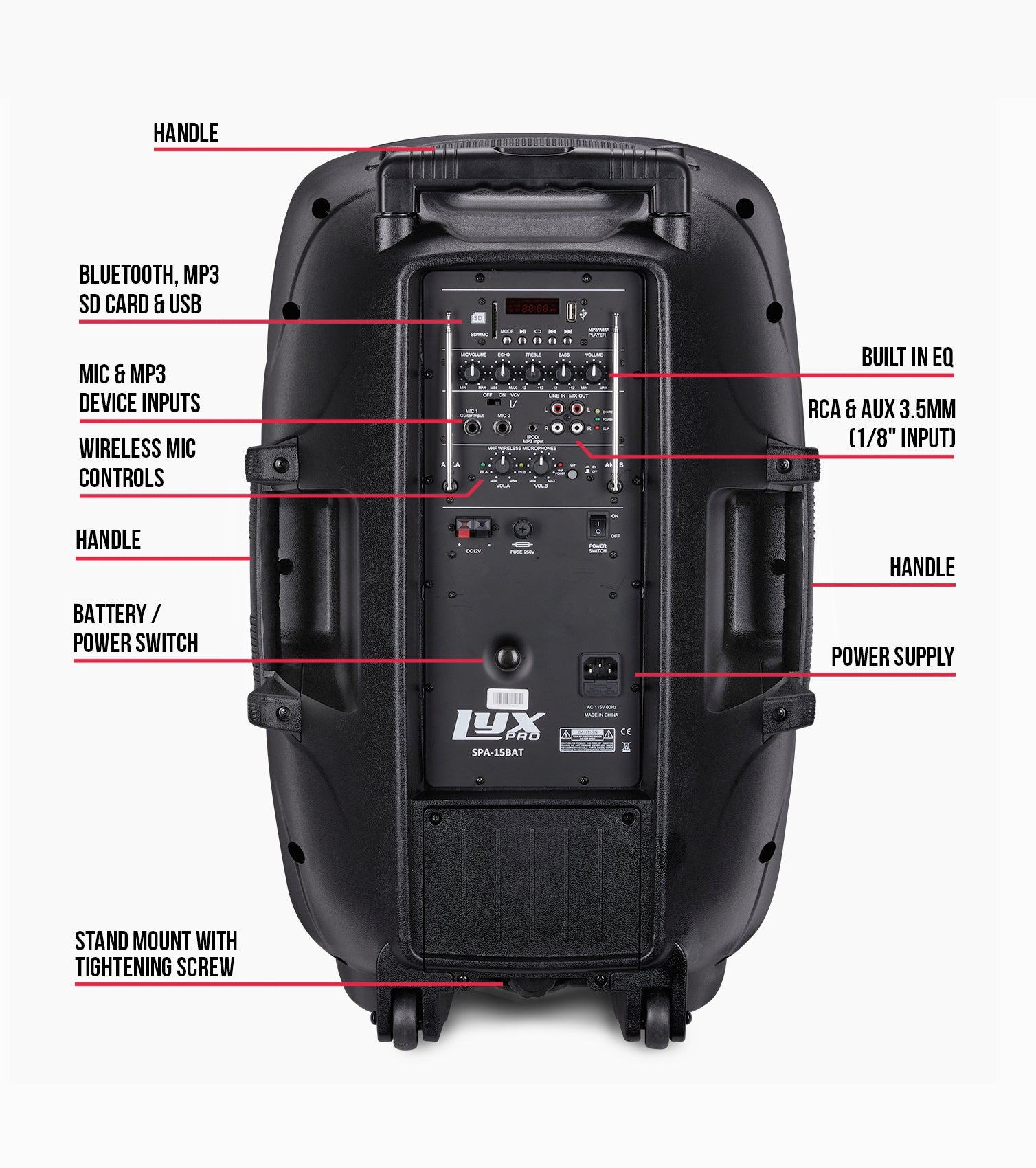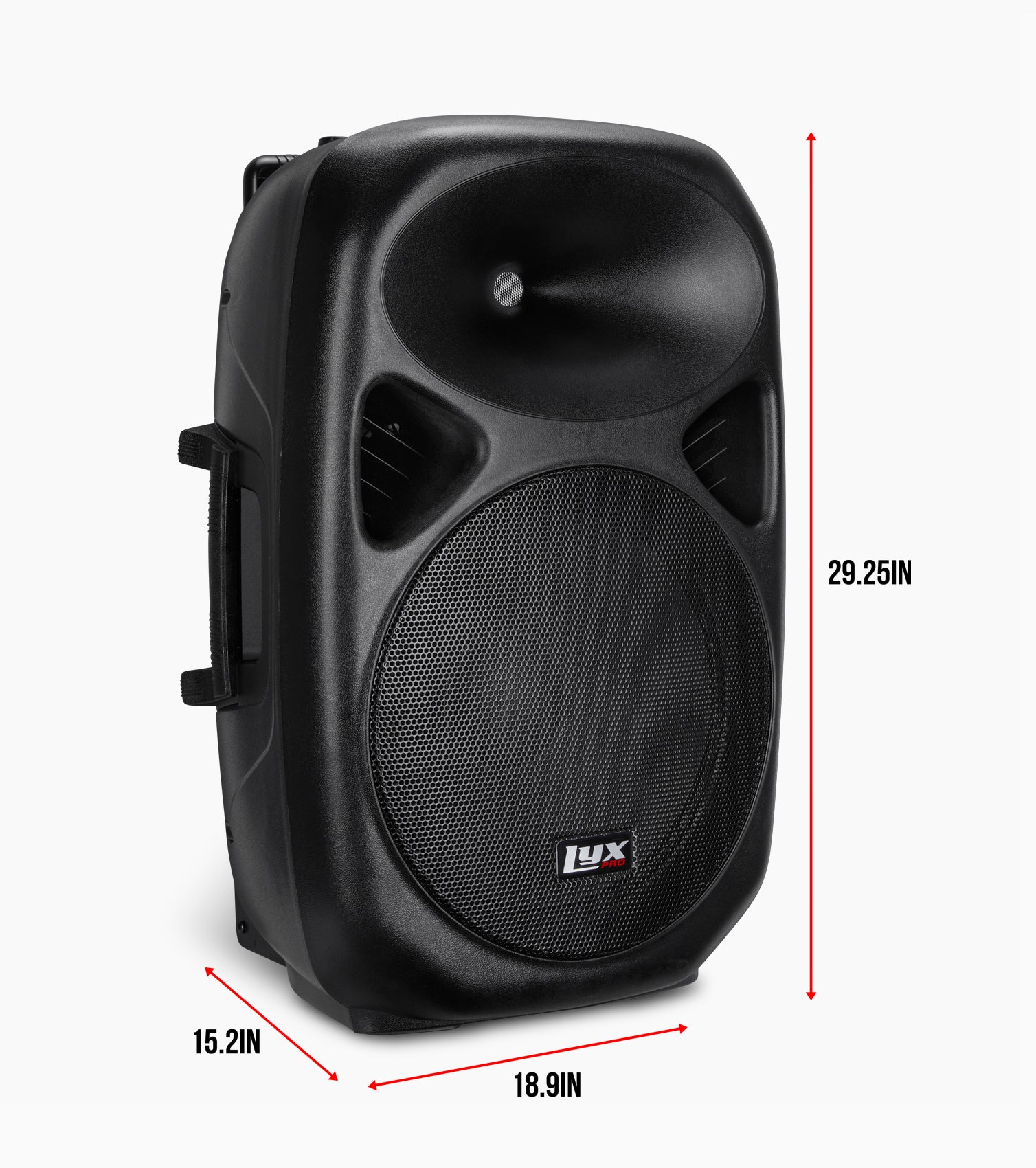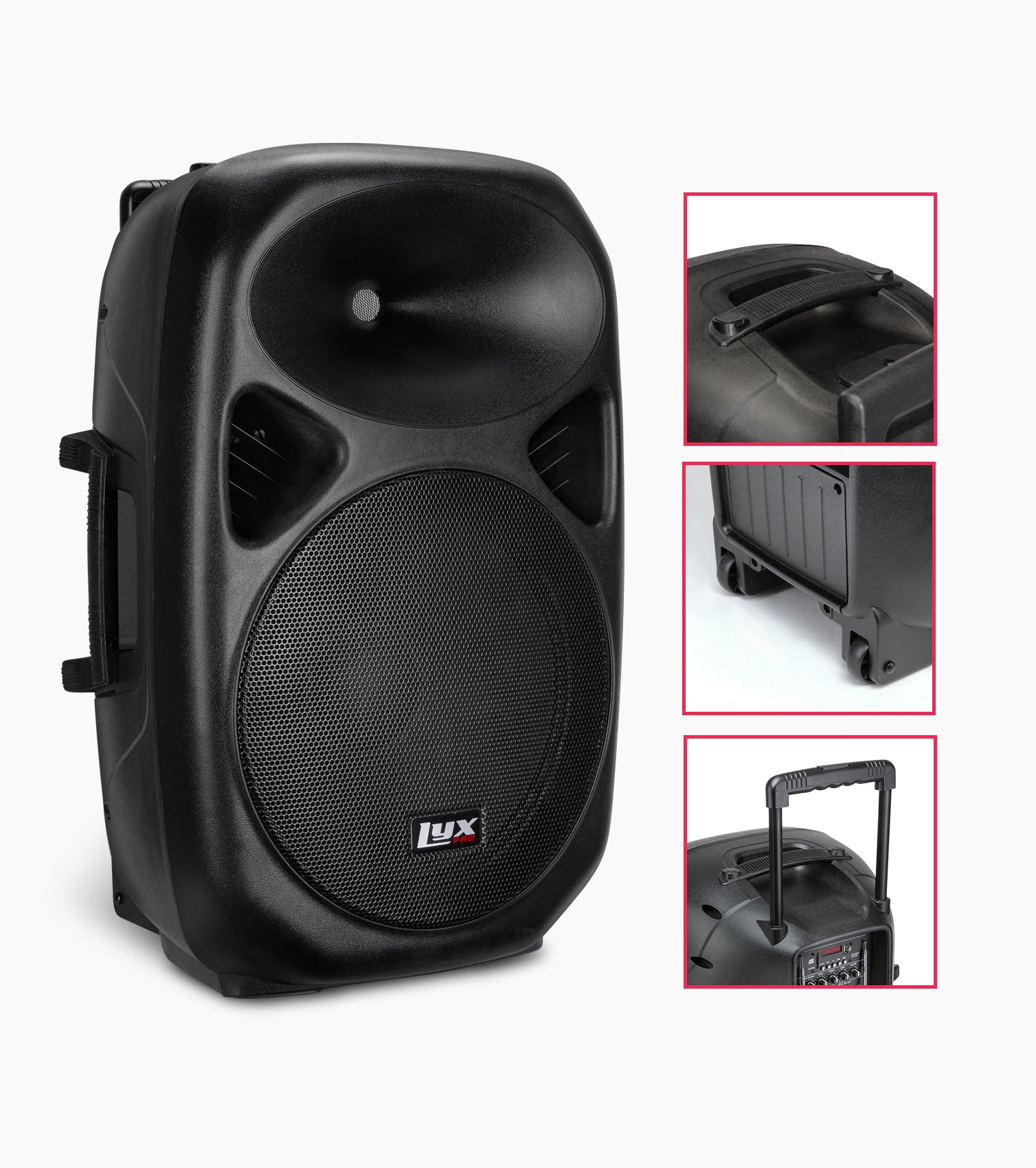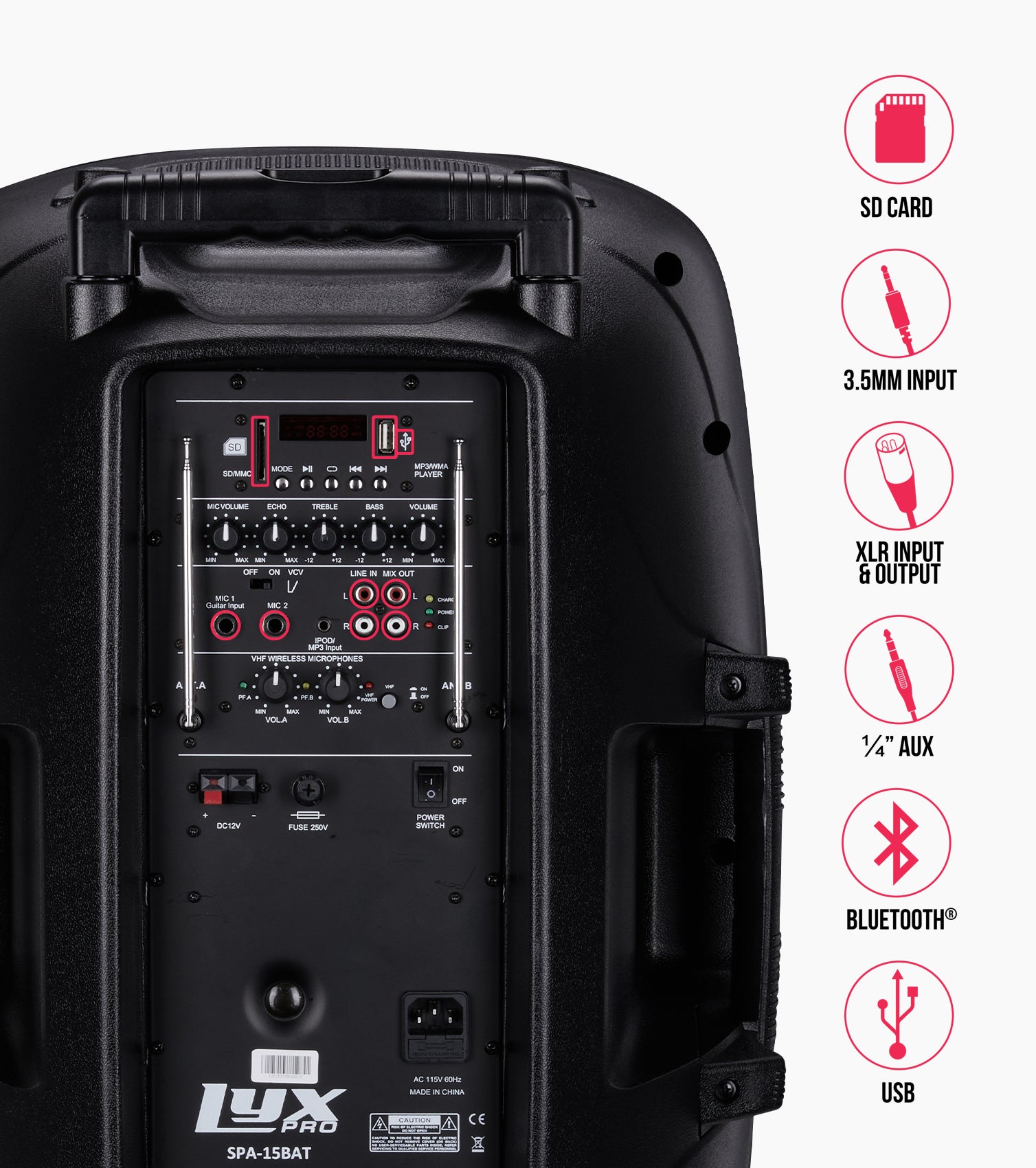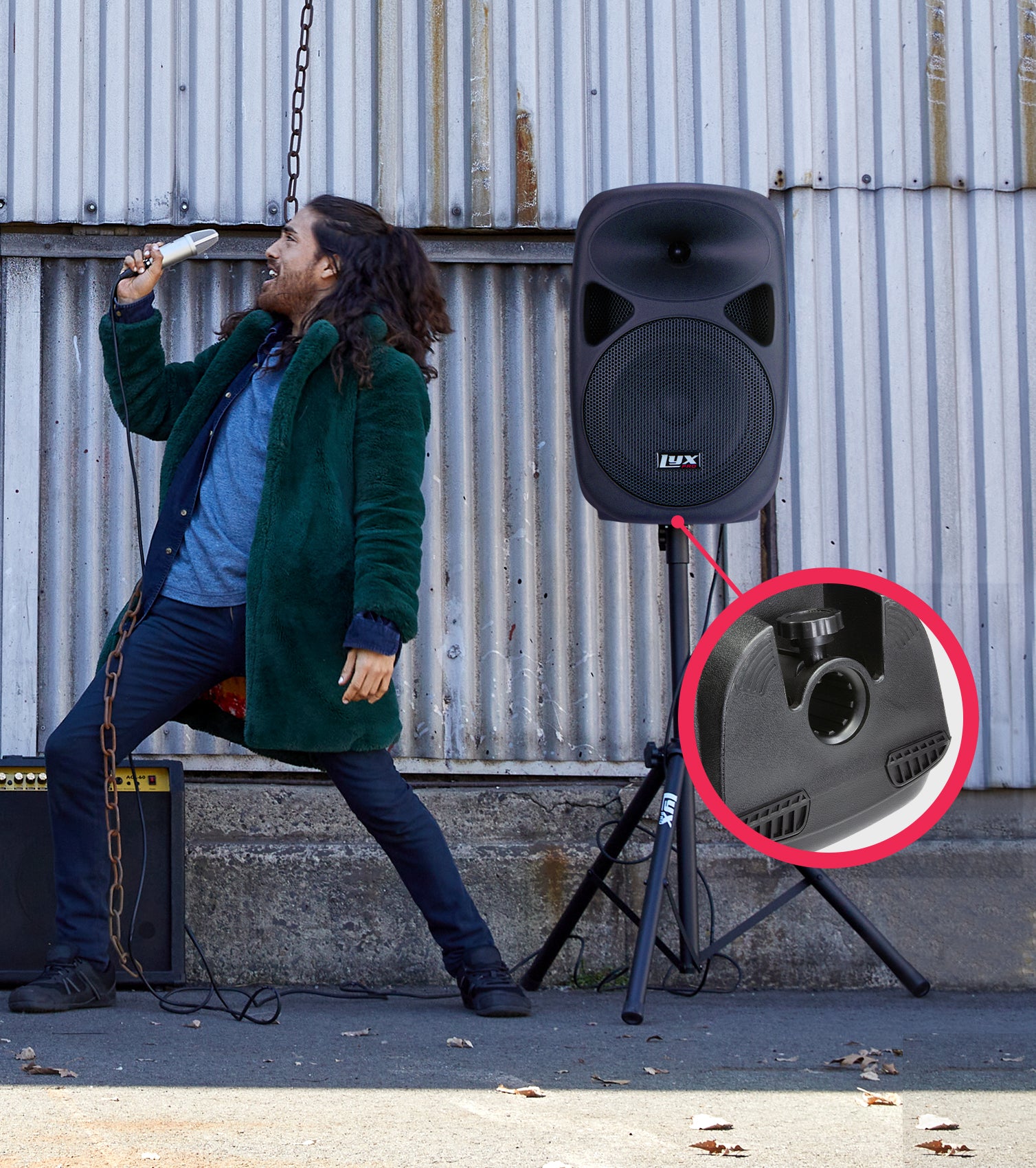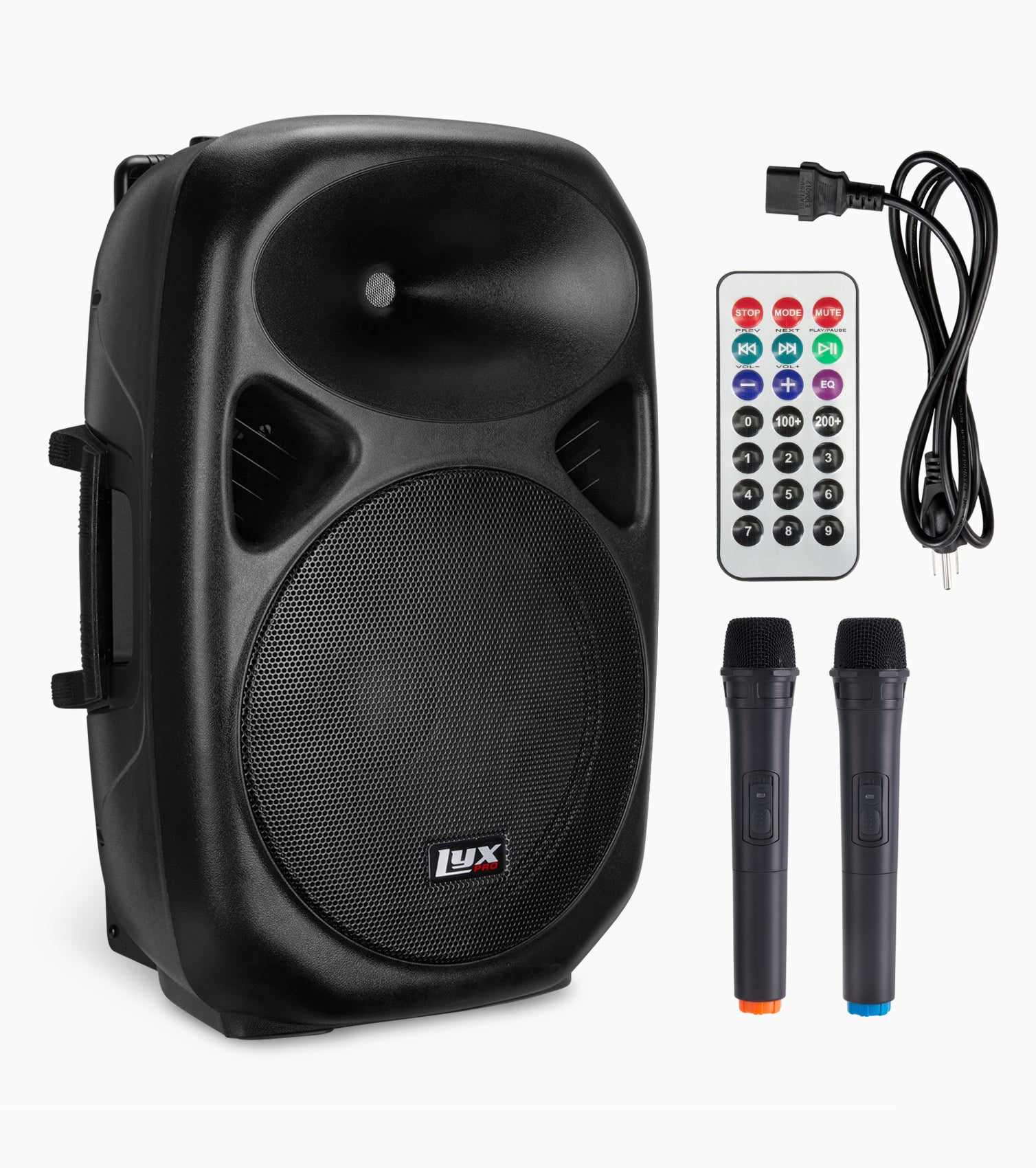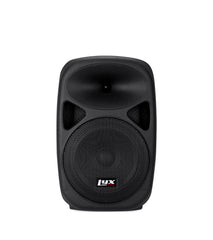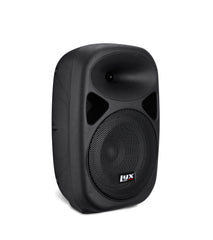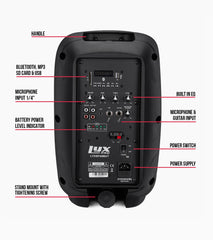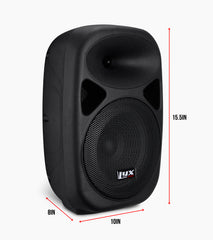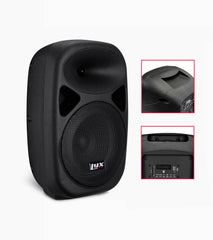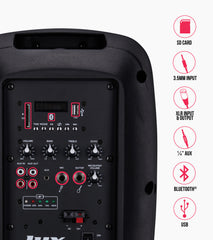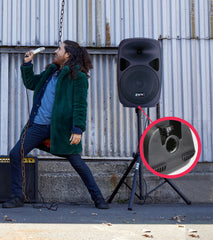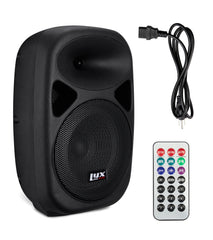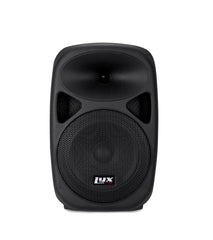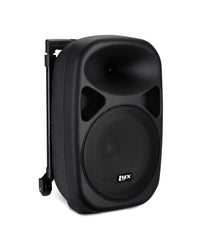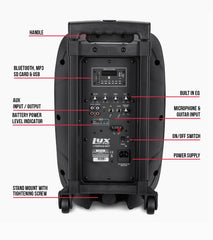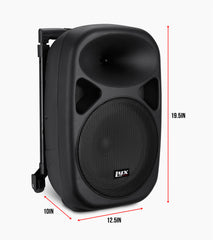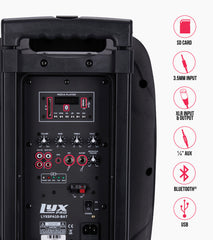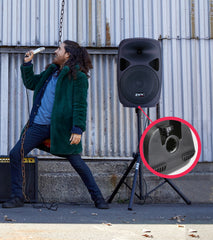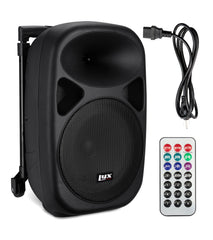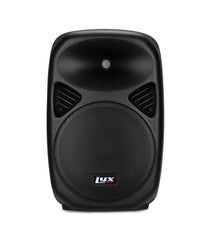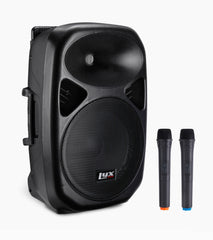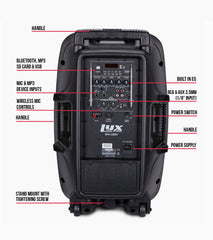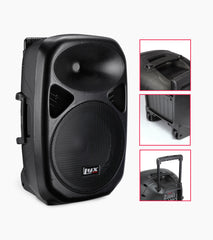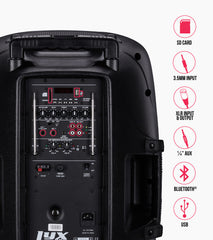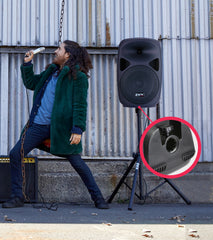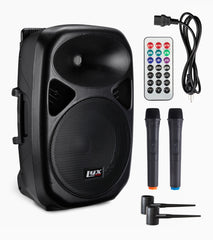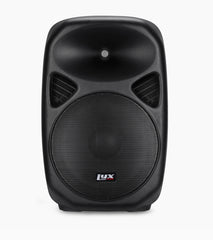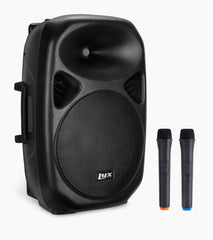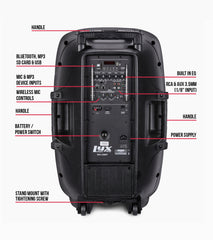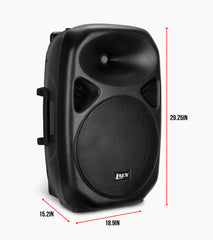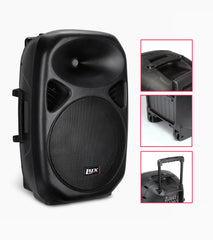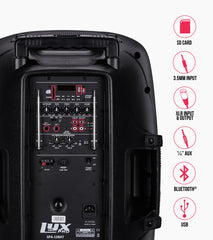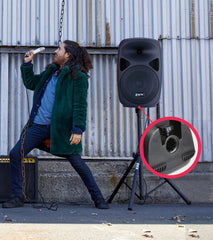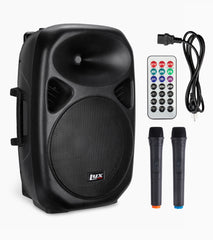 Free shipping on all orders
View full details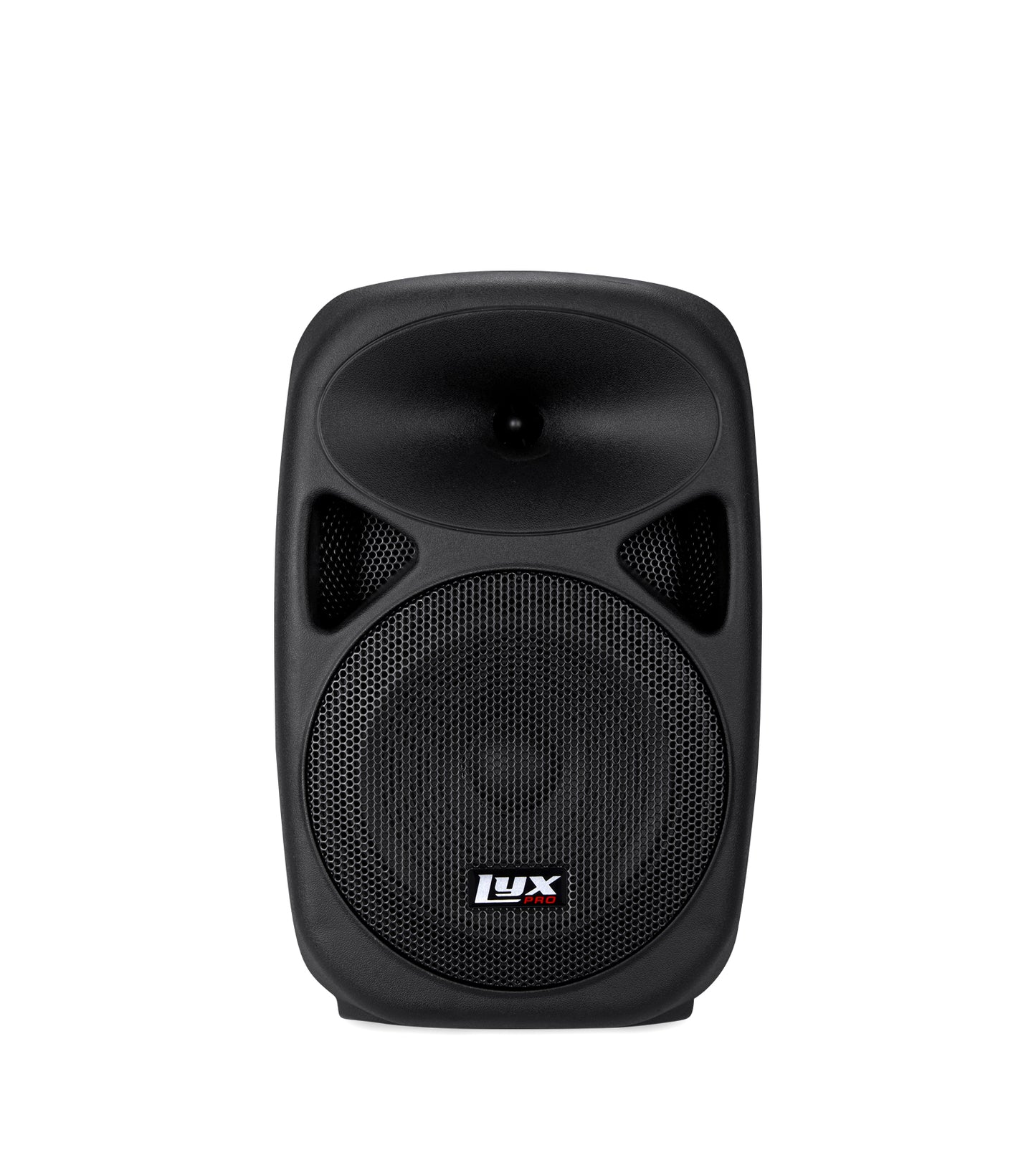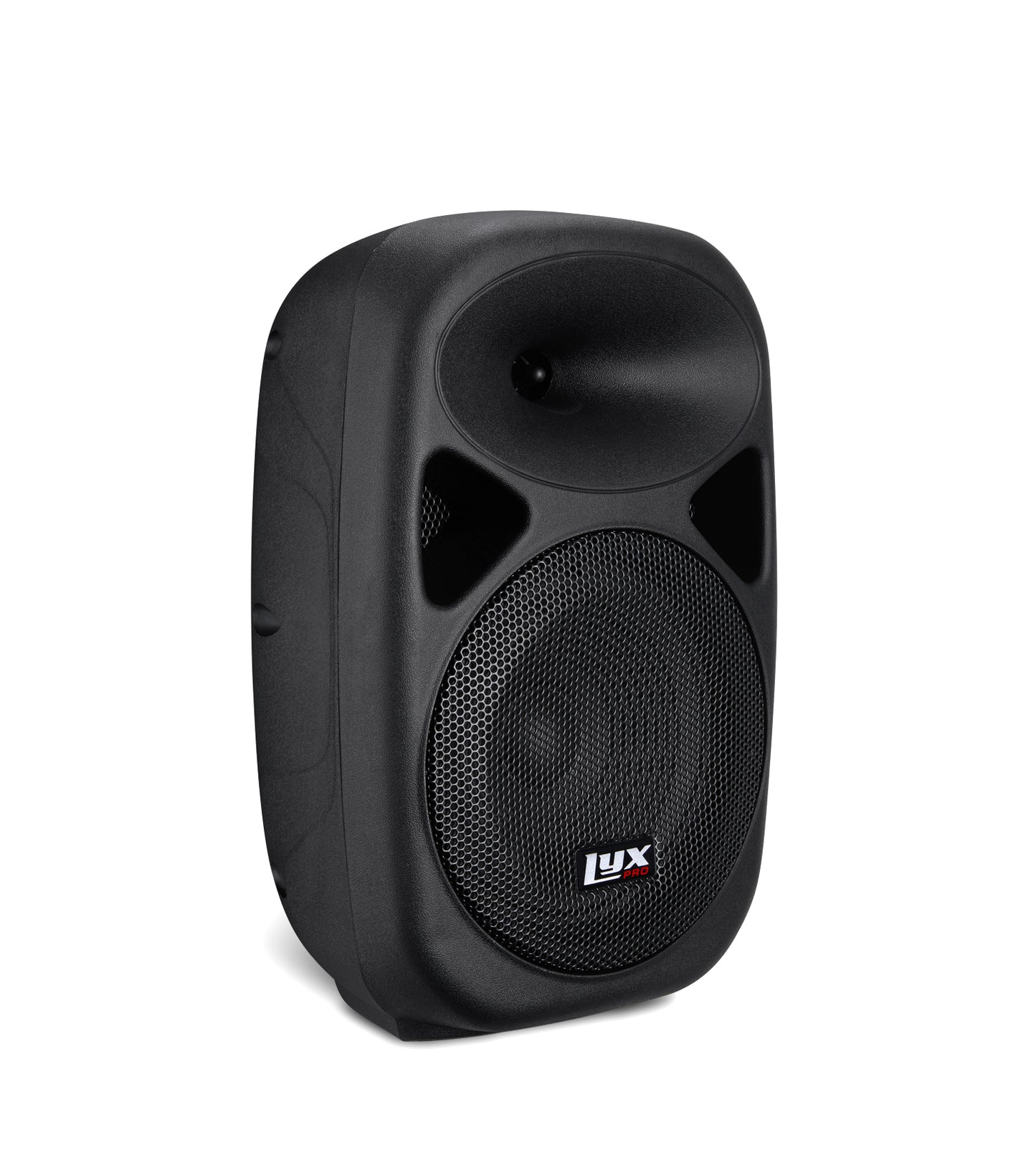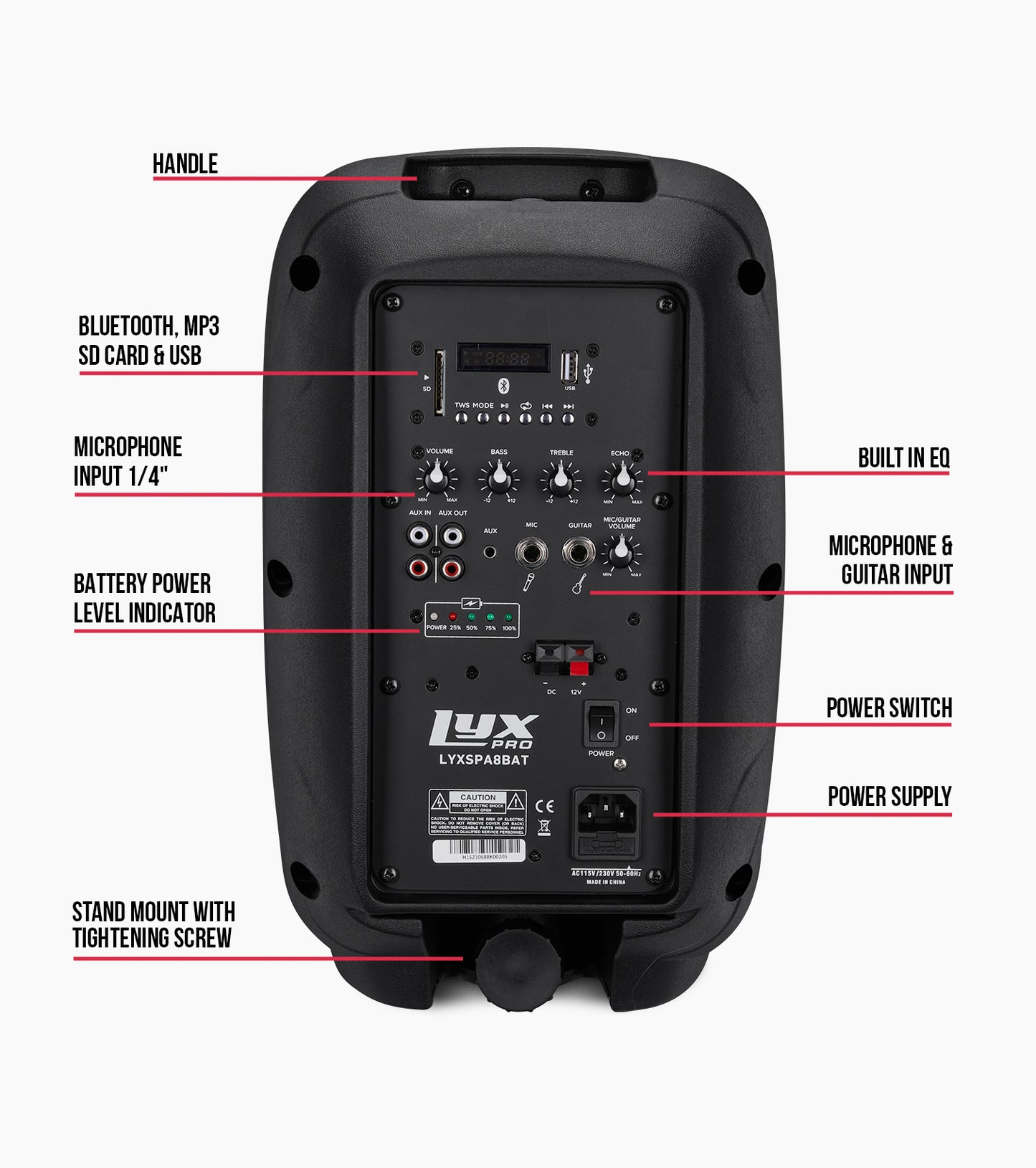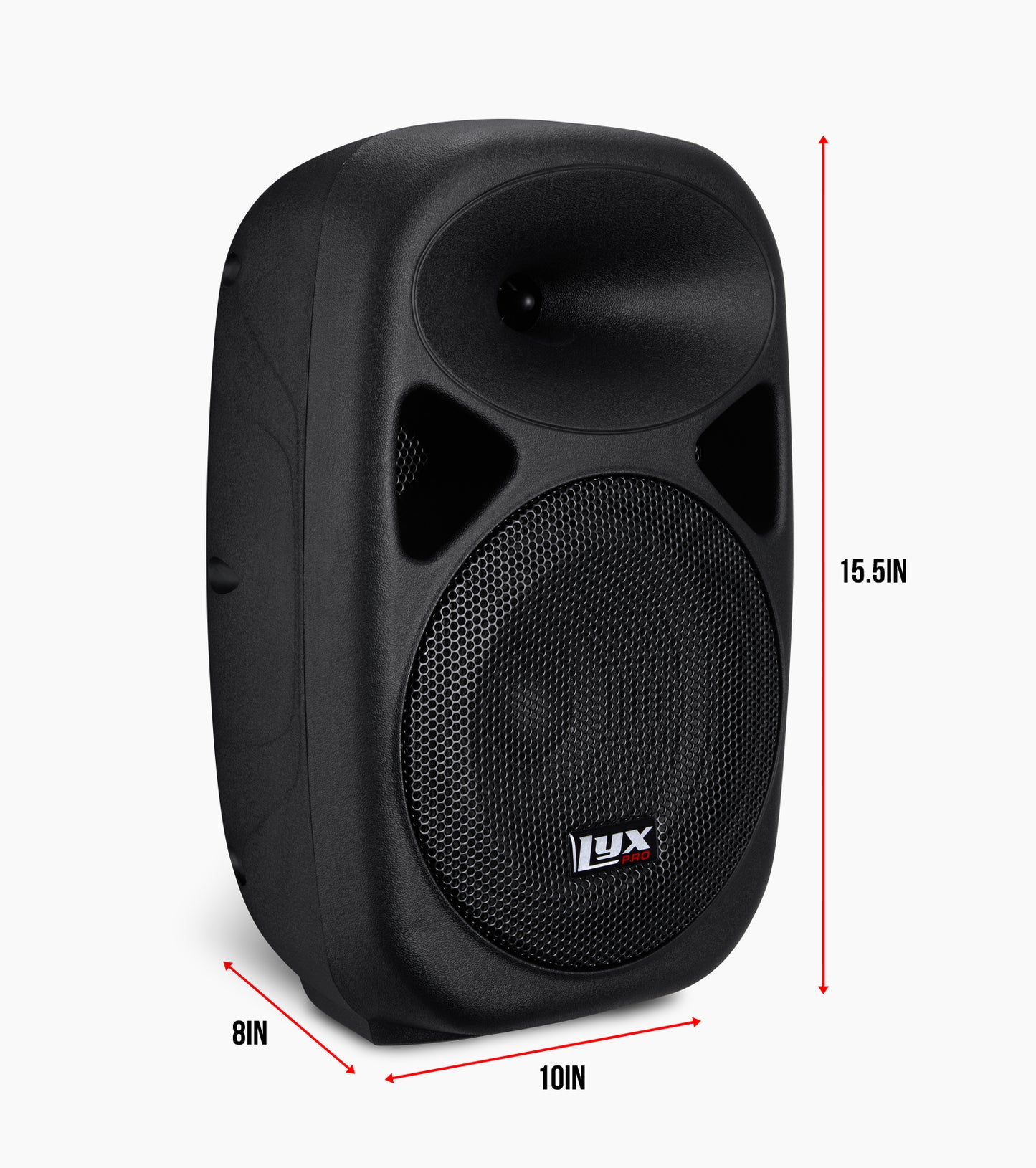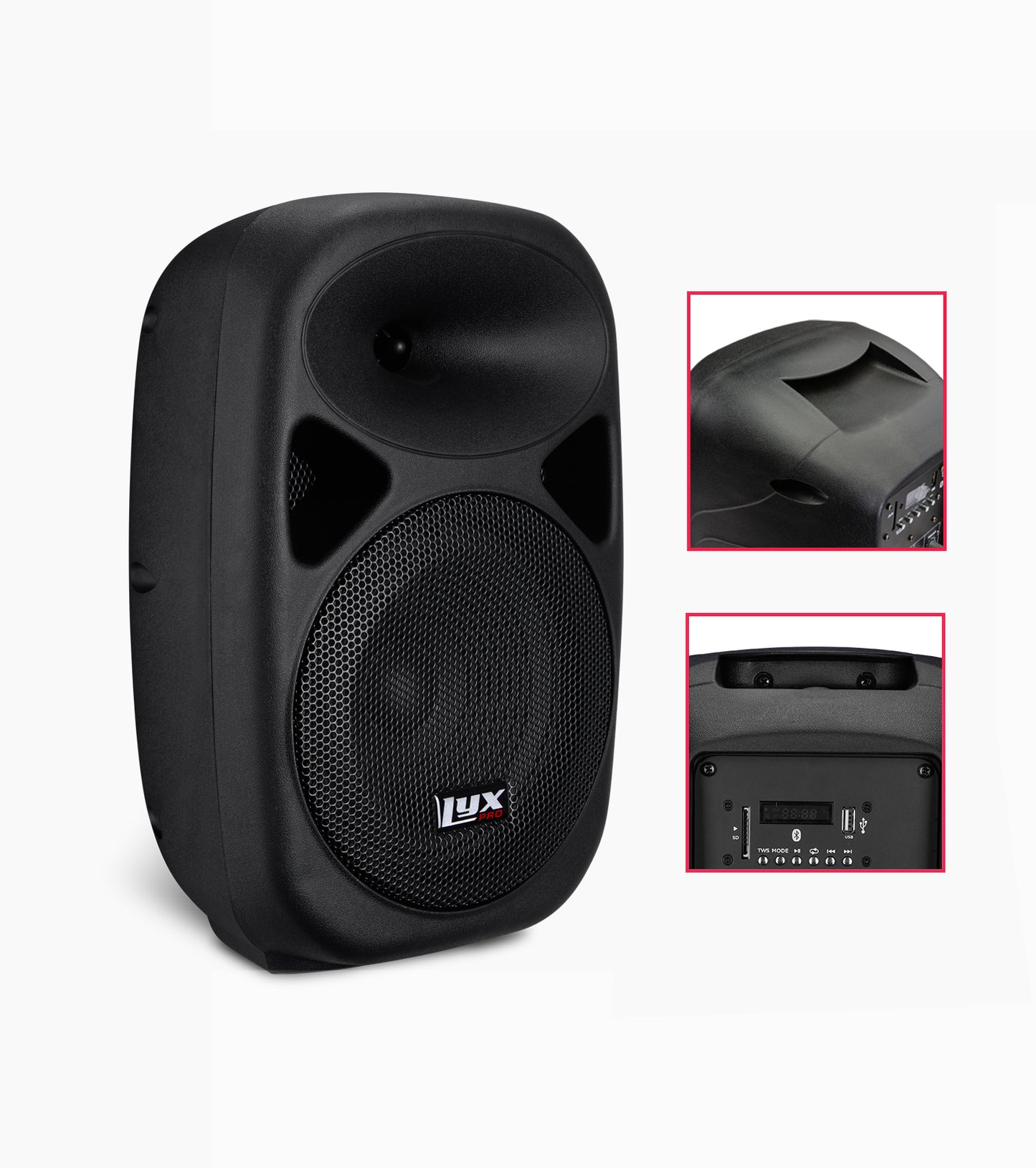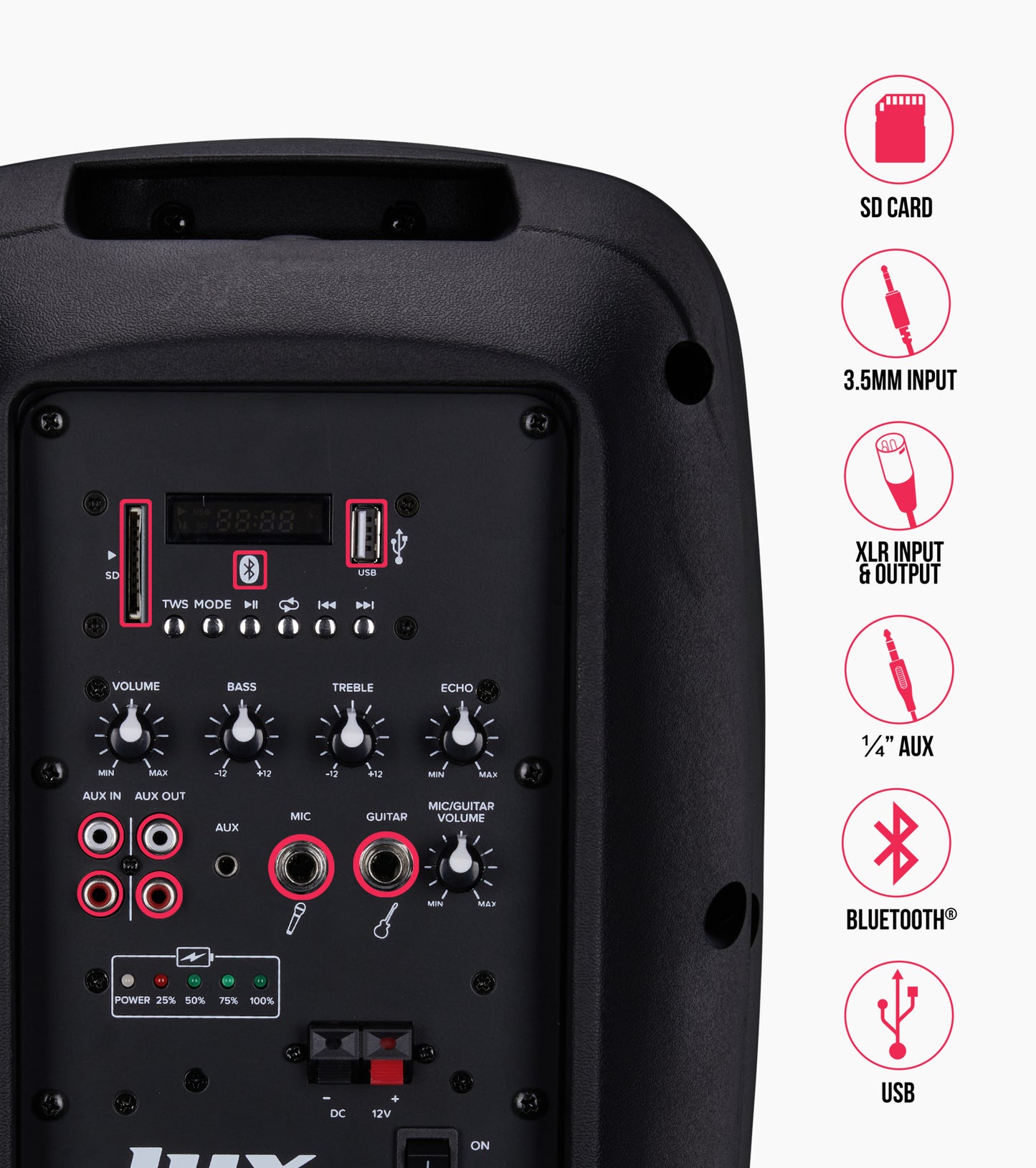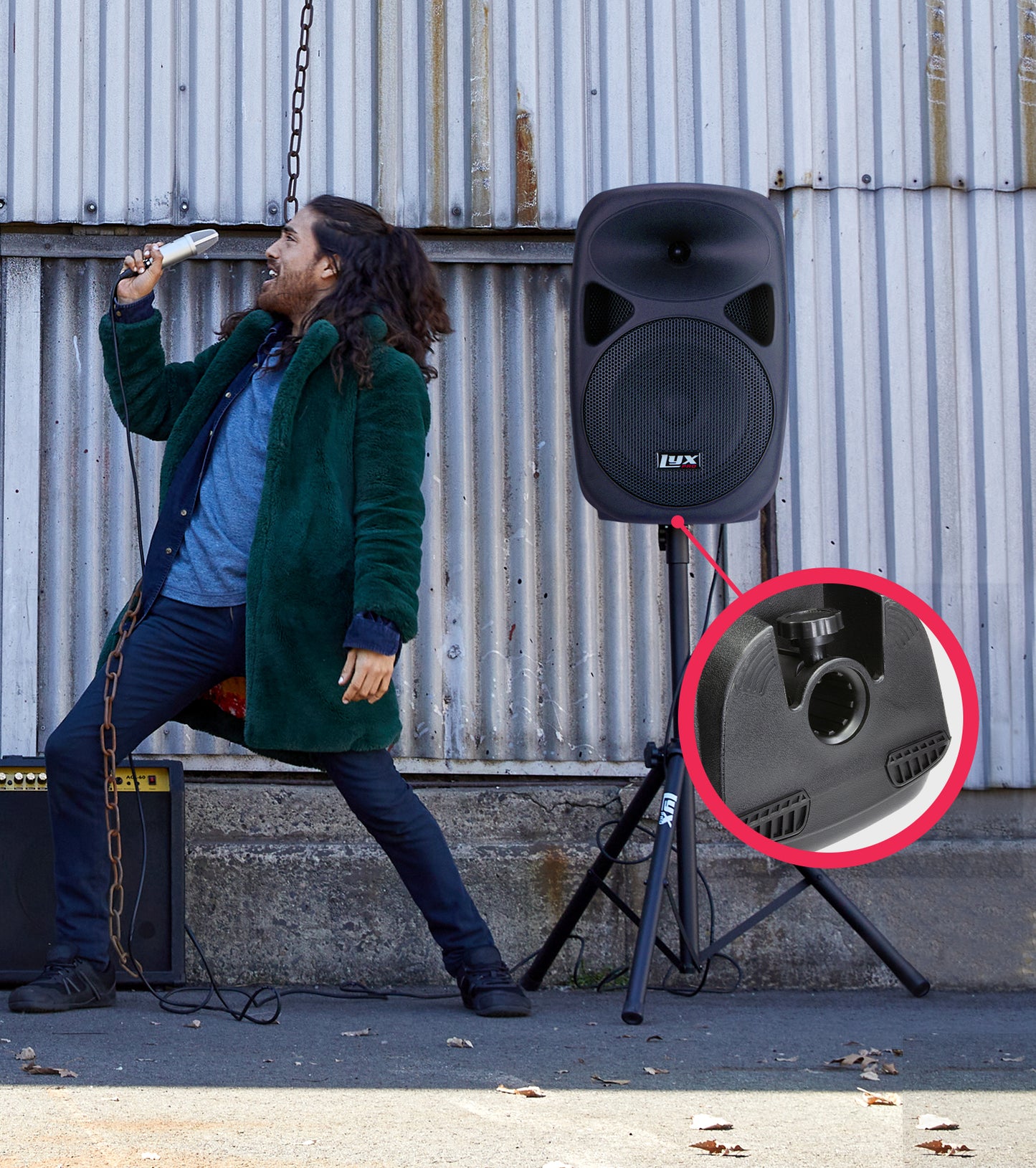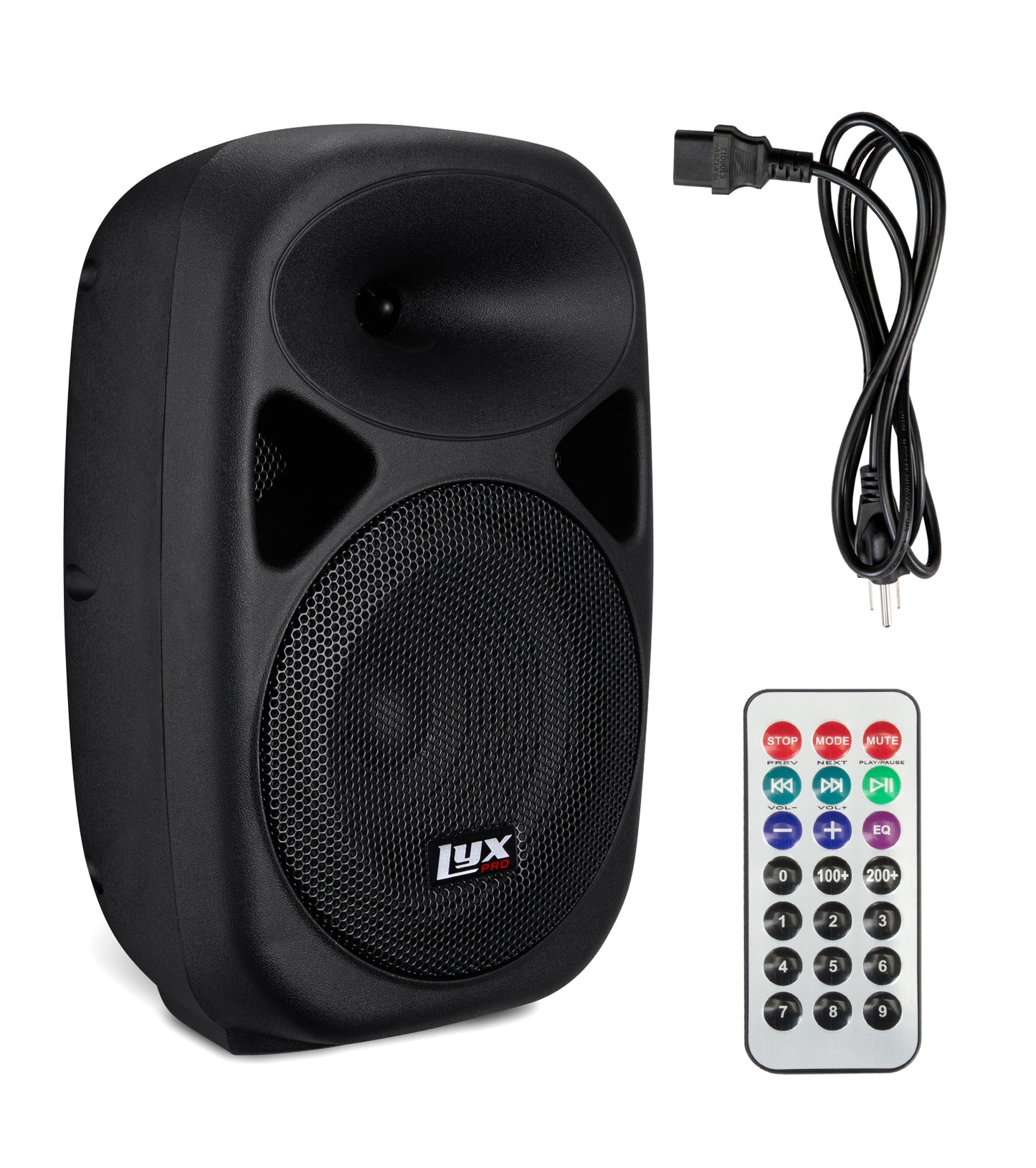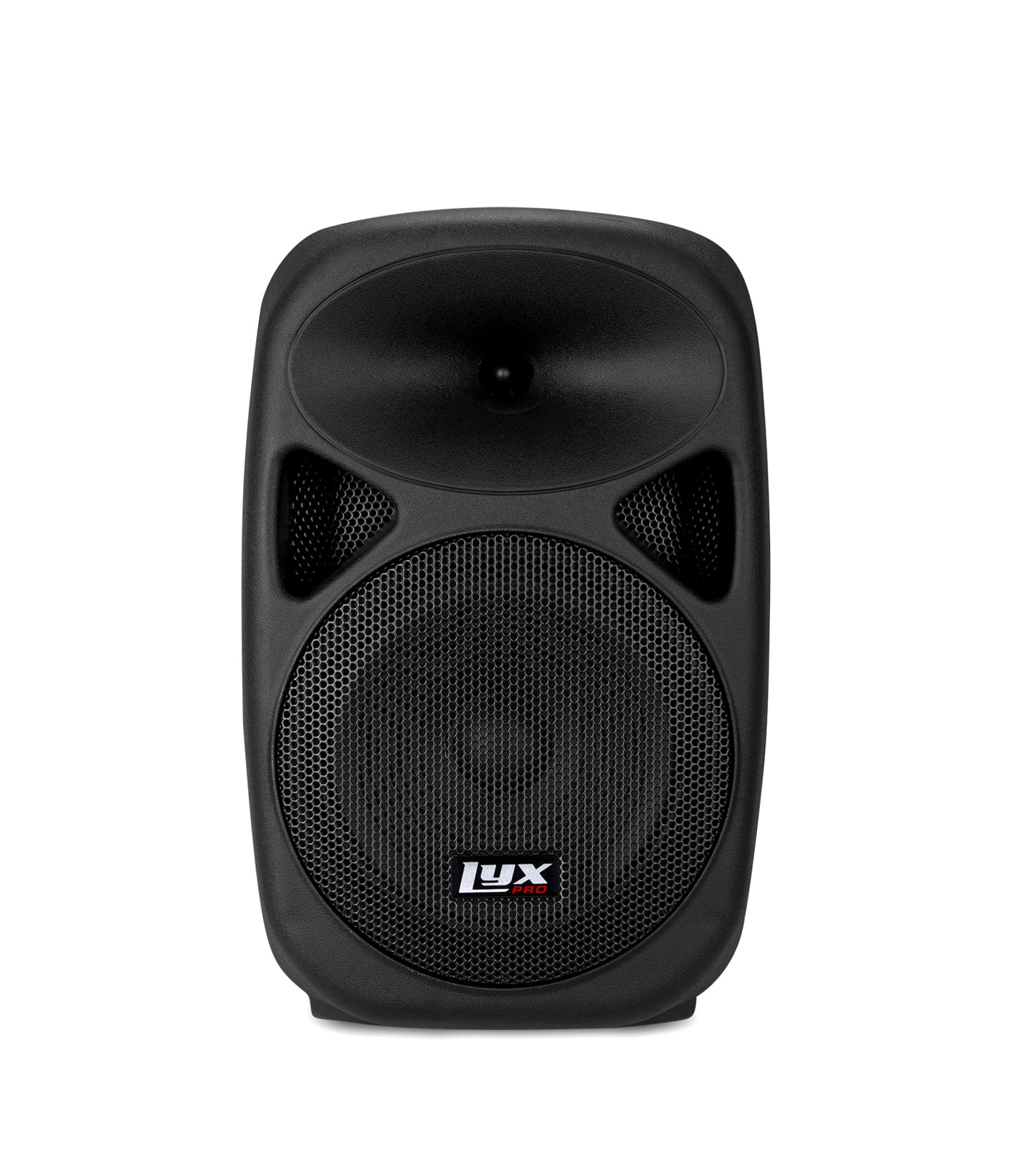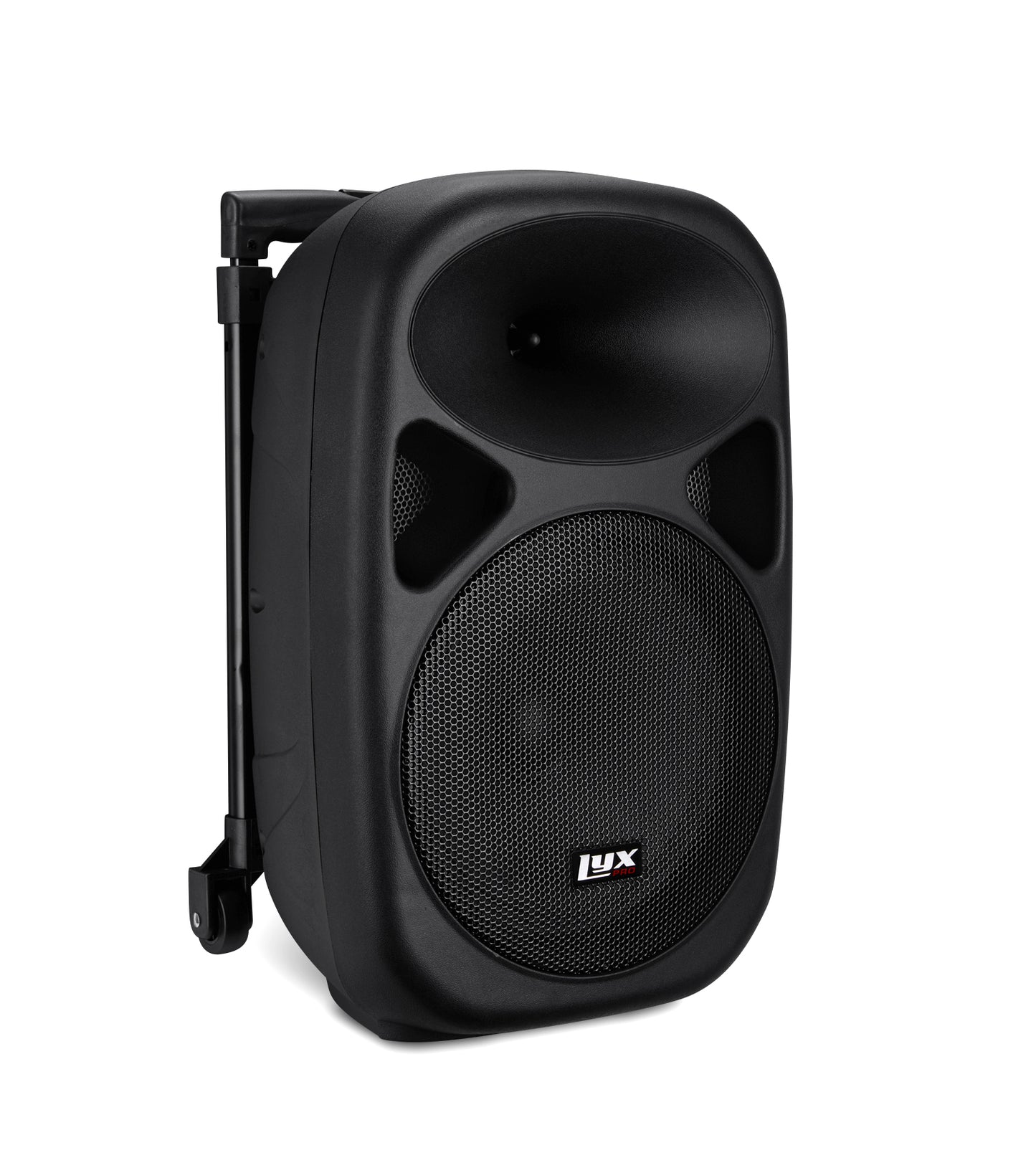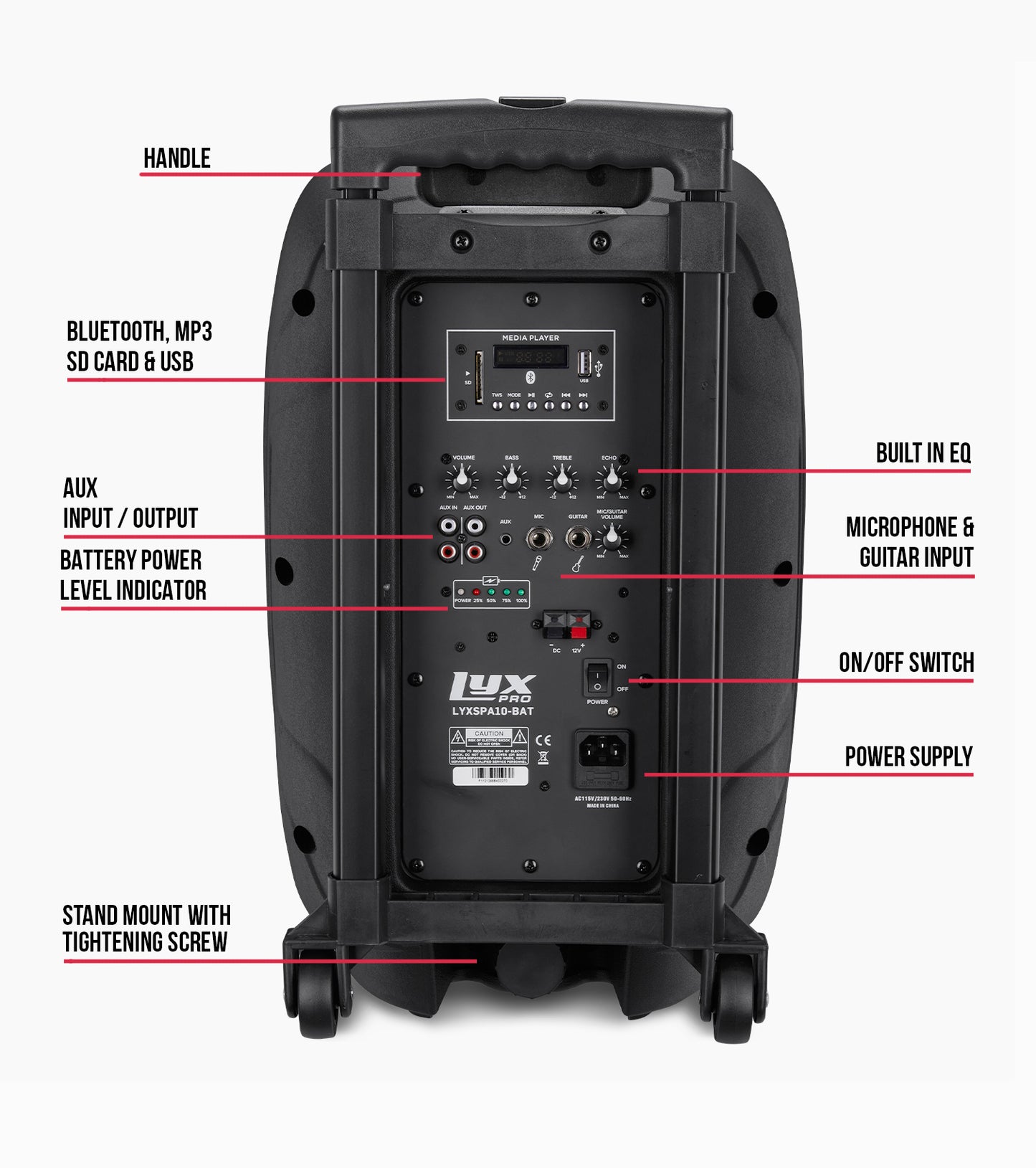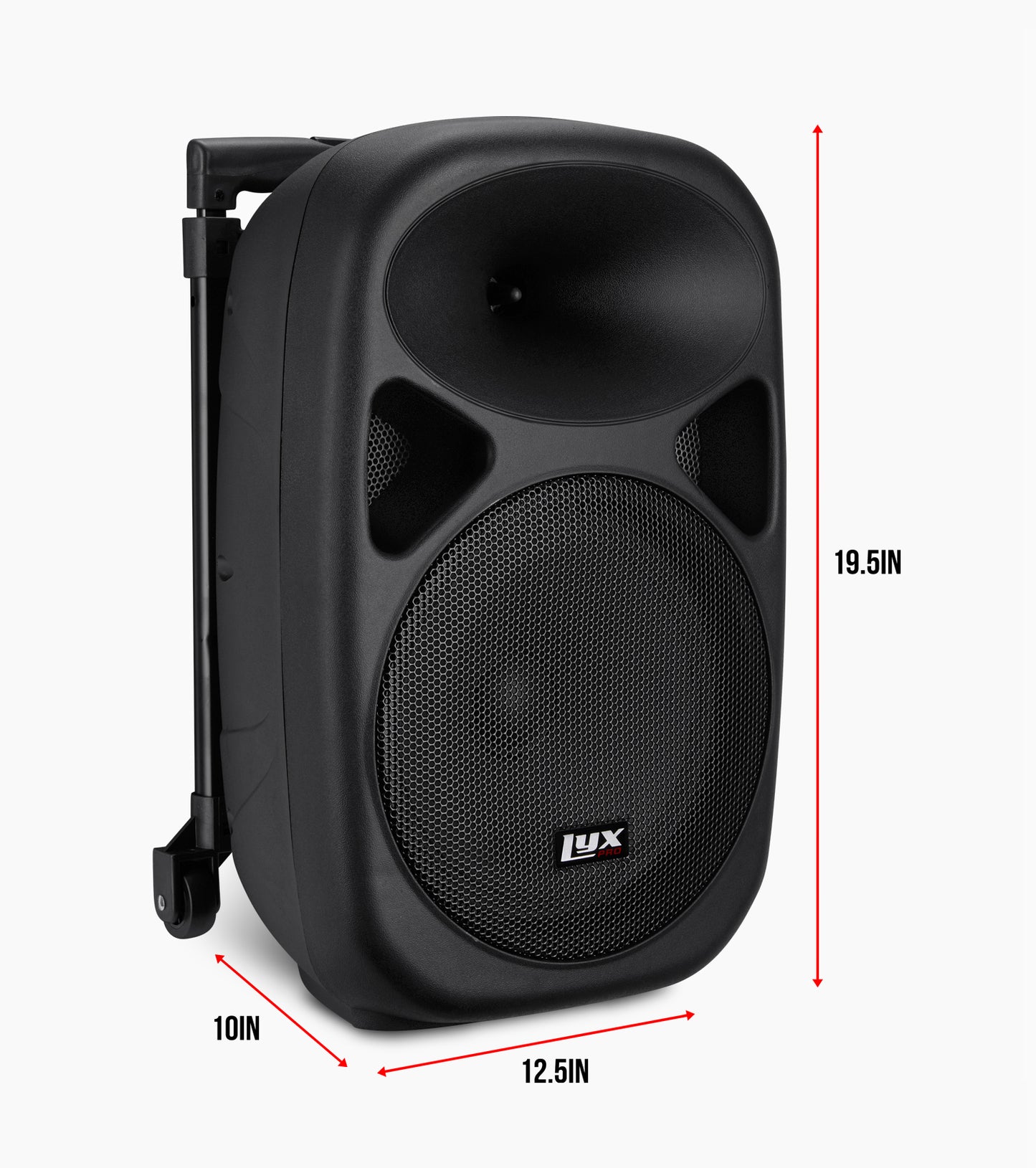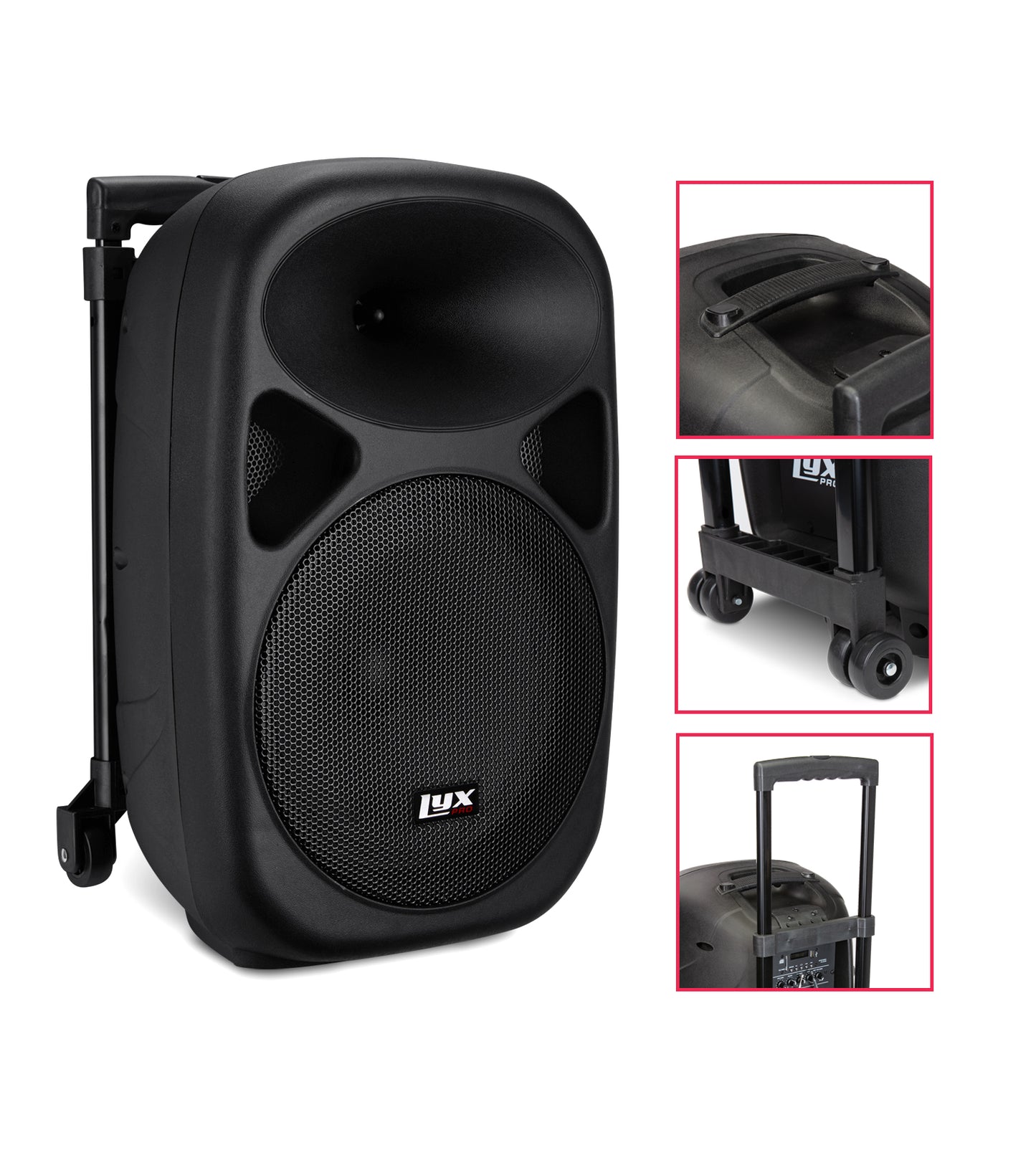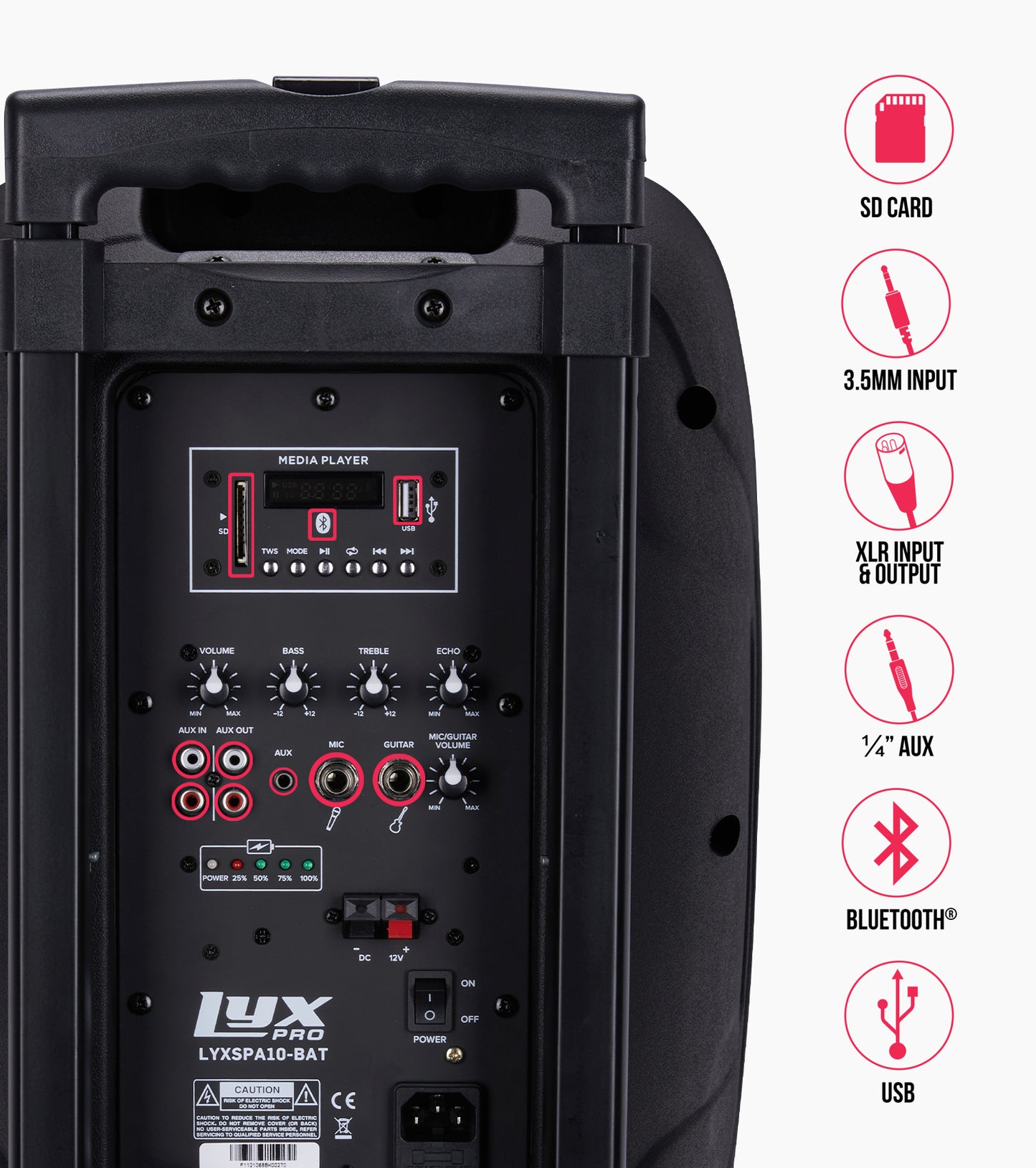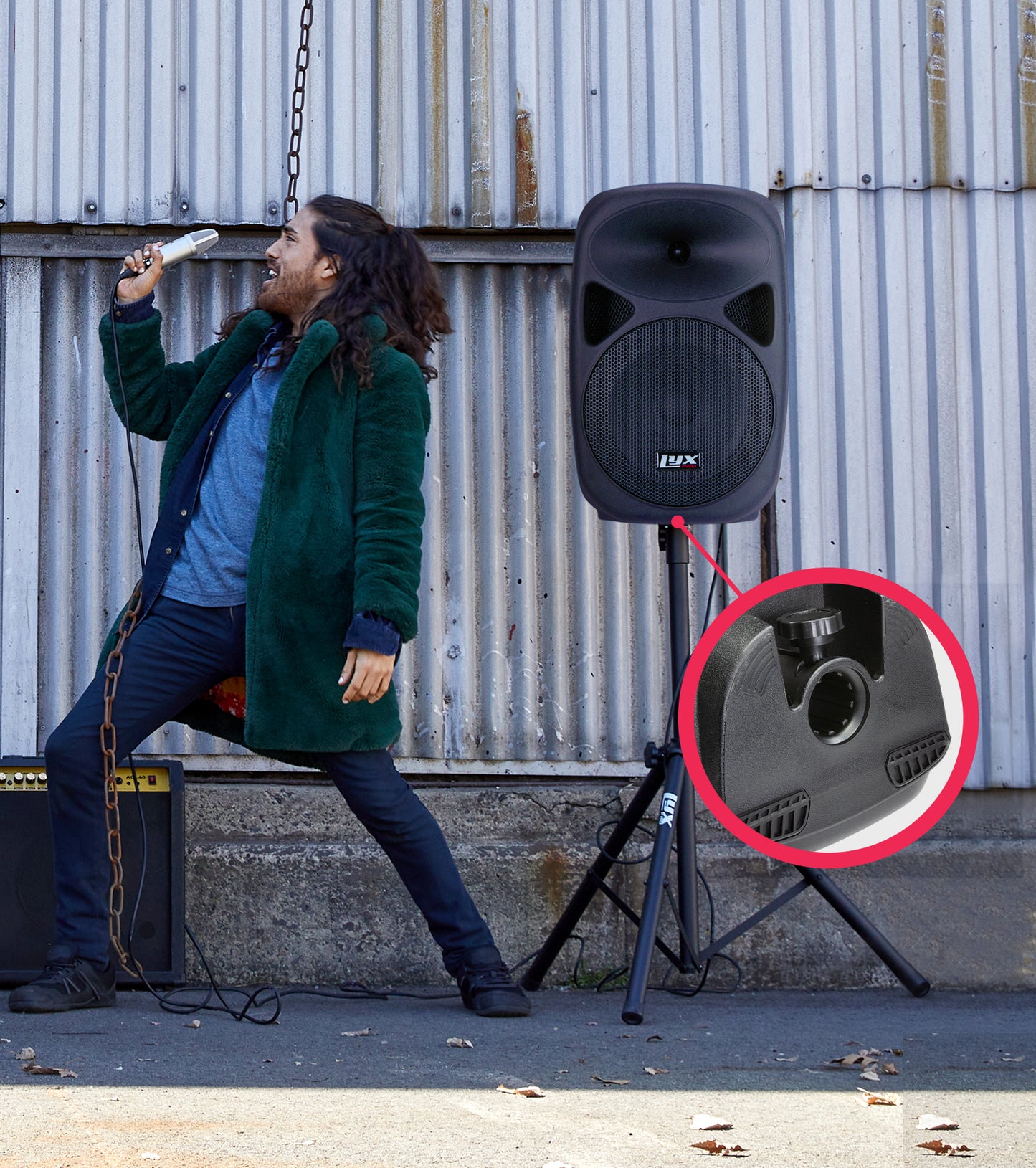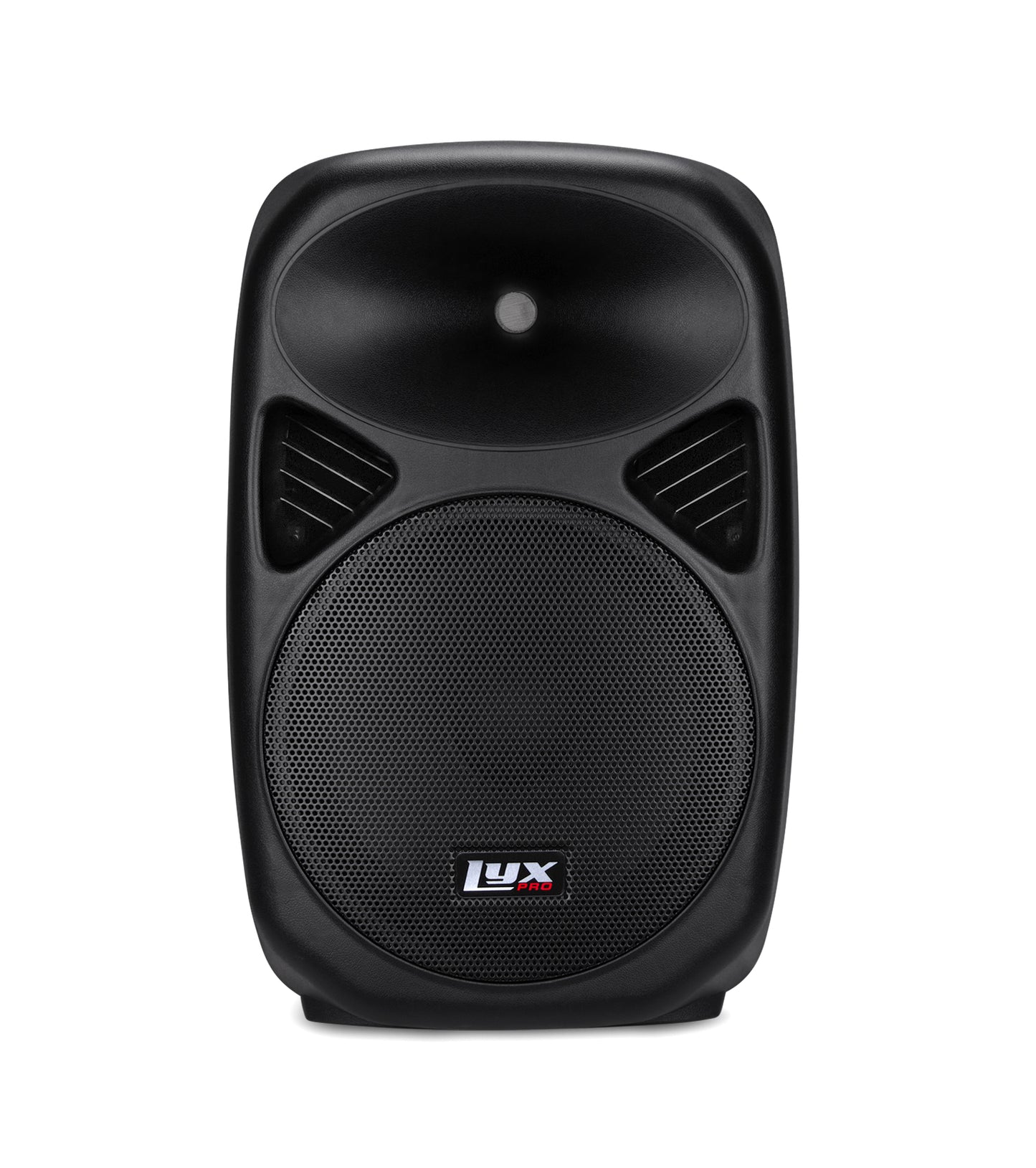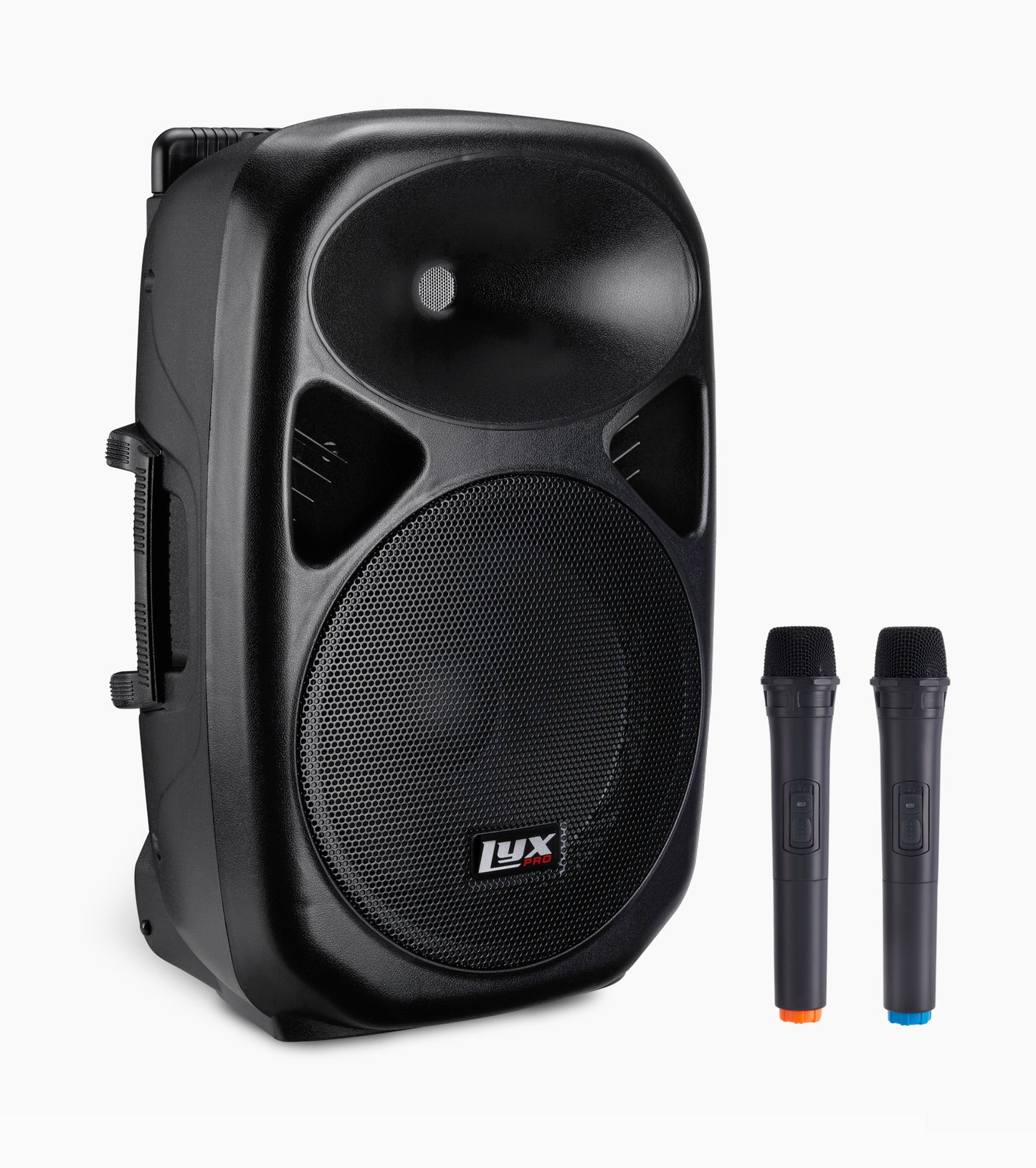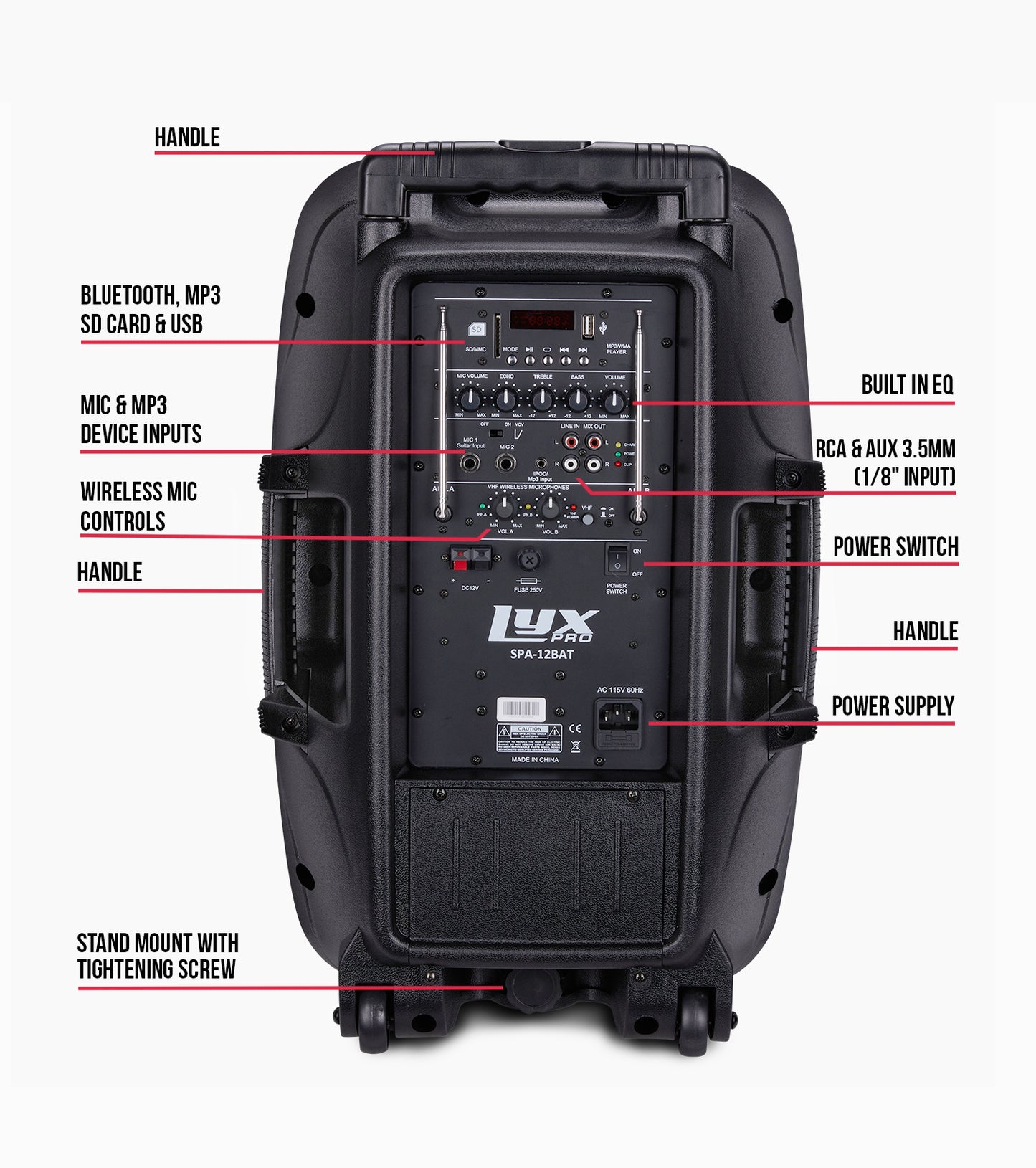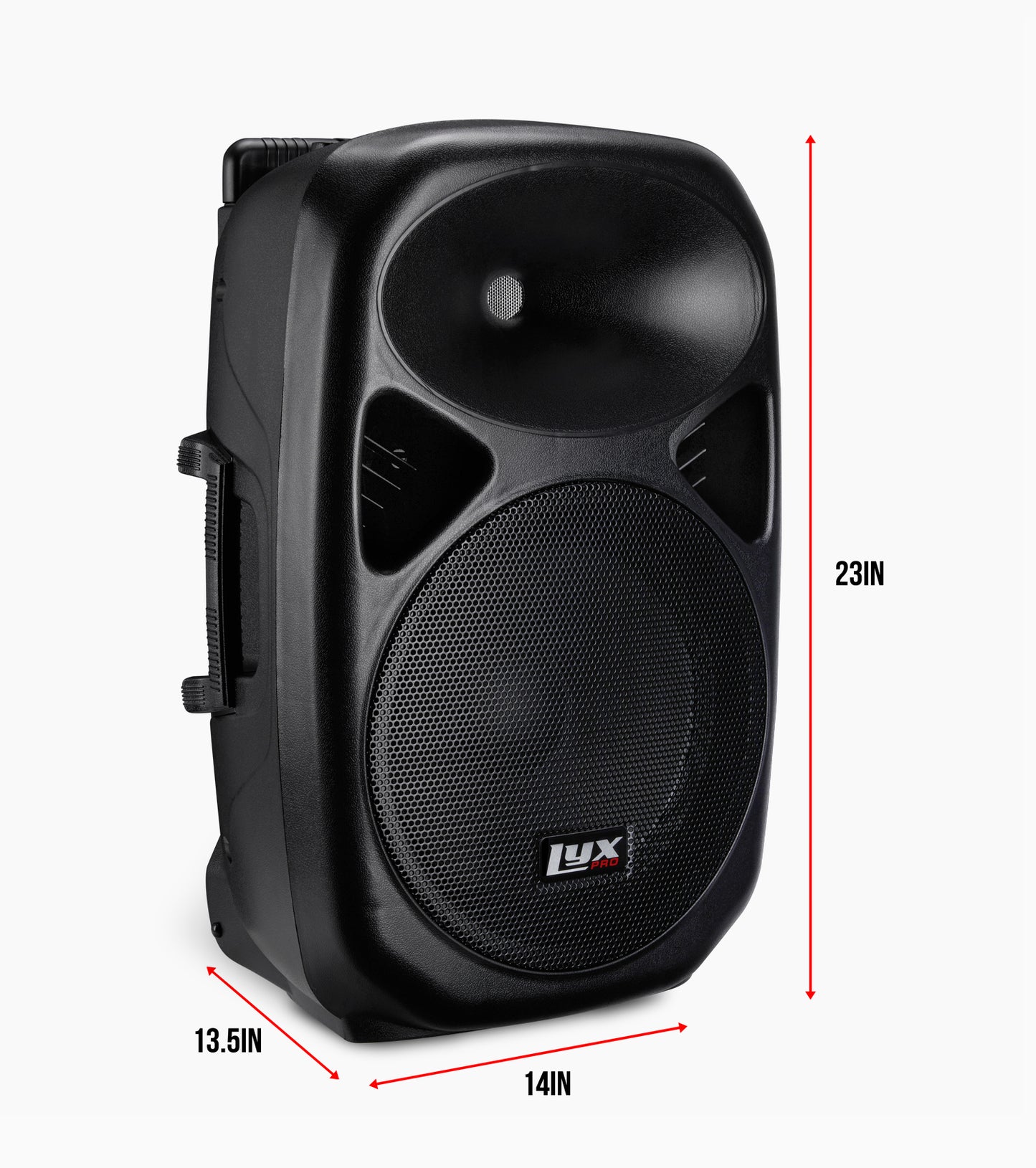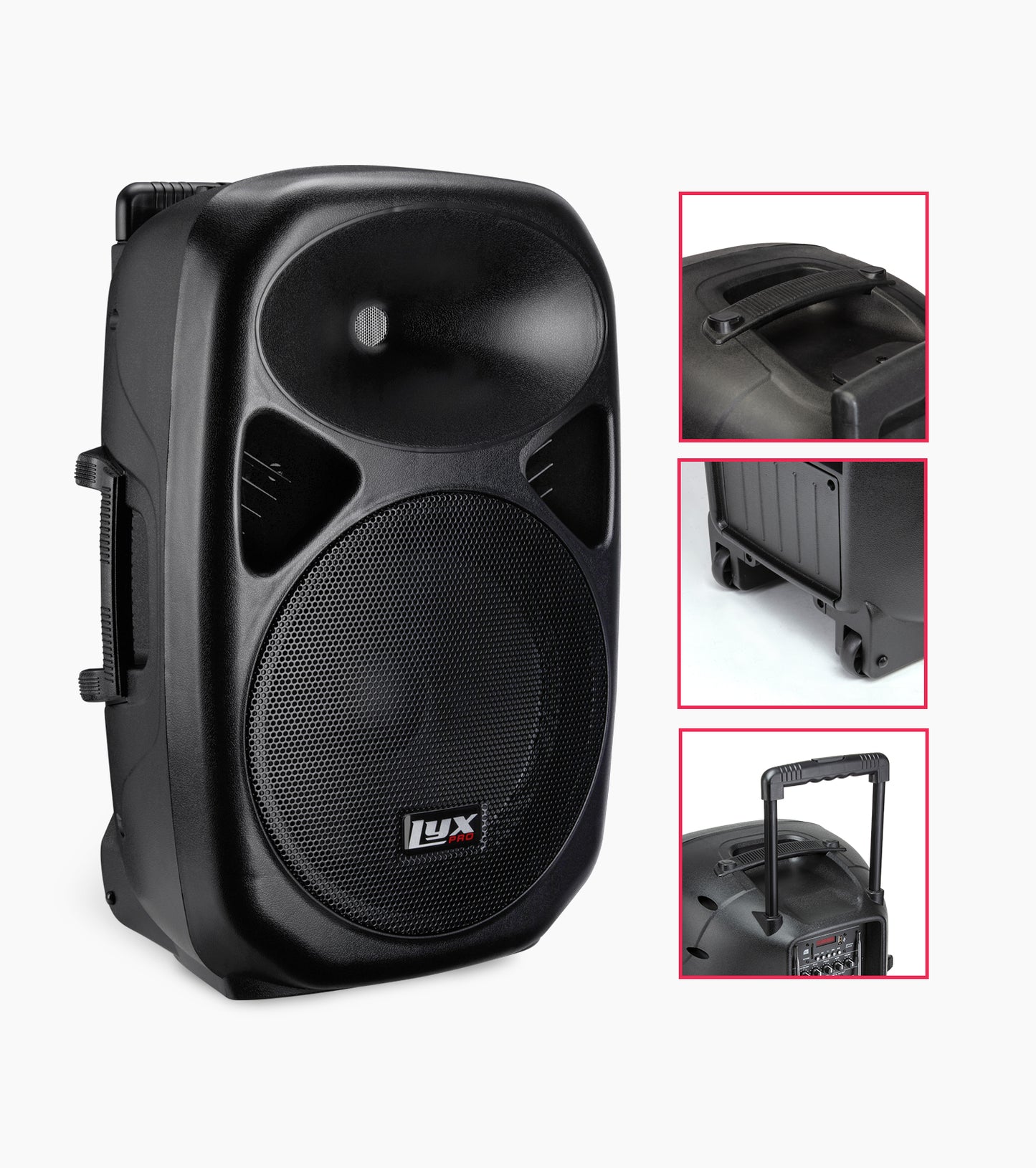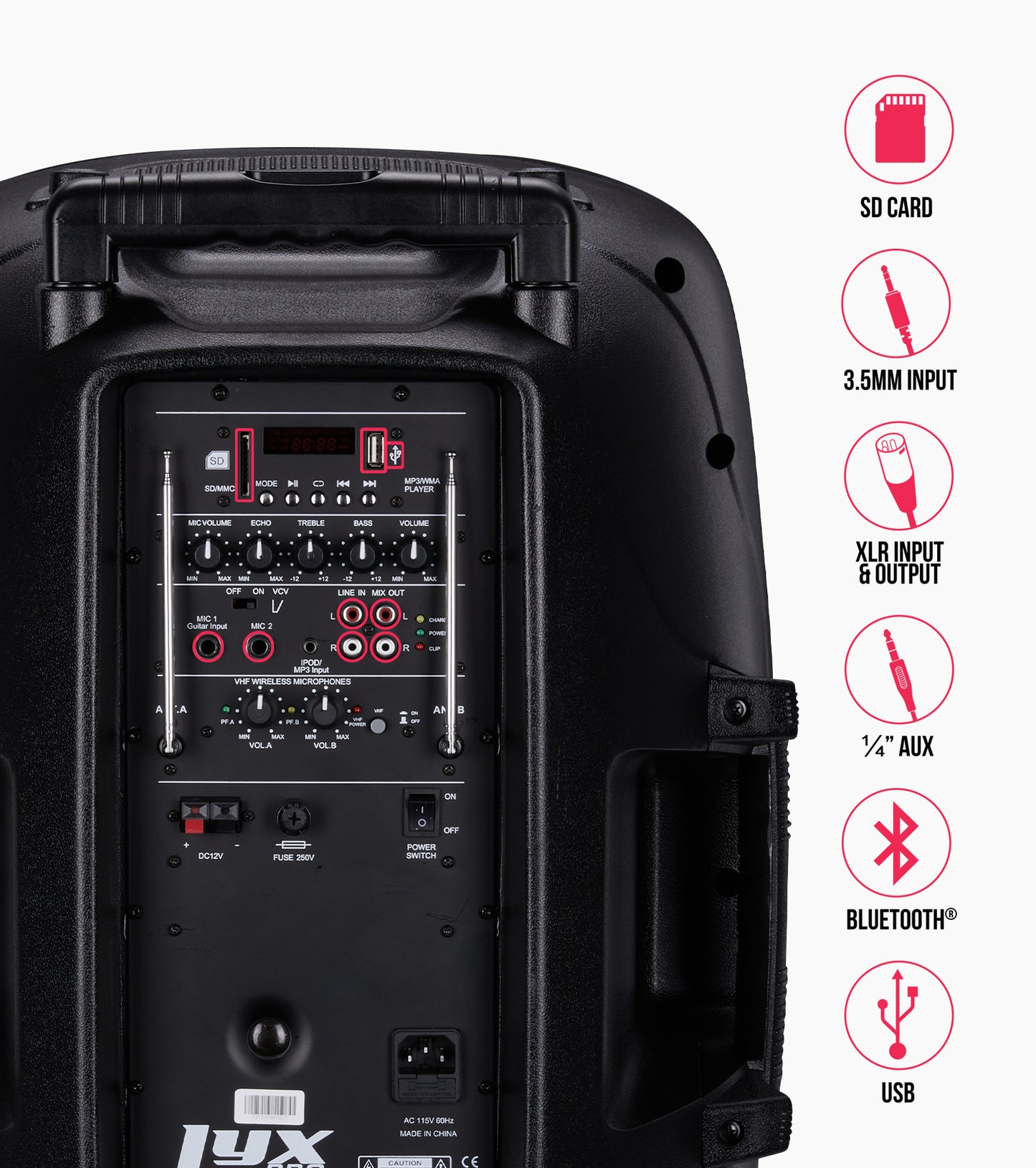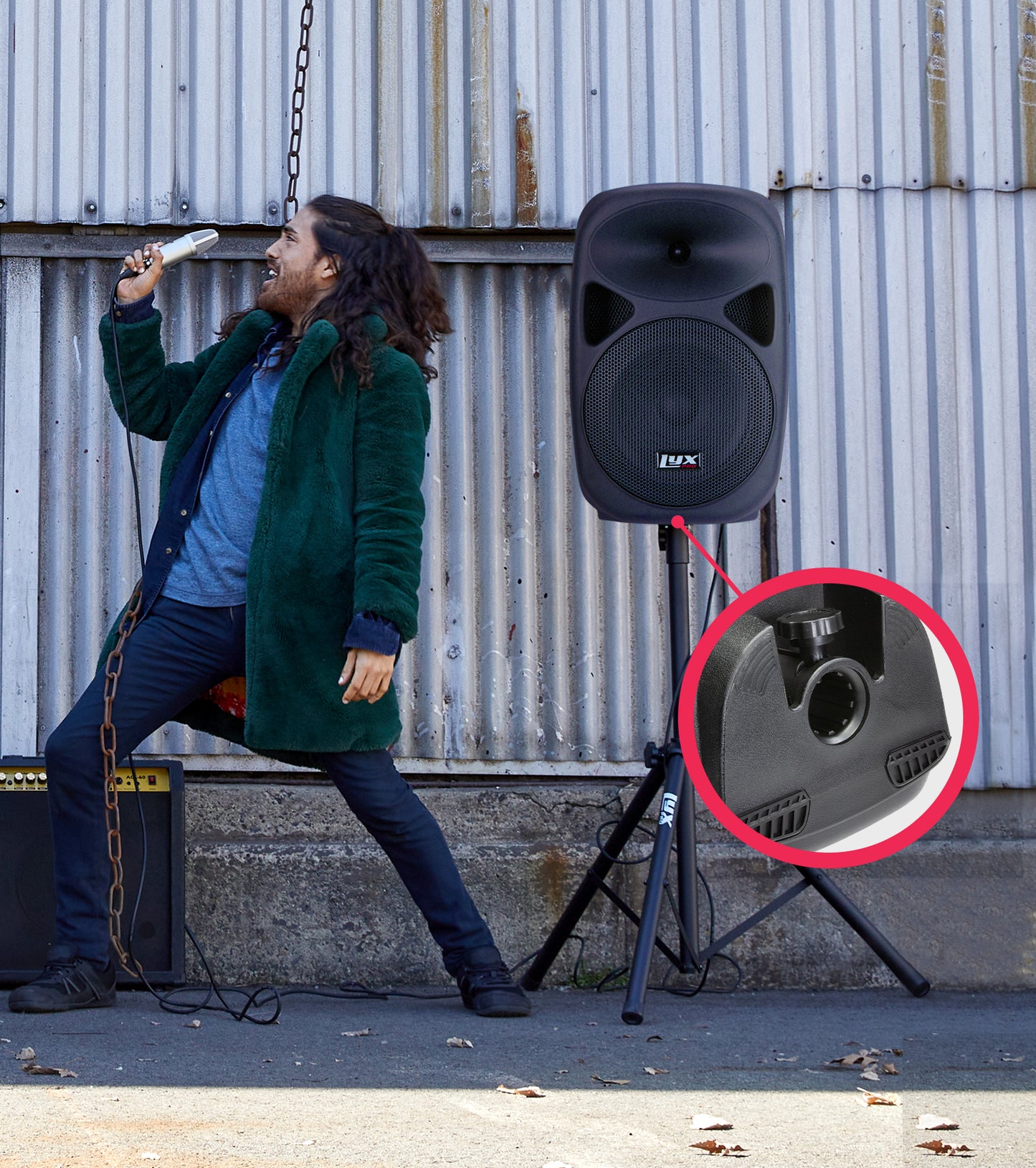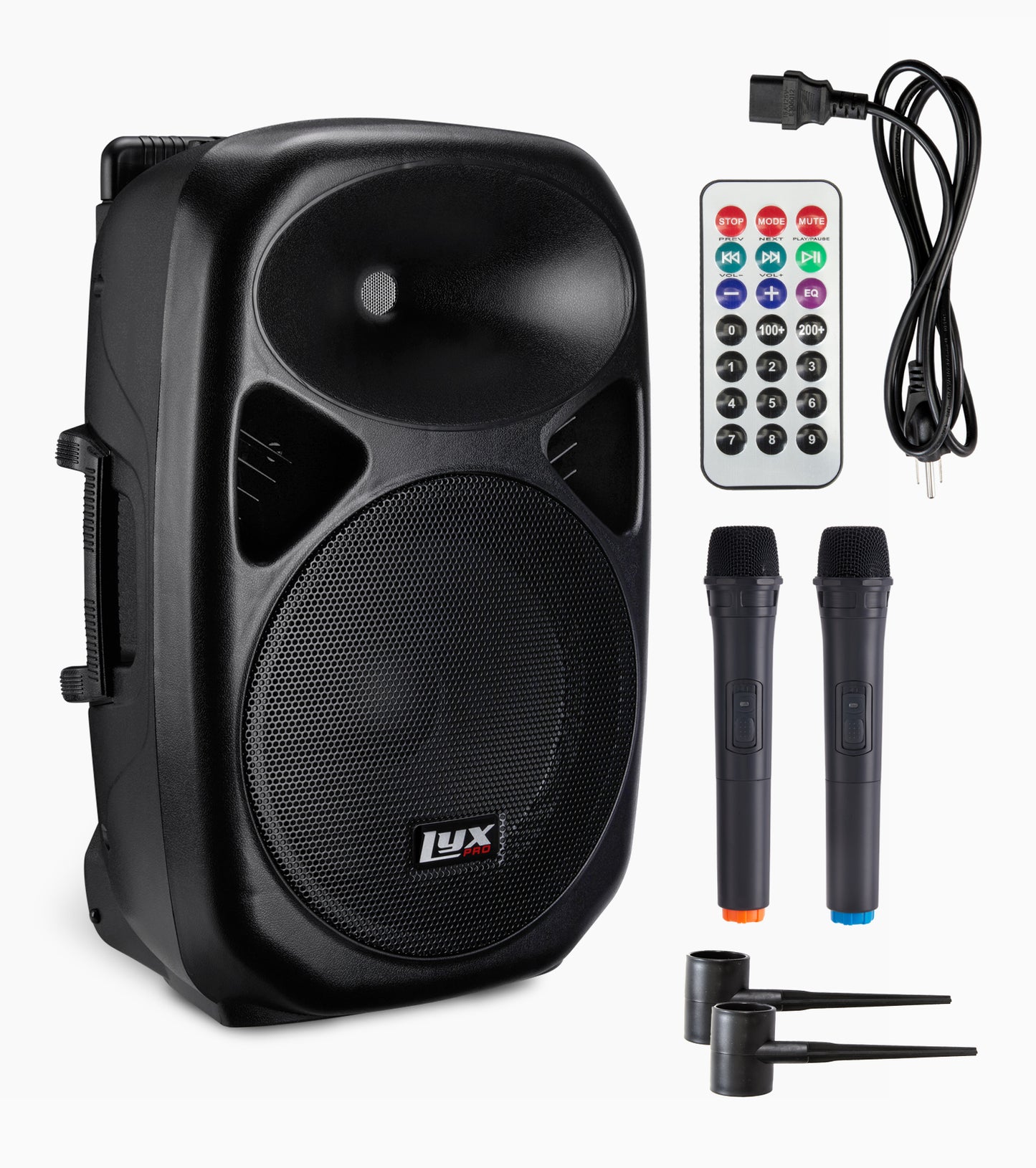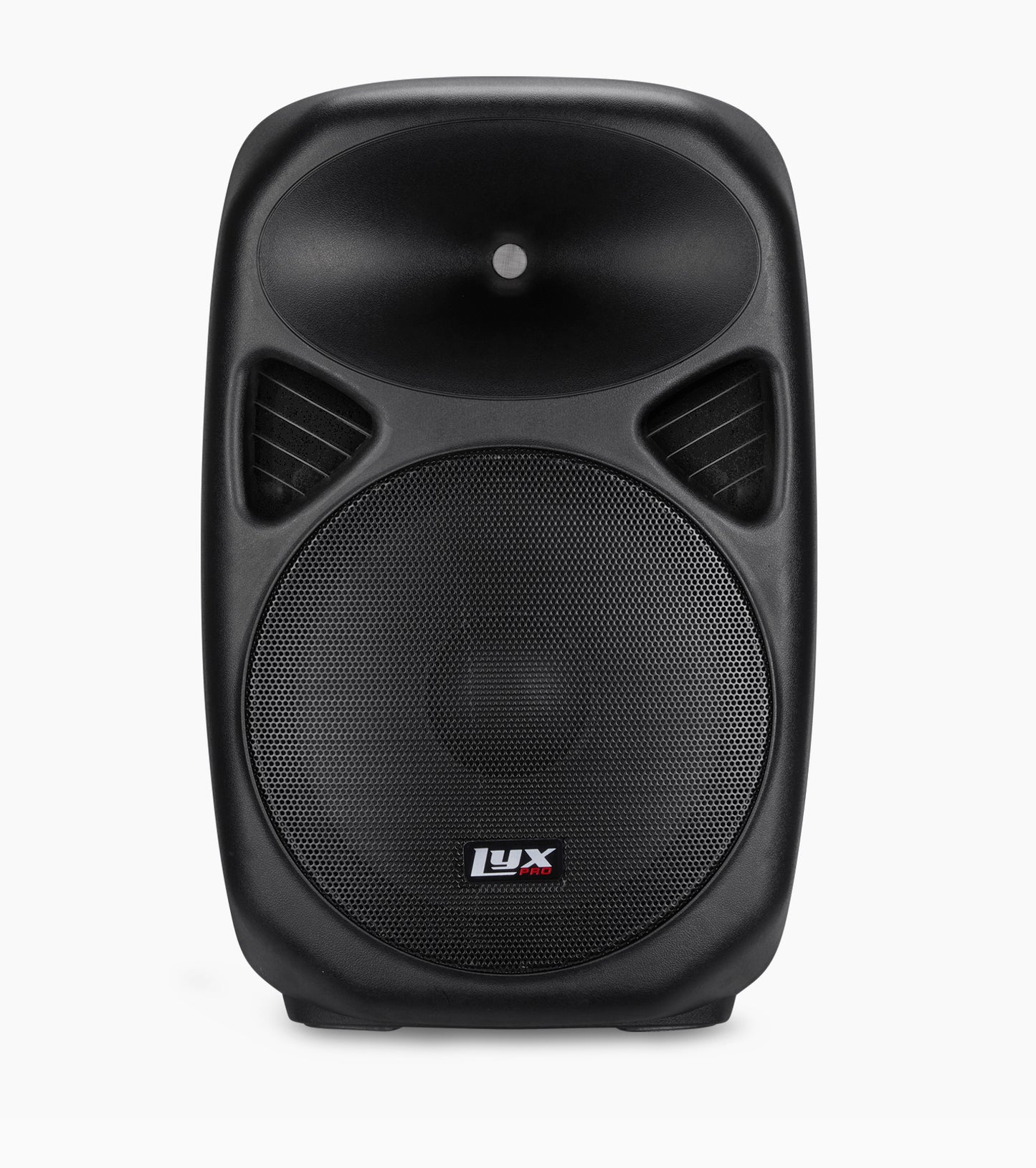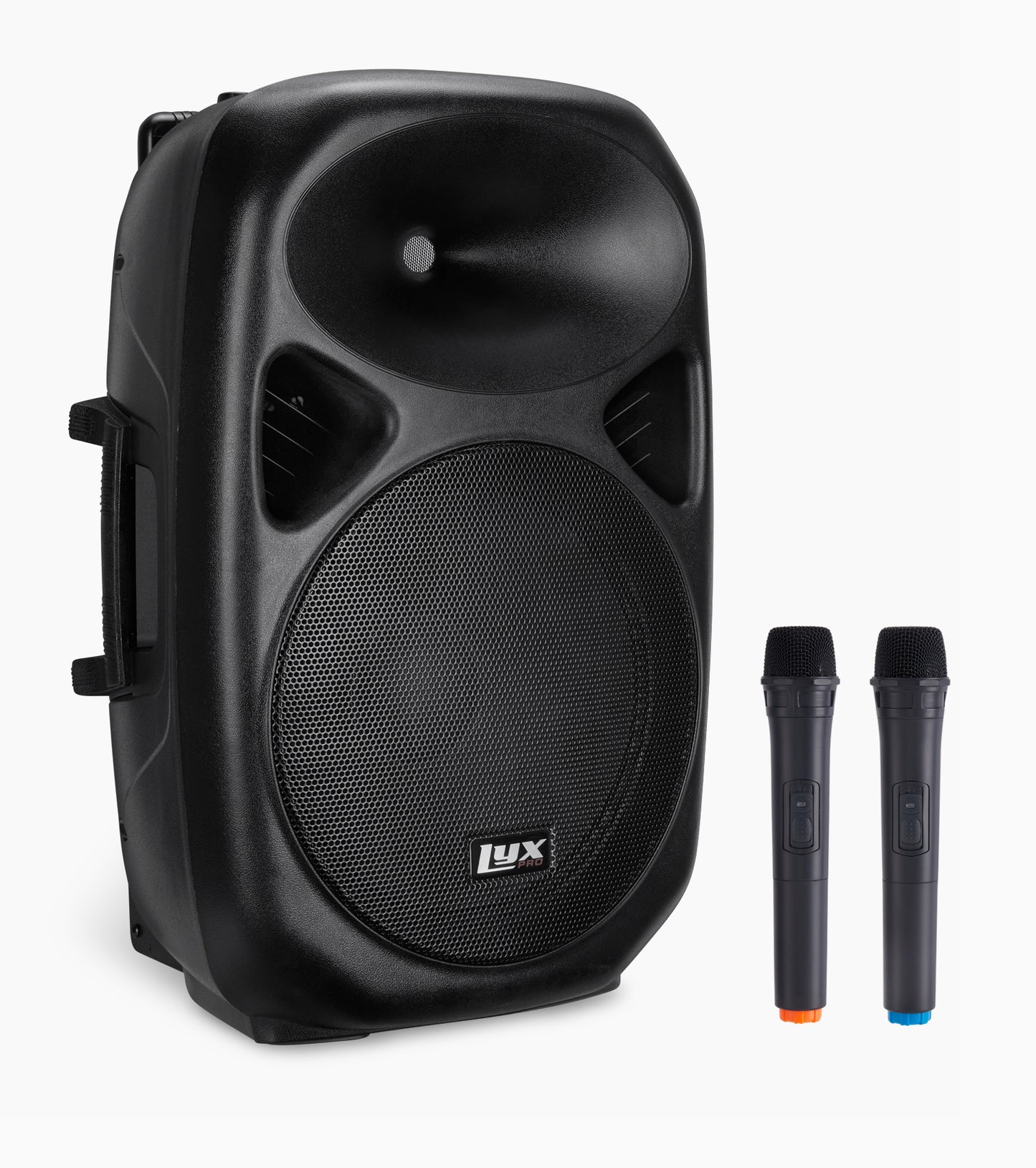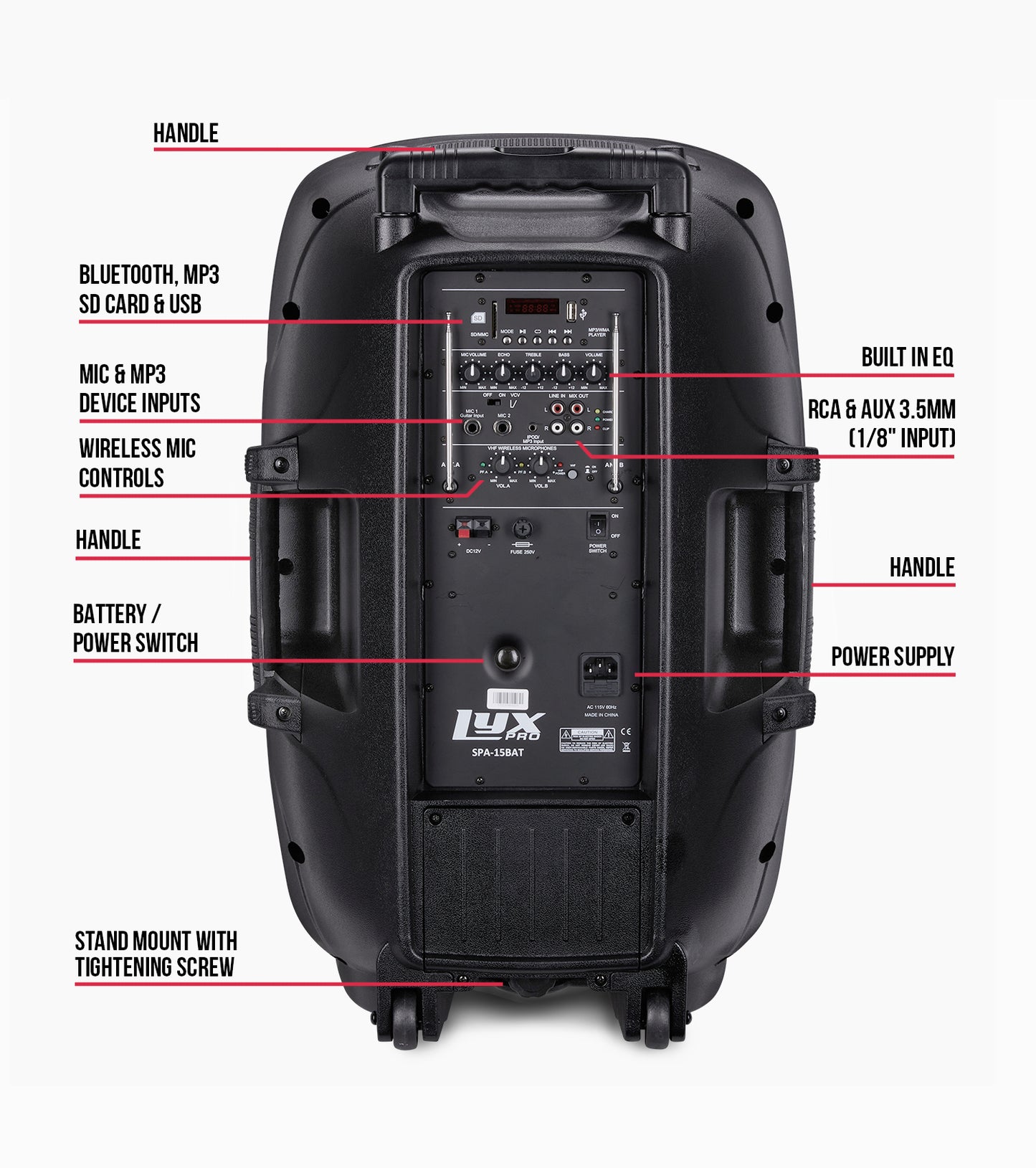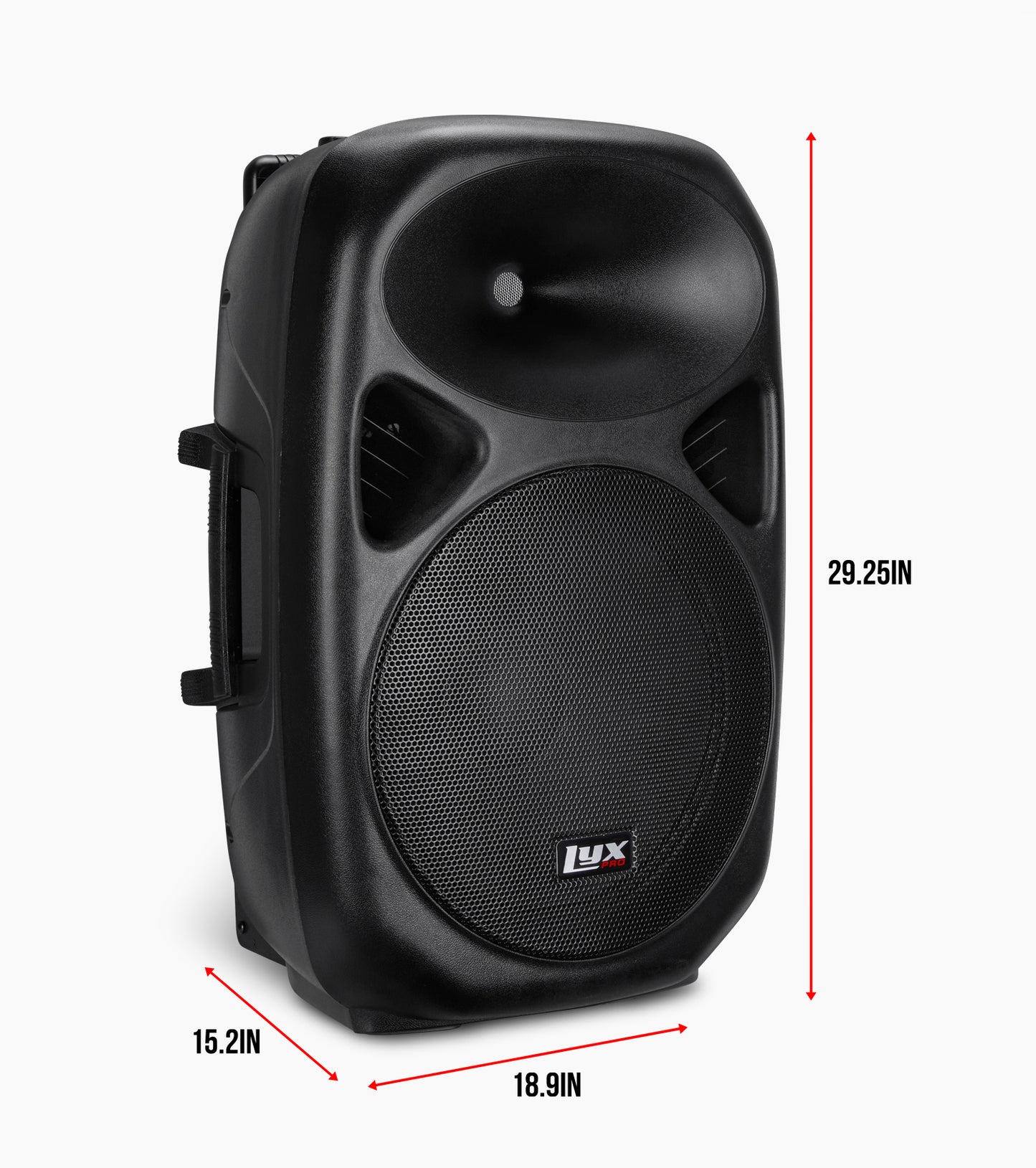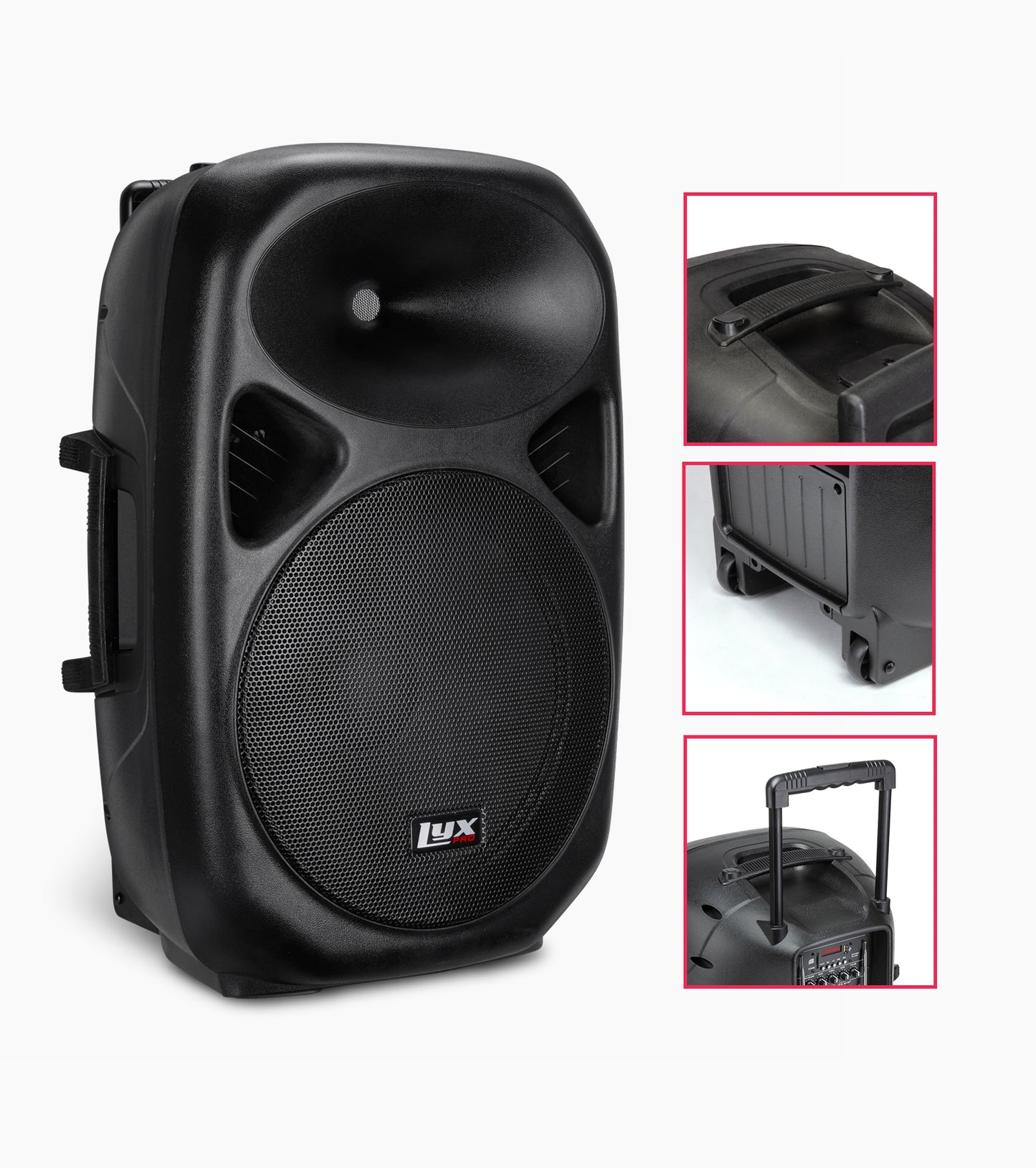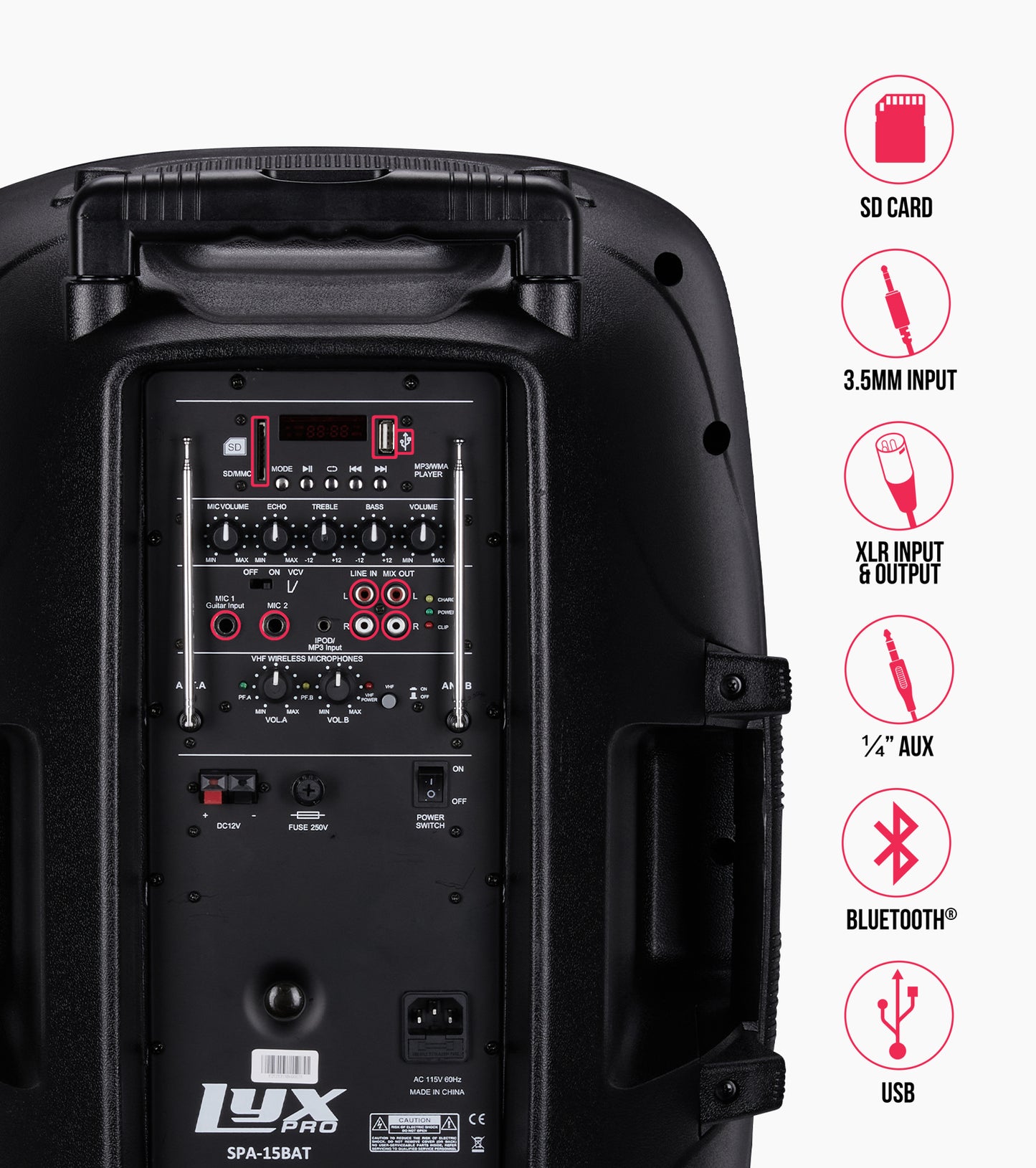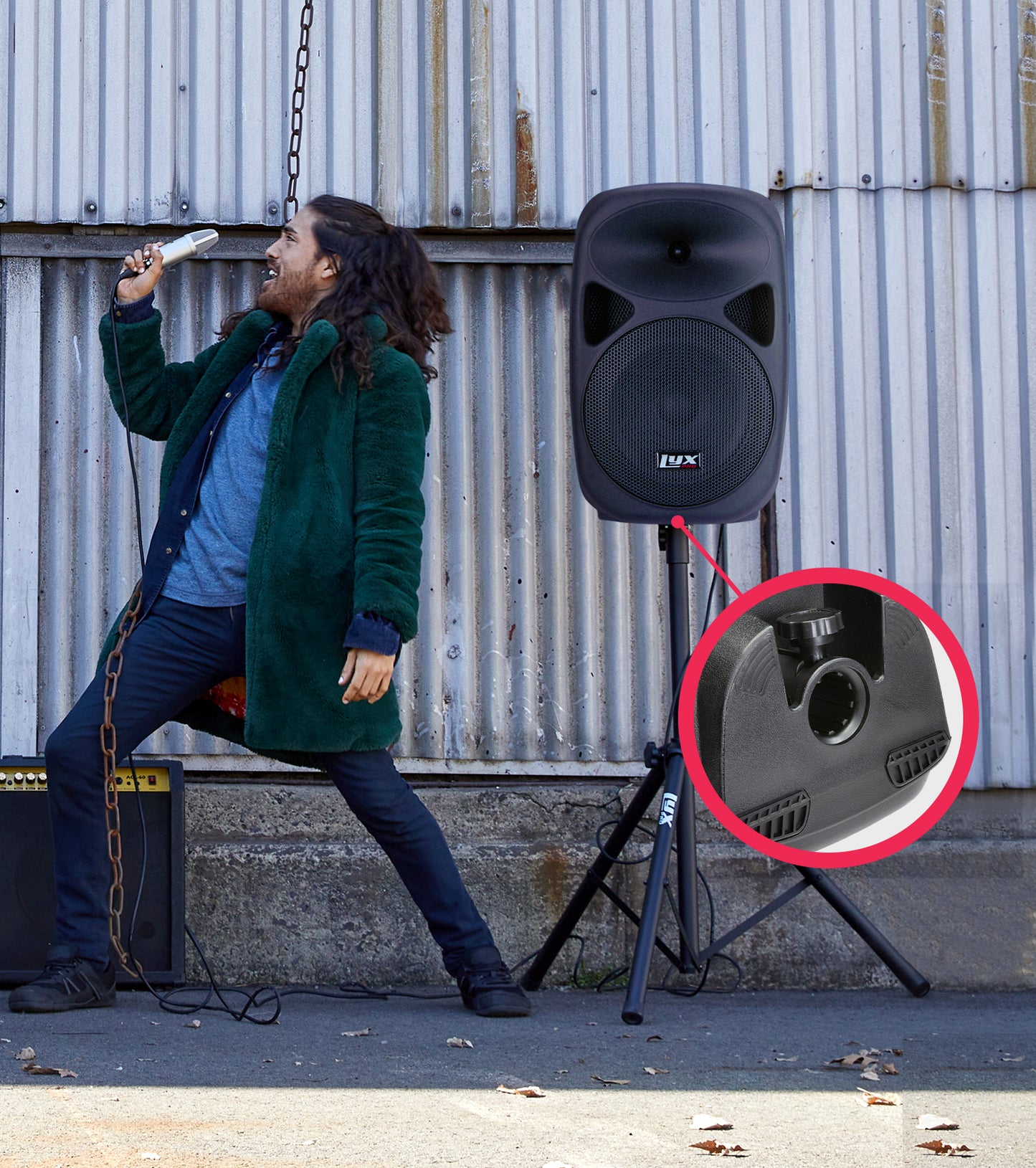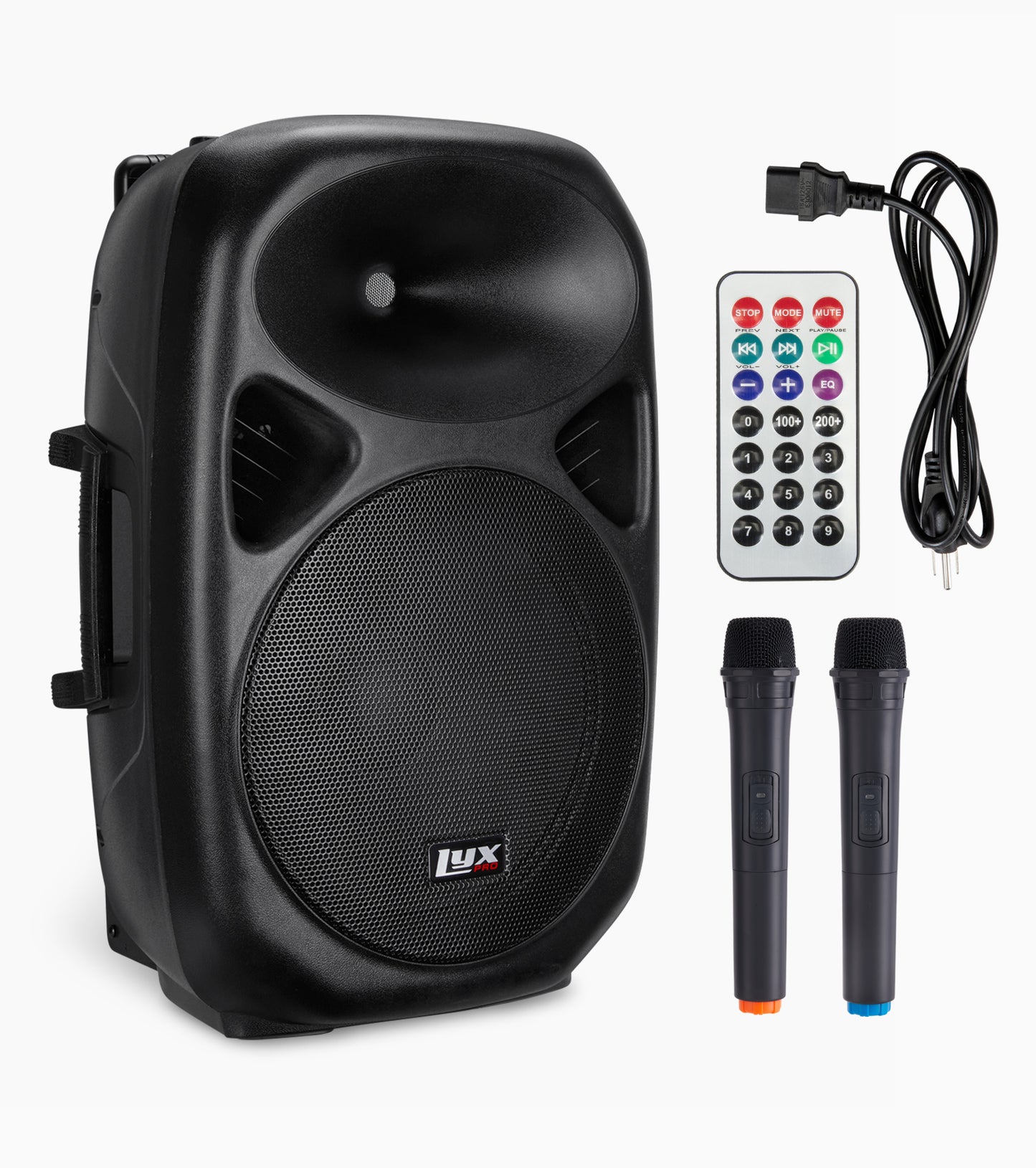 General
Product Type: Speaker
Dimensions: 15.5" x 8" x 10" (39.4 x 20.3 x 25.4 cm)
Weight: 14 lbs. (6.4 kg)
Color: Black
Stand Mountable: Yes
Warranty Length: 1 Year
Electronics
Speaker Type: Active
Battery Run Time: 10 hours
Frequency Response: 70 Hz – 18 KHz
Power Output: 70 W
Maximum Sound Pressure Level (SPL): 95 dB
Nominal Sensitivity: 93 dB
Impedance: 4 ohms
Low Frequency Driver: 8" Woofer 20 oz. 1" VC 4 ohm
High Frequency Driver: Piezo
Enclosure Material: Plastic
Input Connections: ¼" Mic/Line Input, 3.5 mm Aux Input, 2 RCA Line Inputs
Specifications
Product Type: Speaker
Dimensions: 15.5" x 8" x 10" (39.4 x 20.3 x 25.4 cm)
Weight: 14 lbs. (6.4 kg)
Color: Black
Stand Mountable: Yes
Warranty Length: 1 Year
Speaker Type: Active
Battery Run Time: 10 hours
Frequency Response: 70 Hz – 18 KHz
Power Output: 70 W
Maximum Sound Pressure Level (SPL): 95 dB
Nominal Sensitivity: 93 dB
Impedance: 4 ohms
Low Frequency Driver: 8" Woofer 20 oz. 1" VC 4 ohm
High Frequency Driver: Piezo
Enclosure Material: Plastic
Input Connections: ¼" Mic/Line Input, 3.5 mm Aux Input, 2 RCA Line Inputs
Little but talawah
These are the best speakers. I am a non professional and as a novice i must say....... Easy to use, manageable, and gives you want you want. The rechargeables are true to its name. Durable product. Just as durable as the ION. Both solid products.
Quality throughout
Its a great product, the shipping is also too fast. Its the one which we required. Thank you.
If you want mics go for it but dont expect much for battery life and bass or music quality
Battery life of only 15 to 20 minutes is utter garbage. I am a professional DJ, and I brought it to a wedding as a backup for an outdoor ceremony. It died 10 minutes after I turned it on, and the sound is muddled and the bass is terrible. It was so damaged when it arrived to me that I was planning to return it anyway because the plastic is so inexpensive. The good things about it are that it is on wheels, that it has a handle, that it weighs almost nothing, and that the microphones actually work pretty well. During testing, I was able to transmit sound through walls for about 200 feet while the speaker was inside and my children were using the microphones outside. The microphones look quite cheap, yet they function rather well. I swapped it out for the Samsung 1500 watt tower MX-T70, and despite the fact that I haven't used it yet and it doesn't have a battery, I can't wait to connect it to my Bose Aray since it sounds fantastic.
The battery wouldn't charge and they wouldn't let me return it
The are sounding just ok.
NO WIRELESS MIC CONTROLS ON 10" UNIT
I am not happy with the product which I bought. I am stuck with the spend of 12" or more with all over this stuff. Its not as what in the pictures.